Julbo Aerospeed Sunglasses
In many ways, the Aerospeeds look like pretty standard riding glasses. The rimless lens connects to lightweight arms featuring flexible ear pieces for comfort. They're light, comfortable, and take a page from the tried-and-true designs that have come to define athletic eyewear. But Julbo has packed some neat features into…
Weight
25 grams
Price
$190
---
Heading out the door? Read this article on the new Outside+ app available now on iOS devices for members! Download the app.
In many ways, the Aerospeeds look like pretty standard riding glasses. The rimless lens connects to lightweight arms featuring flexible ear pieces for comfort. They're light, comfortable, and take a page from the tried-and-true designs that have come to define athletic eyewear.
But Julbo has packed some neat features into the Aerospeeds to set them apart from the riff raff. Ultimately, these are great glasses if you're on the hunt for a light package that delivers a lens ideal for mountain biking or road riding in cloudy conditions.
That's largely due to the photochromatic lenses. If it's a sunny day, you'll feel like the lenses are far too light when you first put them on. But that feeling goes away within seconds, and you're left with a crystal clear picture of what's in front of you. Colors won't pop they way they do with some cycling-specific sunglasses, (Think Oakley's Prizm lenses) but you'll still get plenty of contrast to recognize obstacles right in front of you. Colors appear a bit subdued, in fact. This was actually quite nice when light conditions changed rapidly — most notably mountain biking, in which we found ourselves continually transitioning between bright sunlight and deep shade.
The lens is replaceable, and it's a fairly simple process to do so. But the first time we did it, it felt like we'd broken the arms off the glasses. Since the arms are attached to the lens with small, plastic ends, it seems like it would be quite easy to break off those tabs, rendering your glasses useless. So if you're going to be swapping lenses frequently, you'll need to be pretty careful.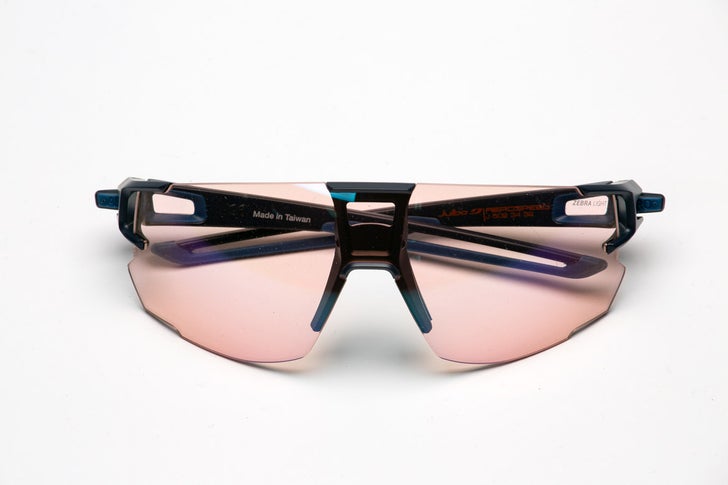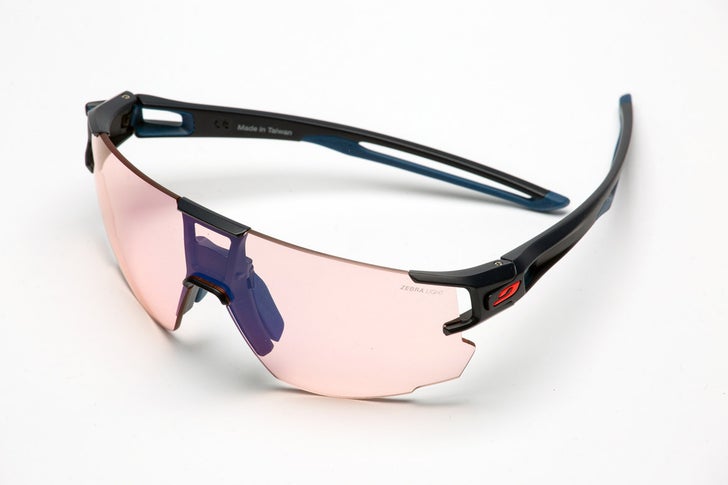 About the frames: The rimless design keeps these glasses exceptionally light. The arms themselves feel solid where they connect with the lens and more flexible at the ears. This creates a light feeling on the face that's stable even as your head sways during hard efforts. The tips feature an elastomer shock absorber, which is essentially a thin piece of rubber material. It was difficult to tell if there was any "shock absorption" from these pieces, but they do make for a comfortable feel over the ears.
The nose piece appears to be made from the same material as those elastomers. It holds well on the nose even while you're sweating. It's adjustable somewhat, though it doesn't hold its shape for very long. Fortunately for us, it felt comfortable out of the box and didn't require much adjusting to begin with.
Julbo has a respectable pair of glasses here, though they're perhaps aesthetically bland. These have repeatedly been our pick for days on the mountain bike since the photochromatic lens seems ideally suited to drastic light changes. Gravel riders and mountain bikers, this is your pair of shades if you err toward tried-and-true aesthetics.