Mission Workshop PNG jersey
This jersey has a few drawbacks, but overall it's a well-made, high-end piece of kit.
Price
$180
Brand
Mission Workshop
---
Heading out the door? Read this article on the new Outside+ app available now on iOS devices for members! Download the app.
It's a tough pill to swallow to pay almost $200 for a jersey unless it serves some function you can't get with a less expensive jersey. When it comes to Mission Workshop's PNG (Pavement and Gravel) jersey, you certainly get a lot of high-end features you won't find on that bargain website cycling top. So, Mission makes a good case for the high price tag. But you'll need to think carefully about whether those advantages matter to you, because the PNG has a few drawbacks.
First and perhaps most importantly, Mission Workshop nails two very important characteristics of a high-end jersey: a comfortable form fit and a soft, pleasant feel against the skin. The jersey breathes exceptionally well too, which is doubly important on a solid black jersey. Mission Workshop incorporated 37.5 moisture management technology into the jersey, which, according to a University of Colorado in Boulder study, was found to help "increase performance at continuous peak exertion by 26 percent." Needless to say, we couldn't feel any such increase, but that doesn't mean much. What we can say is that the fabric works well to pull moisture away from the skin and keep you cool. We'll take that, whether or not we're getting our full 26 percent.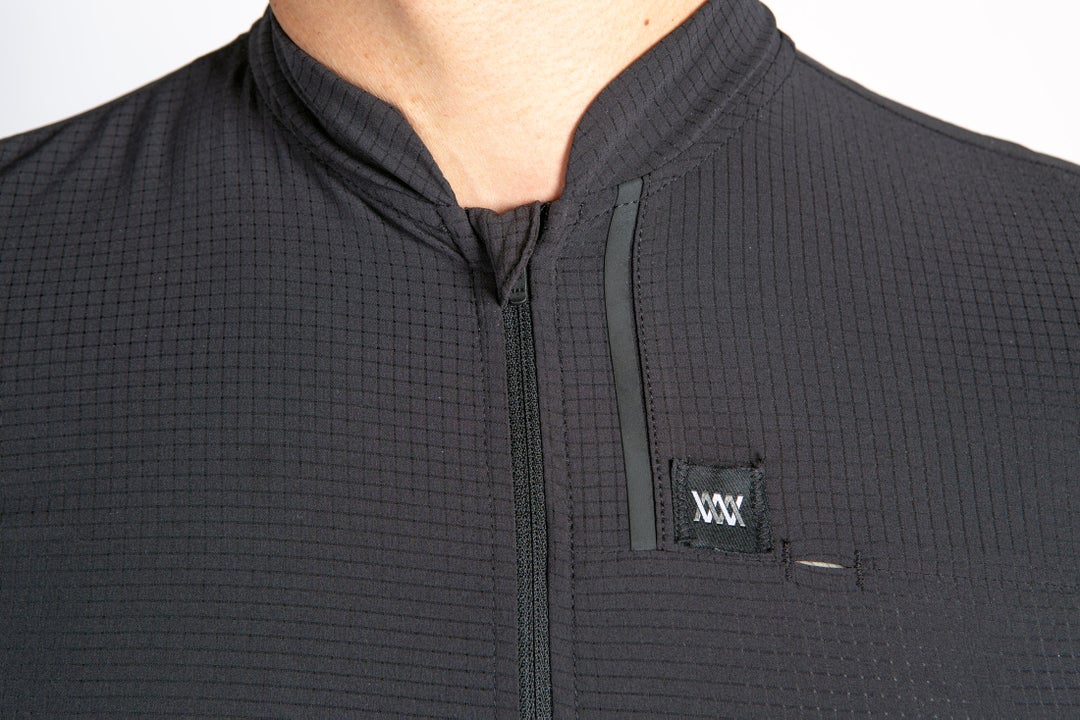 The collar sits high on the sides and dips down at the zipper, which parks itself in a zipper garage. It's plenty comfortable, though on very hot rides the collar fabric might be noticeable. A gripper hem at the waist keeps the jersey from hiking up, though the front of the jersey is a bit short. If you're sitting up on the bike or walking, you'll probably show off a sneak-peek of belly button. That's not a concern when you're in the riding position, though, and in fact it prevents any material from bunching in the front.
There's a nifty little slot for your sunglasses on the left breast. This understated detail is a real win: forget having to blindly search for the right vents on your helmet and risk dropping your glasses every time you look down. Just slot one arm of your glasses into the jersey and they'll stay put, and well within reach.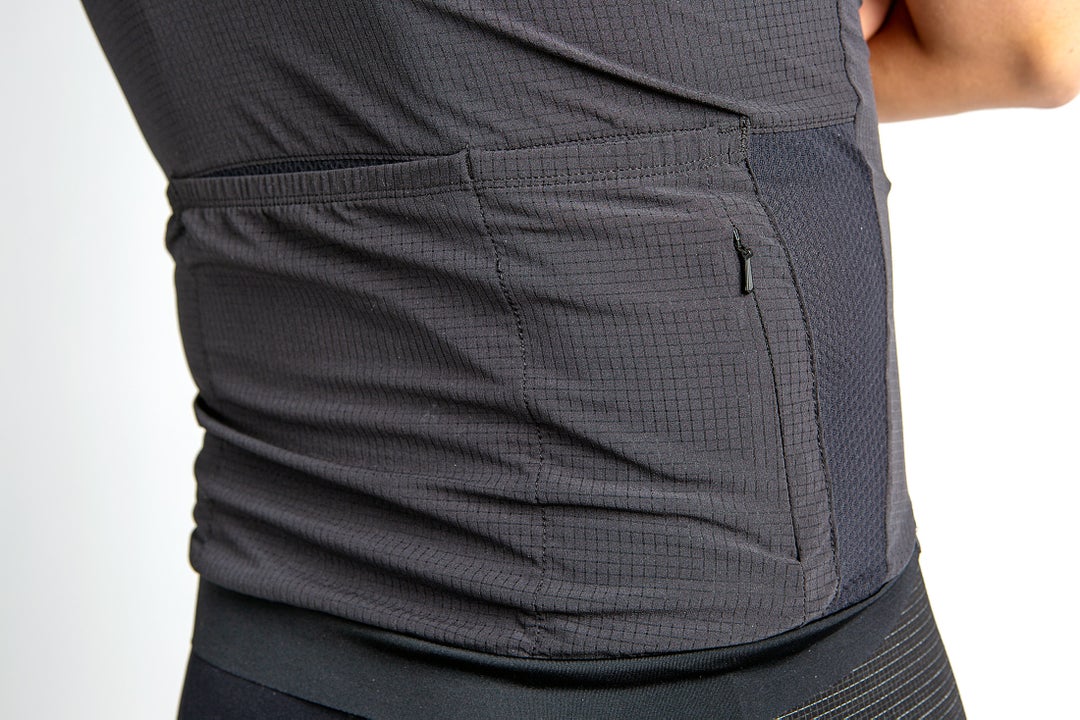 Let's talk pockets. The deciding factor between a good set of pockets and a bad one often comes down to sag. Can you stuff them full and avoid feeling like you've got a chihuahua on your back trying to strangle you? Yes? Good pockets. The PNG's pockets don't sag, even when fully loaded. But they do have another problem: the two side pockets are too narrow to be all that useful. It was difficult to get a hand in them, and while an energy bar fits in there just fine, it was difficult to get a set of arm warmers in there. And the zippered pocket, which appears to be intended to house a cell phone, was also too tight and small to be convenient.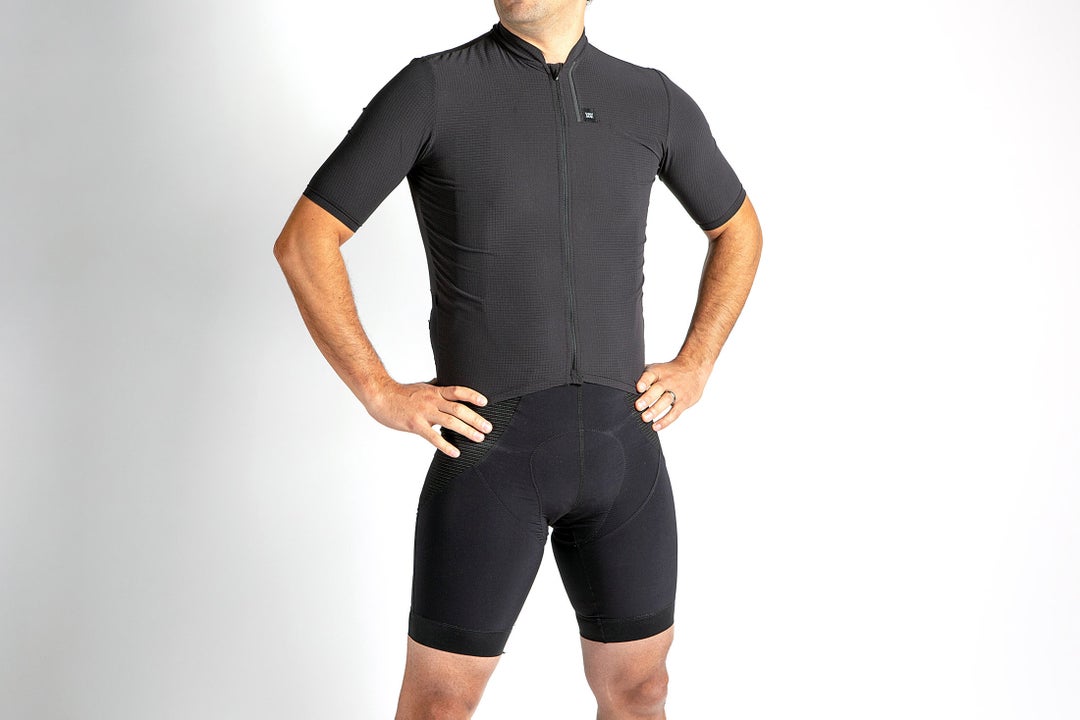 The PNG jersey combines with the PNG bibs for a comfortable, breathable, and meticulously made, high-end riding kit. You'll pay for the privilege of these fancy fabrics and almost tailor-made cuts, but if you've got a full calendar of long or intense races on the schedule, it may be a worthwhile investment. But the pockets are a sticking point here; when you're spending this kind of cash on a jersey, you need it to be perfect. The PNG perfect is almost there, but not quite.