Roka SR-1 sunglasses
Roka's ultralight SR-1 riding glasses are worth a look if you're after crystal-clear optics and a low-profile, feathery fit.
Weight
25 grams
Price
$210
---
Heading out the door? Read this article on the new Outside+ app available now on iOS devices for members! Download the app.
If you've spent time in the triathlon space, you'll recognize the Roka name. For everyone else, these are the new kids on the block, but Roka has done its homework. The SR-1 glasses are proof of that. At only 25 grams, these ultralight riding glasses are worth a look if you're after crystal-clear optics and a low-profile, feathery fit.
Roka's running pedigree reveals itself in the wraparound frame that hugs your head at the sides without pinching. This keeps the glasses firmly in place. There's plenty of room between the top of the frame and your forehead too, which is great for ventilation and helps prevent sweat from building up at a contact point and dripping down into your eyes.
You'll notice a trend among the top manufacturers of sunglasses: Zeiss lenses. These are considered the gold standard and for good reason: They help draw out contrasts so you can see road obstacles more clearly, and they saturate colors for even more clarity. In changing conditions from light to dark and back again, Zeiss lenses tend to be exceptional. The ones featured on the SR-1 glasses are no exception.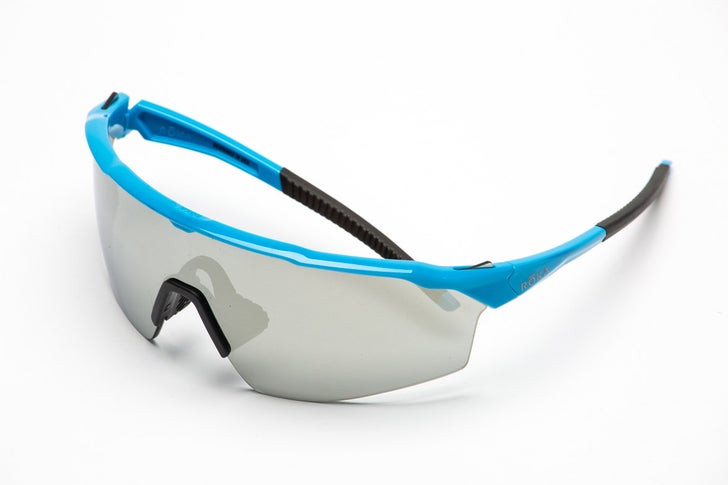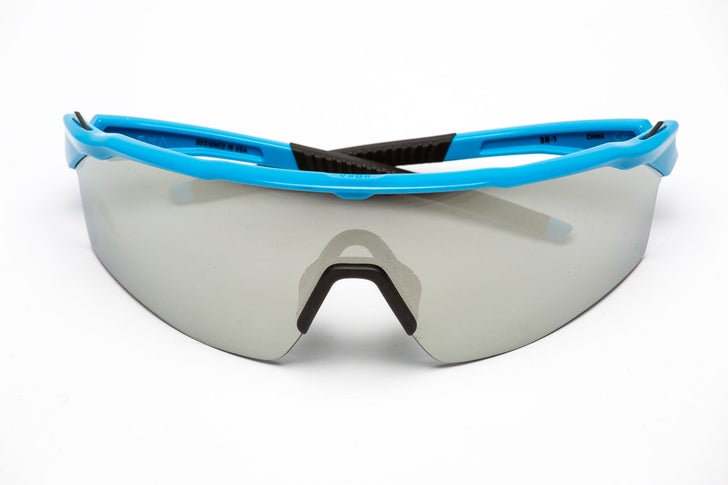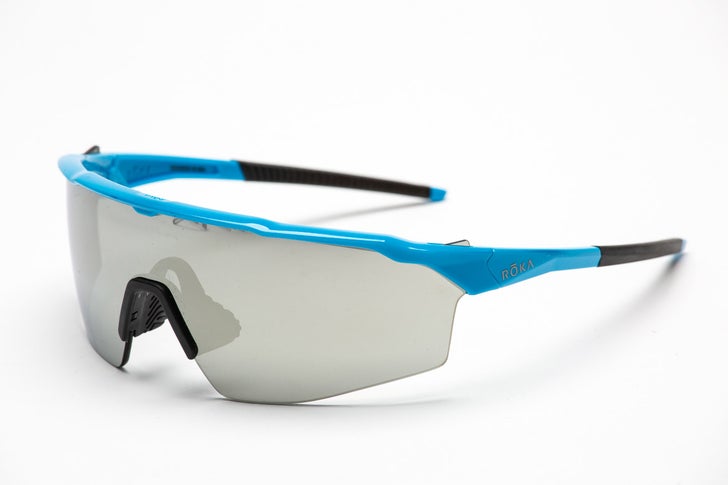 The coverage of the lens is a bit thin for our liking, though. This is most notable in the periphery and below the lens. Fortunately, Roka offers the SR-1X with a larger lens.
Like most top-end offerings, the SR-1 lens also features a hydrophobic coating. But Roka wisely puts this coating on both the inside and outside of the lens, whereas it's common to simply coat the outside of the lens. This is a wise decision that should, in theory, keep sweat and moisture from building up on the inside of the lens. We'd like to tell you if it does or not, but in the several rides we wore these glasses, sweat seemed to miss the lens entirely.
Swapping out lenses is a pretty easy endeavor — just pull down at the nose piece and the one-piece lens will pop out — but you'll get quite a bit of fingerprint smudging. It's a small complaint.
While the nose piece was comfortable enough, it's not adjustable. It's soft and it helps keep the glasses in place as you start to sweat, so if you're not a fidgeter, this won't bother you. But if you're a constant adjuster, this nose piece will probably disappoint.
Aside from those nitpicks, Roka has created a solid pair of shades. With plenty of color options to choose from and three lens color options, you can tailor these to the riding you're most likely to do. If you're after a feathery pair of glasses with the best lenses and a solid, wraparound fit, Roka's got you covered.