Clothesline Review: Campagnolo's road wear
Zack Vestal samples Campagnolo's clothing lines: Items from the posh 11 Speed collection, the high-functional Raytech line and the race ready Racing line.
Heading out the door? Read this article on the new Outside+ app available now on iOS devices for members! Download the app.
The Clothesline is an occasional column about clothing, shoes, helmets, and other accessories we've encountered. Clothing is possibly the most personal of all gear choices: two riders can try the same jersey and come back with completely different opinions. This is not meant as an extensive review (as in, worn until threadbare), but we simply hope to ride these products for as long as possible and report back on the basic fit and features. We hope you find it helpful.
The Italian style mavens at Campagnolo dove into the clothing market some years ago and haven't looked back. It's a good thing too, because Campagnolo Cycling Apparel deserves to be mentioned in the same breath as icons like Assos, Giordana, and Castelli. Campy clothing certainly has its own style, fit, and features, and I'm not a huge fan of the methodology for naming models by letter and number. But with a few minor exceptions, everything we've tried so far this summer here at VeloNews has been exquisite.
Campy clothing is segregated into several different families. Pieces in the 11 Speed family are the finest and most expensive, while the Raytech, Racing, Factory Team, and Heritage groups feature different levels of performance, price, and graphic schemes.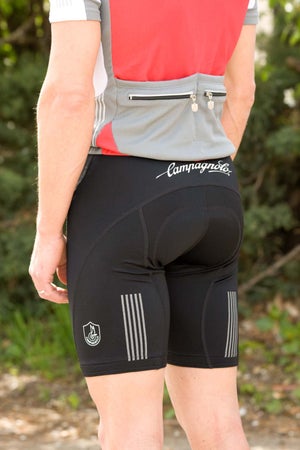 Raytech Bib Short C193 – $155
The Raytech family is generally more affordable than the higher priced items in the elite 11 Speed line, but we couldn't find anything not to like with the Raytech bib shorts. They're pretty standard in terms of materials (Lycra), construction (flat lock stitching in contrasting colors), chamois pad (anatomical TriProPad), and detailing (reflective logo and accent graphics). But simplicity is a good thing when it's well-executed.
Our tester didn't mince words with his favorable review. "I put in several six-plus hour rides in these shorts and had no discomfort at all," he said. "Simply put, it's the best chamois I've ever ridden. The TriProPad is not too small or too big. Just enough cushion, but not enough to get in the way. Good wicking properties, too."
He added that the design of the bibs is nice as well. In a size small on his five-foot, seven-inch frame, he said they were sufficiently snug but didn't pinch at the waist or diaphragm. He also liked the leg length and the construction of the paneling, which he called supportive and comfortable.
"Really, zero complaints on these shorts," said our tester. "I love them." What more can you ask for?
Racing Light Wind Vest C694 – $210
Campy bills the Racing series as just that — clothing styled and geared for competition. The Light Wind Vest certainly seems like it would fit right in at a competitive event. It's made from windproof/breathable Textran light front panels, stretchy sides and shoulders, and a mesh back for ventilation. The collar is high and lined with microfiber. There are two generously sized back pockets, each with a zippered security pocket. Naturally, the logos are reflective and there's a robust wind baffle behind the zipper. It comes with a separate stow pouch, which is a nice touch.
The first thing I notice about this vest is the fit. I'm six-foot, one-inch and 165 pounds, and the size large is very snug on me. On one hand, it's great – it's form-fitting and doesn't flap around in the wind. The snug fit also makes it feel quite warm. For as light as it is, the Light Wind Vest feels like the warmest vest I've ever donned, but it's adequately vented to adjust to changing temperatures. Plus, the capacious rear pockets are perfect for shedding layers.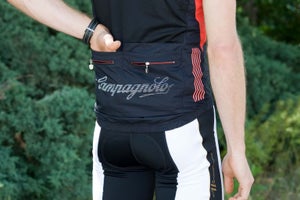 On the other hand, the snug fit has a drawback. I'd prefer a little more room around the back so that it would fit more comfortably over full jersey pockets. And while I always love the cargo options provided by big, roomy pockets on whatever clothing I'm wearing, vest pockets have always seemed out of place to me. In my experience, the vest itself gets pulled off for climbing or when the day warms, so I'd rather the vest itself be a little lighter and more compact. I've found that a vest is more likely to be the "pocketed" rather than the "pocketer."
But all the same, it's the nicest, warmest, most fully featured vest I've ever worn, and I'm looking forward to the cooler days of fall when I can get back to wearing it.
Raytech Full Zip Jersey C527 – $170
Like the Raytech bib short, the Full Zip Jersey is a no-frills, all-purpose, functional jersey. It's made of wicking polypropylene with mesh panels and two rear pockets (plus security pockets).
Our tester said the durable, mid-weight fabric felt resilient and comfortable. He had no complaints about the material, breathability, and fit. He also liked the two large, open pockets for standard cargo like a hat, gels, and sunscreen. "I like the zippered features for a phone and keys, stuff I don't want to inadvertently pull out of my pockets when reaching for a gel or winter gloves," he added.
But he wasn't totally sold on the two-pocket concept. "For a large jacket or a water bottle, I missed having a centered single pocket (as one has with the traditional three-pocket design of most jerseys) where that weight or mass would be centered on my back," he said.
11 Speed Jersey – C656 – $270
While my riding buddy Ben checked out the mid-priced Raytech clothing, I pulled rank and saved the premium 11 Speed gear for myself. Everyone in the office cranked their head around for another look whenever I rolled out for a lunch ride in these fine threads.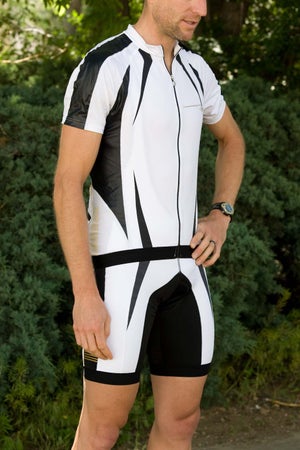 Indeed, the Intensive technical fabric the 11 Speed Jersey is made from (which claims to provide temperature regulation and a high level of breathability) is exceptionally light, thin, soft, and stretchy. The shimmery side panels are made of ultralight, flexible Revolutional microfiber. Flatlock stitching and a robust waist gripper look substantial but don't diminish from the airy feel of the jersey. It's got reflective gold accents and Campagnolo logo, and like the Raytech jersey, it's got two large rear pockets with zippered security pouches.
For $270, the 11 Speed jersey better be really damn good, and for the most part, it is. The feel is exquisite, almost exotic. The material feels luxuriously light and airy. Construction details are impeccable. And I think the styling exudes pure class. I like the two rear pockets — they're large and roomy but support my typical load of a jacket, energy bars, and tool pouch. I love the whispery light sleeves with no confining elastic.
I just have a few nitpicks about the fit. I generally wear a size large in European-fit clothing, and it seems about right in the chest. But I find the 11 Speed Jersey generous around the midsection and a little long in the front. When I'm low on the bars, the zipper bunches up. By contrast, I've worn European size large jerseys (Like the Mavic Plasma) that seem way too short when I'm standing upright, but are absolutely spot-on for riding. Maybe riders who can afford this jersey eat a little better than me …
It's possible I should try a size medium. But while the front is too generous, the sleeves feel a bit too short. I have pretty skinny arms and shoulders, so I can only imagine what a more muscular rider would think. This is one you should try before you buy.
Nevertheless, I'll "suffer" these little inconsistencies of fit because in every other regard, the 11 Speed Jersey is a purely pleasant indulgence to wear.
11 Speed Bib – C689 – $300
Like the 11 Speed Jersey, the bib short is built like a 10-panel piece of art. The compression of high-stretch Lycra Power claims to lift and support muscles during exercise and provide an anatomically perfect body fit. Stretch mesh inserts on the back add ventilation and two large pockets on the low back provide extra cargo capacity. The chamois pad is about medium size, medium thickness, with a soft-face fabric and minimal shaping.
Once again, the 11 Speed gear certainly commands a premium price and very nearly justifies it. I worship stout, evenly compressive shorts and these fit the bill perfectly. I hate the pinch and tug of imperfect bib straps, and these essentially disappear against my back and shoulders. The broad elastic of the leg gripper is comfortable and in contrast to many "Daisy Duke-" style Euro bibs, the leg length is more than adequate. And like the jersey, I happen to like the white and black with gold accents. Yes, it somehow screams "Monaco-dwelling, oil-rich Middle-Eastern sheik," but hey, why not?
However the chamois pad, while perfectly comfortable, is sewn into the shorts about 2 inches too far to the rear. I find my sit bones landing on its tapered forward end rather than on the thickest part of the back.
Again, maybe I should be wearing the next size down. I learned from the good folks at Pearl Izumi that bib short sizing has a HUGE effect on how the chamois interfaces with the nether regions.
Once again, try before you buy. But if you can afford the best in bib shorts, you owe yourself a test fit in these shorts — they're very, very fine.