Clothesline Review: Late Winter/Early Spring outfits from Pearl Izumi
Winter's not over yet, and Zack Vestal takes a look at some of the Pearl Izumi winter gear he's been wearing — and likely will continue wearing for a few weeks more.
Heading out the door? Read this article on the new Outside+ app available now on iOS devices for members! Download the app.
The Clothesline is an occasional column about clothing, shoes, helmets, and other accessories we've encountered. Clothing is possibly the most personal of all gear choices: two riders can try the same jersey and come back with completely different opinions. This is not meant as an extensive review (as in, worn until threadbare), but we simply hope to ride these products for as long as possible and report back on the basic fit and features. We hope you find it helpful.
It's been a rough winter. No matter where in the country you live, hearty riders have weathered no end of snowstorms, cold weather, and rain. Even sunny Arizona and southern California lost their usual immunity to winter's cold breath.
Although we're starting to catch a break with more frequent warm days, most of my own riding in the last month has involved a serious amount of bundling up. There was a even light dusting of snow on the ground just this morning and a more significant snow storm is predicted for later this week.
Fortunately I've had some help with staying warm from Pearl Izumi. They've got a comprehensive array of gear to keep the elements at bay. The P.R.O. Ultrasoft Shell Jacket has been awesome for riding to work (see my tech story in the April issue of VeloNews for more ideas on multifunctional clothing for a bike commute). On the other hand, the P.R.O. Softshell jersey and tights are meant for training, pure and simple.
I've been intending to write about this clothing sooner, but it's not too early to think ahead for next fall. And even though Pearl's 2010 product mix is already gearing up for spring and summer (www.pearlizumi.com ), I'm betting we're not out of the woods yet when it comes to chilly weather.
Pearl Izumi Barrier Glove ($70)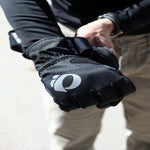 The Barrier Glove is a classic that comes in both Lobster (with two pincer-style fingers) and standard four-finger trim. It's waterproof with P.R.O. Barrier fabric and Amfib Stretch on the knuckles for flexibility. The leather palm is grippy and durable, and there's a soft, terry-like face wipe on the back of the thumb.
This is a fully insulated glove for the coldest temperatures. I like the snug elastic at the wrist to keep out the breeze, and the generous cuff provides plenty of overlap on jacket sleeves. The Barrier gloves are plenty warm and keep my hands from becoming painfully cold, as has too often been the case this winter.
Pearl Izumi P.R.O. Ultrasoft Shell Jacket ($160)
If there was one piece of clothing that became my number one favorite this winter, it was the insulating P.R.O. Ultrasoft Shell Jacket. It is way too nice for hard training on the bike, but it would keep any rider nice and toasty, especially paired with a waterproof outer layer. However, I have an easy ride to work almost every day, and quickly discovered that this jacket has the versatility to keep me both warm in the saddle and still looking sharp in the office. It's fashionable and functional for around town or even on ski slopes.
The Ultrasoft Shell Jacket has a tightly woven, smooth outer face, which forms a nice, wind resistant shell. Inside, the fabric is super plush and soft for insulation. The sleeves are long with asymmetric cuffs to pair neatly with gloves. The zippers are all sturdy metal for both style and durability.
It's incredibly comfortable, soft, and not too snug. The outer face on the fabric has a clean and classy look. I absolutely love it, and I'm hoping to see more semi-active, lifestyle clothing like this from Pearl.
Pearl Izumi P.R.O. Softshell Cycling Bib Tight ($240)
When the mercury dipped into the 30s, I reached for the P.R.O. Softshell Bib Tight. It's built with softshell panels for water- and wind-proof performance on the front of the legs. On the sides, Thermal MicroSensor panels provide added insulation. There are 8-inch zippers at the ankles to make pulling them on and off a little easier.
I've always had a hard time finding bib tights that fit. I'm a little too long in the legs and the wind resistant panels rarely stretch to my liking. But with this tight from Pearl, the fit in a size large for my 6-foot, 1-inch frame is fine. Flexibility at the knees is great, and I like the ankle zips. This is a very warm bib tight with great wind resistance and insulation.
But it's not perfect. The chamois pad is nice, but I feel it needs to move forward by a couple of inches to better fit more directly under my sit bones. I'd also prefer to see a more snug fit in the bib straps and around the waist, which tends to go slack when I'm hunched over the bars.
My recommendation is to try on bib tights like this before you buy, to make sure they'll accommodate your personal preferences.
Pearl Izumi P.R.O. Softshell Full Zip Jersey ($160)
For years, it seemed like only professional riders had easy access to the really warm jackets that make the difference between training or staying home. But Pearl's Softshell Full Zip jersey is one of several that have become widely available in the last decade or so. They're professional-grade pieces for winter training, and Pearl's is a great option.
It's a form-fitting jacket with full zip, articulated sleeves (to mimic the riding position), a high collar to keep out the wind, and four rear pockets (three across the back plus a zippered security pocket). Most of the jacket is made of Cocona fabric, woven from a natural fiber developed from coconut shells, so it's wind and water resistant. Stretchy under-arm panels offer added breathability for ventilation. There are thumb loops at the cuffs to help pull the sleeves down against your gloves.
It's a great jacket. I love the trim fit – it doesn't flap in the wind. It's certainly warm and wind resistant, and ventilation is good too. I never overheated or suffered the greenhouse effect.
I'd love to see a little more insulation, maybe a brushed fleece layer on the inside. Also, I don't see the need for the thumb loops in the cuffs, as the sleeves are long and snug, and any draft is already nicely sealed out. The fabric of the thumb loop isn't too comfortable when riding because it's directly on the palm, against the handlebar. Finally, the pockets are too small. The center pocket is good, but the side pockets are pretty snug when it comes to stuffing in a spare pair of gloves or hat for winter training.
I have since learned that Pearl Izumi made a running change to production pieces and removed the hand mitt, after testers of early samples noted the same discomfort that I did.
[nggallery id=231]