Velocio Men's Signature Jersey
This jersey performed admirably for us in the humid Spanish summer weather.
---
Heading out the door? Read this article on the new Outside+ app available now on iOS devices for members! Download the app.
This jersey is basically perfect, as long as  you aren't shy about showing off what's underneath it.
I must not be too shy because I reach for it more than any other jersey in my closet, and when I'm wearing it, I don't think about it. It's soft, compressive, and comfortable. And it breathes well. I rode this in Spain's late summer humidity, and that was the only time this jersey felt even remotely bogged down in sweat.
Velocio says the fabric is designed to pull moisture away from the body, thus keeping you dry and comfortable. That seems to play out here in Colorado, where the humidity never ticks higher than 'slightly noticeable.' But as I mentioned, I rode this jersey in some pretty humid locales as well, and while it gets sweaty like any jersey would, the Signature jersey was noticeably more comfortable and less clammy than others I've worn recently.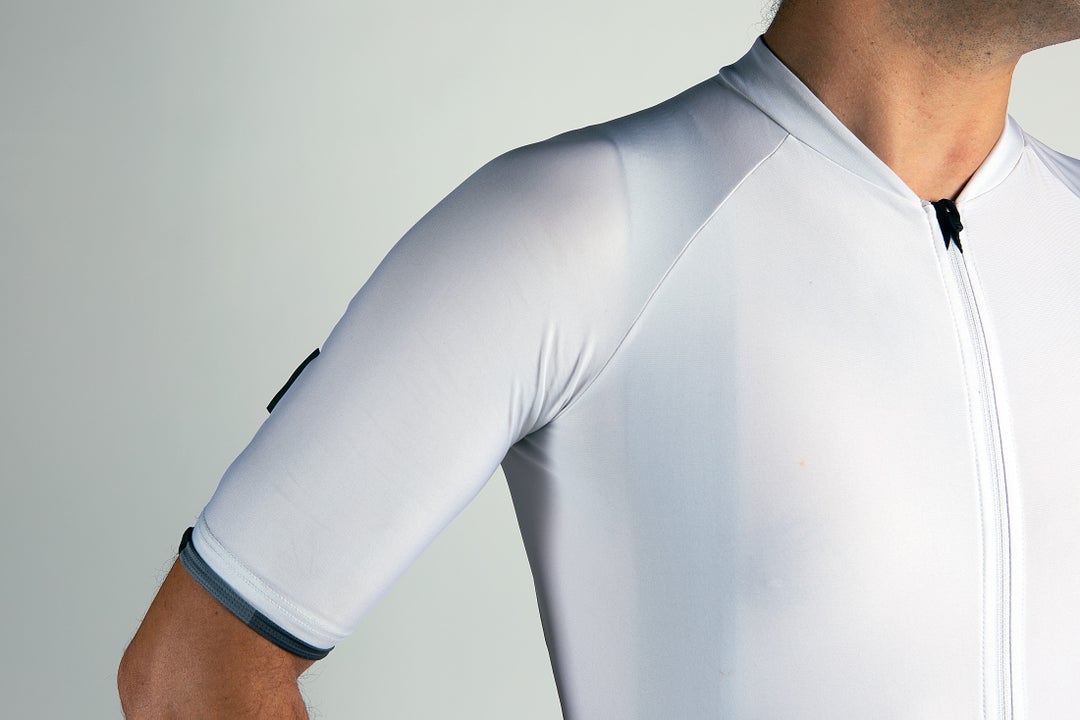 The simple white aesthetic looks sharp, but it isn't for everyone. If you're shy about what's underneath, maybe take a pass on this one. It's just too compressive and a bit too sheer for those that don't want to highlight the slight beer pooch or the pink unicorn baselayer your mom gave you last Christmas.
The sleeves extend almost all the way to the crook of the elbow. Usually when a jersey sports this type of sleeve, there's a tight band at the cuff that tends to pinch in order to keep the sleeve in place. Not so with the Signature jersey. The cuff stays put, but the cuff itself is only slightly tighter than the rest of the sleeve. There's no tugging, pinching, or other discomfort to speak of.
If you're going to spend $170 on a jersey, you better love it. There shouldn't be any niggles, any hangups. The Signature jersey fits that bill for me. This Italian-made piece has everything I want: a comfortable, compressive fit, low collar, roomy pockets (and a zippered, water-resistant pocket on top of that), and classy aesthetics. Even the zipper works wonderfully, with no tight hang-up spots or Lilliputian zipper pulls you'll never find or be able to pull adequately when you need to.
The only downside? The white fabric can get a bit dingy if you're constantly wiping your equally dingy forehead on the sleeve. And if you ride through mud, well, you know what's going to happen. It's probably not ideal for gravel rides or particularly mucky days on the road.
The Signature jersey may not be cheap, but it's an investment worth making. It takes top honors as my favorite jersey of the year.