Velocio women's Ultralight bib shorts
Velocio takes a stripped-down approach to the Ultralight bib, but it still has the comfort offered by the Signature model, minus the zipper for bathroom breaks.
---
Heading out the door? Read this article on the new Outside+ app available now on iOS devices for members! Download the app.
Velocio started as a women's specific product line and it has maintained that focus throughout its development. It's known for its Fly bibs, which feature a vertical rear zipper that allows for quick, easy nature breaks without removing or unzipping your jersey.
Now Velocio is offering a zipper-free option in the Ultralight Bib Short. In place of a rear zipper, Velocio adds small elastic inserts near the junction of the straps and the rear of the shorts to create some give when you squat and pull the back of the shorts down.
Removing the zipper obviously reduces the weight of the entire garment, but Velocio also opted for a lightweight fabric as well, making this a great option for hot days. Despite the ultra-thin Lycra, there don't seem to be any issues with fabric transparency. You may notice more visible salt accumulation on the Ultralight, though; even on short rides, it was noticeable. Dehydration is, of course, a possible culprit here, but the high visibility of sweat residue seems to be a result of the thin material as well.
Is the Ultralight as pee-friendly as the Signature Fly? Not as much, but it definitely still works. If you're between sizes and want to use the drop feature, you'll probably want to size up. Without the zipper to create more space, pulling the shorts down seems to put a lot of strain on the garment. This became especially difficult amid conditions the Ultralight is designed for, heat (and sweat).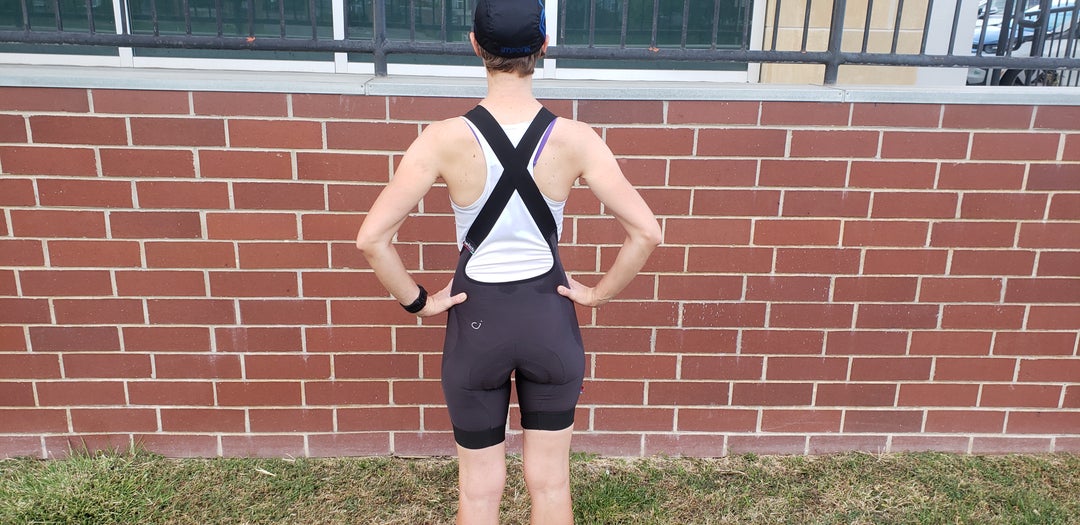 It's also fair to wonder how the strain of pulling on the Lycra bottoms and elastic straps will affect the life of the Ultralight bibs over time. Because Velocio runs small and emphasizes compression in its material, sizing up should make the drop feature a little more user-friendly without negatively impacting fit.
The Ultralight uses the same high-quality chamois as the Signature Fly. It's not a particularly thick chamois but offers a high-density pad that remains comfortable on 70+ mile rides.
And the mesh front, which acts as a built-in base layer, remains a winning feature. While the design primarily creates the structure needed to support you pulling from the drop feature in the rear, the mesh front is also the perfect base layer on extremely hot days.
If you're looking for the most pee-friendly bib possible, Velocio's Signature out-does the Ultralight, but if you're looking for something that's light and comfortable on hot days while offering support for long rides, the Ultralight is great — just know you may need to size up.