Ask Nick: Derailleur installation, indoor maintenance, cassette adjustments
Careful rear derailleur installation, maintaining a bike for indoor riding, adjusting your cassette rather than your derailleur
Heading out the door? Read this article on the new Outside+ app available now on iOS devices for members! Download the app.
Editor's Note: VeloNews tech editor Nick Legan is a former ProTour mechanic who most recently wrenched for Team RadioShack at the 2010 Tour de France and elsewhere. His column appears here every Thursday. You can submit questions to Nick at asknick@competitorgroup.com, and be sure to check out Nick's previous columns.
Q.Nick,
I have been struggling for a few years swapping out my PowerTap wheel for any others without making derailleur adjustments because the cassette lines up with the derailleur differently on the PowerTap hub than any other hub I've used (which are mostly consistent).
Do you know of any tricks to get the cassette on the backup wheel to line up with PowerTap hub so that you can interchange them without making derailleur adjustments?
— Ken Primer
A.Ken,
It's not a sure bet, but you can certainly try spacing your cassettes on your various wheels. You need to establish which wheels put the cassette towards the center of the hub and which of them put them closer to the dropout.
Then you need to track down some very thin cassette spacers. Shimano includes a fairly thin one, about 1.5 mm, with its cassettes. Keep those around even after cassettes are worn out. It's unlikely that you'll need more than 1.5mm of extra spacers behind your largest cog. In fact, that may be too much.
Finding thinner spacers can be tricky, but it's possible. Check your local hardware store.
The idea is to make all your cassettes equidistant from the dropout. It doesn't matter how you measure it. I do it from the center of the smallest cog to the inside edge of the dropout. You get the point though. Good luck! And if you're hesitant about doing this yourself, get help from the best mechanic you know. Bring him some brownies and bribe yourself some assistance.
Q.Nick,
With Minnesota winter here and 20 degrees or cooler temperatures and snow, I have moved my bike indoors to the trainer for the foreseeable future.  Here's my question.  How often should I be worried about lubing up my chain, components, etc. while I'm indoors.  I ride about 10 hours a week indoors during the winter, but I'm sure there are plenty of other variables.  What are your thoughts?
— John Peter
A.John,
You won't have to lube very often if you're ride exclusively inside. The biggest reason I lube my chain is not because it's dry, but rather because I've washed the accumulated road grime and dust off of it.
The best way to know when to lube is by listening to your bike. Literally. A clean, lubed chain runs nearly silent, especially in gears where the chain is straightest. Your chain will sound dry when it needs a drink of your favorite lube.
When you do apply, make sure you don't overdo it. I see that a lot. You also need to make sure that you're lubing the chain rollers and not the outer or inner plates. It's best to lube your chain after a ride as opposed to before it. Let that oil penetrate into the rollers overnight. Pedal your bike slowly while shifting across all your gears and then wipe off the excess.
The only thing lubing before a ride accomplishes is flinging lube all over your drivetrain, frame and wheels. Not a great thing.
Q.Nick,
I'm wondering how the pro teams assure that tire pressure is accurate.
I can imagine that some of the pros are very picky about pressure in their tires depending on wheels, weather conditions, course profile, etc. I'd assume you have super-dialed in pumps (and/or gauges) but some of the floor pumps' gauges notoriously vary quite a bit.
— Matt Masucci
A.Matt,
To be honest, few road pros are that picky about tire pressure. Mountain bike and cyclocross racers obsess a bit more, but even then it isn't imperative to have a perfectly accurate read on pressure, as long as it's a consistent reading. Using the same pump or gauge all the time and knowing how a given pressure feels is more important than whether it's perfect.
Afterall, pressure drops over the course of a day and temperature and other factors dictate that fall in pressure. I find that more amateurs get hung up on pressure than pros do. That's likely because amateurs have to pump their own tires! So it makes sense.
Q.Nick,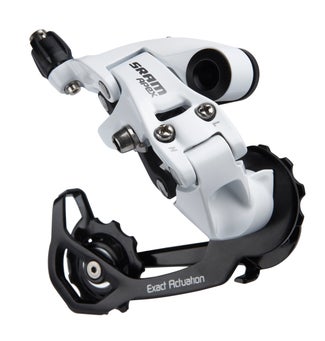 Let's just say I am an "experienced" rider – oh, all right, I'm 60. And, I'm not built like a cyclist as I am 6'4″ and 195 lbs, but I've commuted to work and ridden with friends for years. I recently opted to try SRAM's Apex group, with a 50×34 in front, 11×32 in back.
My question is about the chain crossing. I was in the habit of staying in the big chainring and going up to the 28 or so (I forget exactly how it goes in back) if I was going up a hill, but I wasted the rear derailleur. Fortunately, SRAM graciously advised my bike shop to just replace the derailleur at no charge. Are there any setup tricks that allow you to cross-chain and not do in the derailleur?
— Doug Corey
A.Doug,
I'm not exactly sure what happened to your derailleur. But you should be able to ride in the big chainring and the largest cog (completely cross-chained) and not tear the derailleur off.
Many mechanics run chains too short and that may have been the reason for your trouble. But let's start at the beginning. Before the derailleur is ever bolted onto your bike two things should happen, and in this order: 1. Your rear wheel should be trued so that the next step can be performed accurately. 2. Your derailleur hanger should be checked and straightened if necessary.
If these steps are skipped it's pretty easy to throw a derailleur into your rear wheel. In fact periodic checks of your derailleur hanger are worthwhile. Even the most innocent tip-overs of your bike can bend it just enough to place the pulley cage in your spokes if you shift to your largest cog.
So, my advice is to check the shifting with your mechanic before you leave the shop to make sure that you can safely use all your gears. Have fun out there!