Ask Nick: Speed wobble, shoe covers and single-ringing it
Speed wobble, shoe covers and single-ringing it
Heading out the door? Read this article on the new Outside+ app available now on iOS devices for members! Download the app.
Editor's Note: VeloNews tech editor Nick Legan is a former ProTour mechanic who most recently wrenched for Team RadioShack at the 2010 Tour de France and elsewhere. His column appears here every Thursday. You can submit questions to Nick at asknick@competitorgroup.com, and be sure to check out Nick's previous columns.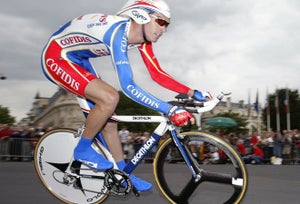 Q.Nick,
I have experienced the dreaded "speed wobble" four times. Once on a pieced together early carbon bike and then three times on my Trek Discovery Channel Madone.
Does this ever to happen to pro racers? If not, why? If so, what do they do about it? Are the newer carbon frames engineered to be less prone to speed wobble due to some harmonic damping or something? I never had a speed wobble on my steel frame Shogun from 1984. Any info would be great.
— Robert Brudenell

A.Robert,
Speed wobble can be a truly terrifying experience. It is also a complex problem because many factors can contribute to it. Much of it has to do with the interaction between the rider and the bike, or more specifically the rider's weight distribution over the bike. Many riders who have extremely high handlebars (and typically very short stems) have speed wobble issues. While almost any rider position will work on flat roads, when it comes to descending it pays to ride like a pro, long and low.
Racing bicycles are designed for racing positions. When riders or shops install extremely short and high stems, the handling results are almost never satisfactory. On the other hand, many newer bikes are designed for a more upright rider position. By lengthening the chainstays and increasing the trail on bikes like the Cannondale Synapse or the Specialized Roubaix, manufacturers are building more stable bikes. This helps immensely.
If you feel a wobble coming on, try to get more weight over the front wheel. At the same time try to keep your body relaxed (not an easy task when fearing death) while keeping hold of the handlebars. Placing a knee against the top tube also helps.
Typically, if you are riding a quality frame (like your Madone) and your wheels are in decent shape, rider weight distribution is to blame for a speed wobble. Misaligned frames, grossly unbalanced wheels and even road surface can all contribute though.
I've never in my time as a mechanic heard a pro complain about speed wobble. Much of this I feel is due to a pro's aggressive position but it is also thanks to high quality bikes and wheels.
I would guess that you never experienced speed wobble on your '84 Shogun because its wheelbase is longer than your Madone.
Q. Nick,
How often does a pro rider change his shoes? Does one pair last a whole season, or are multiple sets used?
Are the shoe covers we see even on relatively warm days (and I'm not meaning TT's) a device to hide the rider's own brand of shoes? Lastly, is there a smart way to effectively position the cleats on a new pair (new brand) of shoes, other than use the lines printed underneath most shoes as a rough guide?
— Henrik Andersen

A.Henrik,
Typically a rider will go through two or three pairs of shoes a year, but that varies drastically by rider. Danny Pate wore the same pair of DMTs for many years despite several teams' attempts to get him new shoes.
Many teams do have a shoe sponsor, but it is not uncommon for exceptions to be made. A lot of pros have personal sponsors for glasses and shoes. If a team is unwilling or unable for contractual reasons to make an exception, a rider will often ride with shoe covers. Inigo Cuesta never wore Team CSC Sidi shoes and as a result, always wore Sidi shoe covers. So you've hit the nail on the head on that one. But then some guys may just get cold feet more quickly than others.
I think the smartest way to install cleats on a new brand of shoes is to get a professional fit or enlist the help of a professional fitter. A new shoe can create issues if it has varus wedge built into the sole and a previous shoe did not, or vice versa. Because of this, many problems can be avoided by hiring a set of trained eyes to help with your setup. That may not be the most economical way, but it is surely the best.
If you want to do it yourself, you'll probably have to go through some trial and error. It helps if you have some vernier calipers and a permanent marker.
Without going into a big bicycle fit answer, typically a professional fitter will start by placing the axle of the pedal between the first and second metatarsal (approximately five millimeters behind the first). You can find your first metatarsal pretty easily by probing your foot while wearing the new shoe. Mark the spot with the permanent marker. Do the same on the other foot. Measure from the front edge of the sole back to each metatarsal mark. You'll want to split the difference and place your cleat's axle line five millimeters behind the average of the two markings. (almost all bike fitters start a new fit by putting the cleats in the same spot longitudinally on the shoe).
For LOOK or Shimano style cleats, you can use the edge of a table to check the angle and fore/aft of the cleat left to right. Place both shoes so the cleats hang over the edge and slide them back until the back edge of the cleat makes contact with the table top. Check the back edge of each shoe and compare.
In my experience, the printed lines on shoes can be suspect. Without verifying them with calipers (or your own method of measurement) I wouldn't trust them.
Q.Nick,
With so much of modern day cycling components being heavily influenced with aerodynamics, why is it so many pros continue to have a front wheel speed sensor when it could be tucked away so to speak on the rear wheel? — Nik Rodriguez

A.Nik,
Many are moving away from this. Suunto makes the wireless speed sensors for SRM and I've seen HighRoad mechanics place them on the rear of their bikes. This not only helps with aerodynamics, but also gives a rider speed information when he is warming up on a trainer.
Trek's DuoTrap (not the SpeedTrap which is on the fork) is integrated into the non-drive chainstay and sends both speed and cadence data to a computer, GPS or SRM PowerControl.
Many riders are also doing away with magnets and speed sensors entirely and simply using a GPS.
But your point is a valid one. Small things like cables, uncut steerer tubes and even thick handlebar tape all have a measurable effect on the aerodynamic drag of a bicycle.
Q.Nick,
Do ProTeams ever use single chainrings? It seems to me that in a flat TT there is no reason to have a small chainring. A 54-tooth chainring is all you'd need, right? Wouldn't it be more aero, and lighter to eliminate the smaller chainring, especially if you also went without the shifter, front derailleur, and cable? It may not be practical for "normal riders" but why wouldn't pros (with the help of guys like you) opt for that? I would think you could also run one chainring in flat crits and other situations where there is no need for a large range of gearing.
— Josh Bullock
A.Josh,
When I read your question, I instantly thought of David Millar dropping his chain at 2003 Tour de France prologue when he rode for Cofidis. He was running a single chainring and no front derailleur. That mechanical cost him a yellow jersey.
To answer your question in a word, "no." There is really no compelling reason to forego a small chainring. The risks of over-gearing or dropping a chain are high and the possible rewards are marginal.
While most time trials in the U.K. and the U.S. are strictly big-ring endeavors, time trials in Europe tend to have more climbing and be much more technical. Prologues are often flat, but then they typically involve cobbled or rough urban streets where the risk of a dropped chain is greatest.
In trying to keep a chain on a chainring, a derailleur is impressively effective. So even if you saved the weight of the small ring and the shifter, the front derailleur should stay. I'm not sure how much aerodynamic savings would be gained from losing a shifter and a ring. The air around the cranks is very "dirty" from the egg-beater of pedaling legs.
Speaking practically, many riders like to warm up on their TT bikes and a small ring makes this easier.
Criteriums would be a good place for a single large ring, but European pros don't actually ride that many and when they do, they often don't have a mechanic (they are promotional rides with big start money).
U.S. pros definitely ride criteriums, but the work involved in stripping the bike down for two hours of racing simply isn't worth it. If you had a criterium-only bike, then you could go crazy.
—Nick