Behind the scenes: riding in a Garmin-Cervélo car during the 2011 Paris-Roubaix
Supporting a team at Paris-Roubaix is a tough hustle. VeloNews hitched a ride in a Garmin team car to find out just how tough.
Heading out the door? Read this article on the new Outside+ app available now on iOS devices for members! Download the app.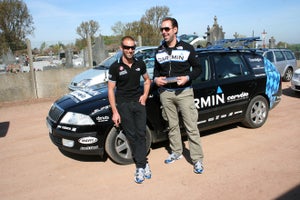 ROUBAIX, France (VN) — Supporting a team at Paris-Roubaix is a tough hustle. VeloNews hitched a ride in a Garmin team car that leapfrogged the race to find out just how tough.
Preparation for Roubaix begins months in advance. Orders must be placed for special spare wheels and bicycles; custom FMB tires, for instance, don't happen overnight. Careful planning also goes into just how the team can best support its riders over the 258km course.
For Roubaix, Garmin had all hands on deck. Four mechanics were called in, along with an army of soigneurs and physios. Even team owners and management went into action to cover as many sections of cobbles as possible.
One car followed the peloton in the race caravan while eight others leapfrogged the race. Mechanic Kris Whithington had the honor of working the caravan car. Head mechanic Geoff Brown drove the team truck to the finish. Everyone else worked feed zones and stopped at different vital points along the route.
VeloNews rode along with soigneur Joachim Schoomacker, a Belgian, and mechanic Alex Banyay, an American. Not long after leaving the start area, the first attacks of the day began. In the car, race radio kept the Schoomacker and Banyay abreast of the situation. Once television coverage went live, sensory overload quickly became possible.
The race between sectors for the staff is frantic. VIP vans, spectator cars and other teams all have the same idea and that makes for congestion. Quickly navigating tiny backroads and making snap decisions can mean the difference between a rider getting dropped or making the front group.
In between avoiding race traffic and keeping track of where their riders were in the race, the Garmin duo talked about Paris-Roubaix and its place in their work world.
This was Banyay's first Roubaix and also first year working in Europe.
"It's just another bike race. I hate to be blasé about it, but it's true," he said. "There's a certain romance to it, but in reality for me it's a job and it's a bike race."
Despite his initial reserved take, he later added: "There's two races I've always wanted to do, for their history and place in the sport. One is Milan-San Remo. And I got to do it in the team car. The other is Roubaix. And here I am."
His partner was a bit more excited. Schoomacker is a veteran despite his relative youth.
"I just love this race. After Roubaix, races aren't the same. Since I was a kid I watched San Remo and all the spring classics. I grew up watching them. For me, it's the nicest time of the season. For today, it's gonna be a really good race, but the weather is way too good!"
In the team car, they packed two pair of wheels and a small cooler of bottles. Assigned to cover four different cobbled sections, they Garmin staff would have to hustle to make each section in time.
At each stop Schoomacker had two things in mind: first, how best to be seen by his riders; and second, where to park for a quick getaway to the next sector.
Once parked, Banyay would grab his wheels and head to the exit of the sector so he could quickly change any punctures. Schoomacker positioned himself a bit farther down the road with bottles.
The hot, dusty conditions made hydration particularly important, especially since bottles get lost on the jarring cobbles.
"In every section they go in with two bottles and come out with one," said Schoomacker. By the end of the day he had handed off 15 bottles.
Thankfully, Banyay had a quiet day. Even after four sectors of pavé, he didn't have to service a single mechanical.
Garmin's tactics in and around the race paid off. Johan Van Summeren pulled off the biggest win in the team's history, and never has the team featured so prominently in Paris-Roubaix. It wasn't an easy day with multiple falls — including Roger Hammond's, which may have caused a broken collarbone — and several punctures. But that's Roubaix.
At the beginning of the day Schoomacker said: "This is my fifth Roubaix. Never won one. Maybe today." For him and his team, the words were prophetic.