Cyclocross Buyer's Guide, part one: Top of the line 'cross rigs
In part 1 of our addendum to the November issue of VeloNews magazine, our tech editors detail the 'cross bikes they picked as top-of-the-heap for this season.
Heading out the door? Read this article on the new Outside+ app available now on iOS devices for members! Download the app.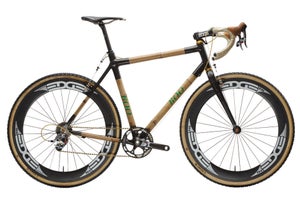 Readers of the 2010 VeloNews USGP of Cyclocross Guide could start the process of choosing a new bike with a flow-chart spread, an amusing visual that the staff, tech editors, and graphics department had some fun putting together. The graphic is designed to showcase and differentiate between 15 of our favorite fall-time steeds. What it was missing, however, was details of the bikes themselves — a sad result of the limited space that print provides.
So we present to you: Web-Optimized 'Cross Guide 2.0, Part One. The full run-down of all the killer 'cross bikes found in the USGP guide. Part 1 is for eye candy, the top-of-the-line rigs reserved for those whose wallets give them back trouble.
Part Two, which will grace the web later this week, will contain the mid-to-high range race bikes.
Part Three will be for the more budget-conscious.
If you haven't checked out the November issue of VeloNews, and the included USGP Cyclocross Guide, go take a look. If you have, we hope you'll enjoy this online supplement.
These choices are based on editors' opinions after reviewing as many new bikes as we could (the choices were unrelated to advertising concerns, by the way). If you disagree with our choices, or have other favorites, let us know in the comments section.
Oooh… Pretty!
Crumpton Cyclocross – $4,800, frame and Enve fork
Handmade carbon, tailored to you like a fine suit. The Crumpton Cyclocross, built by Nick Crumpton in his studio in Austin, Texas, is difficult to characterize simply because each frame is unique, made to order for each customer. Crumpton uses tried-and-true 'cross geometry and tube designs that are optimized for the rough stuff. Cables are routed above the top tube, as far away from dirt and grime as possible. That tailored feel paired with the performance of carbon is difficult to beat. Frameset price includes Enve Composites fork.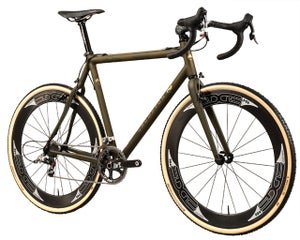 BOO Cross – $3,080 frameset, $7,645 as pictured
Boo Bicycles, the brainchild of Nick Frey (a Princeton educated whiz kid and member of the Jamis Pro Cycling team) and master craftsmen James Wolf, is one of a number of small manufacturers delving into the world of organic frame materials. Don't be fooled by the unique look — Boo's Cross frame builds up into a serious, race-tested machine, complete with a flattened top tube, internal rear brake cable routing, and plenty of mud clearance. The bamboo tubing provides just enough give to maintain power through rough terrain, while maintaining plenty of stiffness for those smooth fast sections. Sold as a frameset or built up with SRAM Red and Enve Composites wheels.
Moots Psychlo-X – $2995 frame
Designed and built in Steamboat Springs, Colorado, the Psychlo-X offers up everything you would expect to find in a frameset of this caliber. Top tube routed cables, tons of tire and chainring clearance, and the supple ride of titanium make it a worthy 'crosser in and of itself. But what makes the Psychlo-X stand out, particularly given the new UCI cross rules, is its available disc-brake mounts. Customers can swap disc mounts for cantilever mounts for no extra charge, or have both for an additional Benjamin. Thanks to the late-summer UCI ruling, larger manufacturers won't have disc-brake-ready bikes until at least next year, so for anyone who has been dying to get on the disc-brake bandwagon, Moots fits the bill.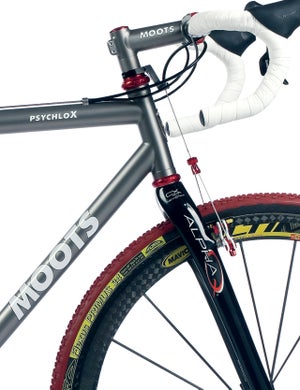 Dean Torrey Ti – $2450 frame
Hailing from another Rocky Mountain-based frame builder, the Torrey Ti is beautifully handcrafted from 3/2.5 seamless titanium in Dean's Boulder, Colorado, facility. The Torrey features ovalized chain stays for increased tire clearance, Breezer-style dropouts for extra rear-end stiffness, and a ride that is simply unmatched by mass-market frames. Build the Torrey up however you want, and enjoy it throughout its very, very long lifetime.
Ridley X-Night Red – $3995
Zdenek Styber piloted Ridley's flagship X-Night to victory in last January's world championships, further adding to the palmares of the noted Belgian brand. The frame includes a tapered head tube, internal cable routing through the right seat stay, fully integrated Kevlar cable guides, a BB30 bottom bracket, replaceable rear dropouts, and tube shapes on the fork and seat stays designed to shed mud. Perhaps more impressive is the 20 percent price drop for the frame compared to last year, making the X-Night Red model a little less painful to the pocketbook. Component highlights include a SRAM Red/Force mix, Avid Shorty Ultimates, and a Fulcrum Racing 5 wheelset,
Independent Fabrication Steel Planet Cross – $2250 frameset with a steel fork, $2475 with carbon
Real steel, ready to race. The Planet Cross is a child of New England, bastion and birthplace (arguably) of North American cyclocross racing, and is designed to be a no-nonsense crosser in any terrain and weather. Independent Fabrication seals all the frame's tubes, except for the seat tube, to keep the elements out and corrosion at bay. The frame includes plenty of tire clearance, a head tube and down tube gusset for increased strength and stiffness, top tube cable routing, and copious room for portaging. Pick from 24 stock colors and 15 decal color combinations, or a full custom paint job (for some extra dough). Available with a carbon cross fork or IF's steel fork, painted to match of course. IF also makes a Ti version of the same frame.