First Ride: Apidura Racing Top Tube Pack
Slim, light, waterproof, and durable, Apidura's Racing Top Tube Pack is barebones but raceworthy. The magnetic closure makes access quick and easy.
Size Reviewed
1 Liter
Price
$65
Brand
Apidura
---
Heading out the door? Read this article on the new Outside+ app available now on iOS devices for members! Download the app.
The growth of gravel has brought with it an explosion in the bike bag and storage markets. Call it accessorizing if you want, but it's hard to imagine diving into a long-miles gravel race without some sort of bag system in which to store nutrition, your camera, extra layers, and everything else you might need during the long, lonely miles. Apidura isn't a new name in the game, but the UK-based company tends to be a quiet one — often eschewing social media and web marketing. So you'd be forgiven if you didn't know about the Racing Top Tube Pack.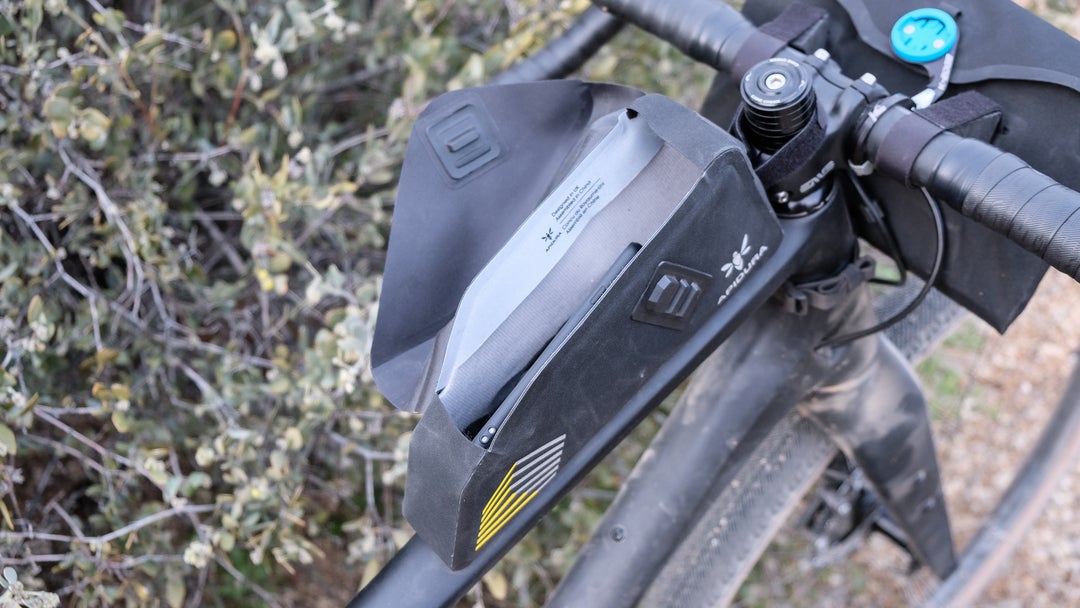 It's a slender piece that fits nicely on your top tube, butted up against your stem. If your bike has mounting bolts in that location, the Racing Top Tube Pack accommodates them with several holes that help you match up the best position. The Hypalon material — a rubberized nylon — is punctured by the mounting screws, creating a waterproof seal that keeps sneaky splashes and dirt out of the pack itself.
The Racing Top Tube Pack features a magnetic closure for the flap top, which means you can open and close it quickly and easily with one hand while you're on the bike. The magnet itself features a slotted design that helps keep the magnetic clasp in place, and the notches offer varying degrees of snugness to accommodate how much you've stuffed inside. I put about 80 miles on the Racing Top Tube Pack in the desert outside of Scottsdale, Arizona, and even over rough singletrack sections, the flap never loosened or flopped open.
It would be nice if the lid stayed open on its own once you've pulled the magnets apart. As it is, I found myself having to hold the flap aside either with the side of my hand or with my other hand entirely. It's a minor niggle, but it would simplify the process of accessing the contents of the Racing Top Tube Pack on the go.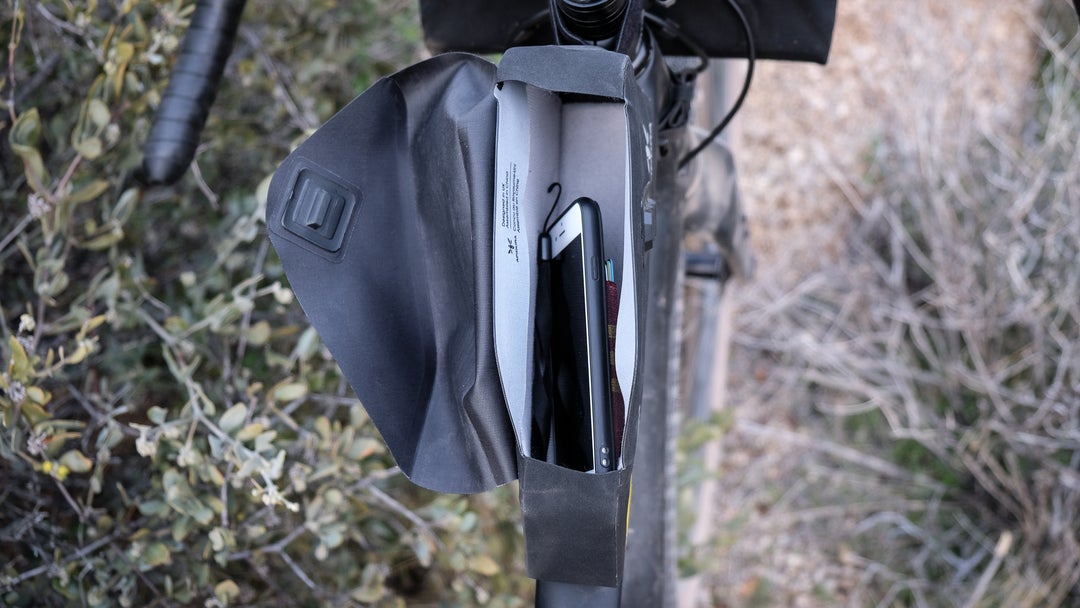 Once open, it's easy to see what you've stowed inside. The Racing Top Tube Pack is, as its name implies, a fairly stripped down pack in terms of size and weight, as well as function. So while you can't store much more in there beyond your phone and some nutrition (and probably a C02 cartridge or two), you'll be able to find what you're looking for pretty easily. And the light gray color helps provide a light contrast against the contents themselves.
Perhaps most notably, the Racing Top Tube Pack is constructed using a material called Hexalon, which is a proprietary laminated fabric that Apidura had developed exclusively for its products. The goal behind creating this new material was to meet a tough combination of needs: waterproofness, light weight, and abrasion resistance. While I thrashed it pretty well in the Arizona desert for 80 miles, my sample of the Racing Top Tube pack didn't encounter any water, so that test will have to wait for a ride in a different location. But the dust that coated the outside of the pack by the end of a long day on gravel roads and singletrack stayed entirely out of the bag's inside. I even dropped the bike in a cactus, so I suppose we can call that early abrasion resistance testing. (So far it passed!)
The Racing Top Tube Pack lives up to its name with a feathery, 105-gram weight and minimalist design. It's best for the gravel racer looking for a convenient place to stash nutrition and a phone (there's an electronics port so you can fish your earbuds out of the front of the pack; nice touch.). If you're an adventure racer who needs to haul all the goods with you, this might not be your best option.
We'll test the Racing Top Tube Pack back home in Colorado and see how it stands up to longterm abuse and perhaps even a few rainy rides.