First Ride: New Cervelo R5
Cervelo's new road offering comes in rim brake and disc brake versions. Plus, the R5 has remarkably good handling.
Heading out the door? Read this article on the new Outside+ app available now on iOS devices for members! Download the app.
ROTA D'IMAGNA, Italy (VN) — VeloNews first spotted Cervelo's new R5 in Dubai with a distinct paint job to mask its feature, and then Team Dimension Data's Omar Fraile won stage 11 of the Giro d'Italia on it. Now we know the details about the R5 that, according to Cervelo, make it something special — a reinvention of the classic road bike, as Cervelo puts it — and we were fortunate enough to ride it in the mountains of Northern Italy.
Our takeaway: The new R5 is indeed an excellent race bike that trades on its phenomenal handling.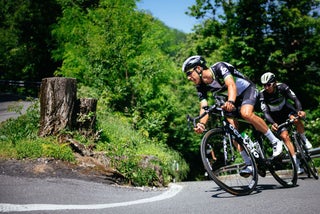 According to Cervelo, the company approached this redesign differently than previous iterations of the R5. Cervelo's senior product manager Philip Spearman says, "Typically we've done it all by the numbers; it's about aero, it's about light weight. On the R-series, we went on a different journey and we thought about how to make the bike handle differently. We had some numerical goals, but we had to find something else that just wasn't quite there."
That 'something' was a more connected ride feel, a playfulness that would lend personality to this no-nonsense racer. So the goals for the redesign became straightforward: increased stiffness, but also increased rider comfort and better fit options to get you low and aggressive. And, of course, exceptional handling. Straightforward goals, but not simple.
[brightcove id="5460523596001″]
To get a sense of how Cervelo approached race responsiveness and stability, consider the geometry of a Size 56cm R5:
Wheelbase: 993 millimeters
Chainstay length: 410 millimeters
Bottom Bracket Drop: 72 millimeters (4 millimeters lower than previous R5)
Head tube length: 151 millimeters
Head tube angle: 73 degrees
Seat tube angle: 73 degrees
Trail: 57 millimeters
Front Center: 594
Stack: 572 millimeters (8 millimeters lower than previous R5)
Reach: 389
There's nothing outrageous in those numbers, but it indicates a shift of the rider's position forward and down. It also increases stability with a 72-millimeter bottom bracket drop, an interesting combination on a race bike. Cervelo distinguishes between the R5 and R3 models with geometry: The R5 is pure race, while the R3 is a bit more relaxed for less aggressive riders. According to Cervelo, the R3 now reflects the geometry of the previous R5. The R3 also has slightly less truncation on its tubing, making it slightly less aero.
Other nice touches include clearance for 28-millimeter tires and a claimed savings of 44 grams of aerodynamic drag over the previous R5 frame. Perhaps most importantly in terms of comfort, Cervelo has revamped its cockpit with the AB06 carbon bar. Unlike the AB04 bar that projected forward from the stem, the AB06 is much smaller and sleeker, with a forward offset and a back sweep that allows a more natural wrist position when you're riding on the tops. There are no cable routing holes, just channels, a design that presumably increases strength and drops weight. The CS26 stem allows for internal Di2 routing, and the face plate works with a Barfly computer mount system.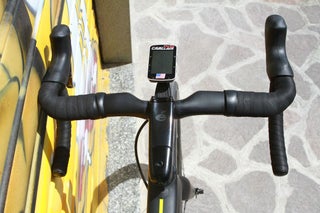 The CRA thru-axle system on the disc-equipped R5 will look familiar: It's a similar design to the Focus Rapid Axle Technology (RAT), though slightly refined for ease of use and quick wheel changes. There are visual indicators that let you know how to position the axle quickly and whether the lever is open or closed.
Finally, there's both a rim brake version and a disc brake version available. Interestingly, the disc brake frame (831 grams) is lighter than the rim brake frame (850 grams). Both frames are substantially stiffer than the previous R5 according to Cervelo, with a 21 percent (18 percent on the disc brake version) increase in stiffness at the head tube and a 13 percent (26 percent on the disc brake version) increase in stiffness at the bottom bracket.
First ride on the new R5
Is it a reinvention of the classic road bike? Not quite — don't expect a rocket ship where your bike used to be — but marketing speak aside, the R5's handling is remarkable.
When you're seated, the steering locks itself in; you could take your hands off the bars and easily ride in a straight line. This stability comes in handy during hard, sustained efforts, and allows the rider to focus more on power output and less on steering. When you stand up and mash on the flats, you'll notice more responsiveness (there's that 57-millimeter trail figure at work), but it never gets to the point of nervousness that you're probably used to on other race bikes of this ilk. It shines on high-speed descents, likely due to the 72-millimeter bottom bracket drop combined with the aggressive trail and head tube angle. That means the bike is predictable in tight corners, yet quick line changes are no biggie.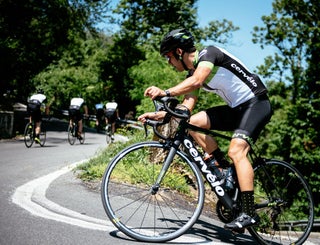 We tested both the rim brake version and the disc brake version. The rim brake bike we tested had a few spacers beneath the stem, so the position wasn't quite as aggressive as we're used to. The Mavic Ksyrium Elite wheels detracted from the responsiveness and stiffness we were promised, and while these are excellent training wheels, they didn't do the R5 justice.
Wheels aside, Cervelo didn't leave us much room to doubt the stiffness numbers they fed us. Once we got our hands on the disc-brake-equipped R5 (with a slammed stem for a more aggressive race position), the bike immediately struck us as quick off the line and easy to spin up to speed. That might have something to do with the Zipp 303 wheels, a nice complement to the wispy R5 frame that tightened up the responsiveness and handling. It's really one of the most confident-handling bikes we've tested recently.
Rear end compliance lives exclusively in the seatpost, which flexes to accommodate your weight. It's unnerving at first, but the flex settles down quickly and ends up just doing what it's supposed to do: keep the big hits at bay.
The SRAM eTap HRD disc brakes are exceptional and an excellent addition to an already-stellar build. The frame's internal hose routing keeps things nice and neat, but there was definitely a fair bit of hose rattling somewhere in the frame.
Aside from that nitpick, there wasn't much to dislike about the new R5. We're excited to get our hands on one for long-term testing.
Pricing is in line with what you'd expect from a high-end race bike. The Dura-Ace Di2-equipped bike, as well as the eTap-equipped bike, will retail for $9,000. The Disc versions of those two groups will also run you $9,000.
The R3 hits lower price points, with a Dura-Ace-equipped bike at $5,200, an Ultegra Di2-equipped bike at $4,700 ($5,200 for Di2 disc), and an Ultegra mechanical-equipped bike for $3,700.