First Ride: Endura Drag2Zero skinsuits tailored for aero efficiency
Dan Cavallari puts these high-end racing suits to the test.
Heading out the door? Read this article on the new Outside+ app available now on iOS devices for members! Download the app.
DERBY, England (VN) — Most of cycling's aerodynamic glamor is in frame and wheel design. But Endura's designers recognize that a rider's body and clothing induces significant drag — up to 80 percent of a rider's wind resistance.
The rider's body is a moving target, so it's impossible to address drag in the same ways as a stationary object like a frame. Enter the Drag2Zero clothing line, which Endura developed in conjunction with pro riders like Alex Dowsett and his Movistar teammates. But Jim McFarlane, Endura's founder and managing director, is quick to note that the Drag2Zero line makes sense for us mere mortals, too.
"Fifty kph has become sort of the relevant speed for TT suits," says Mcfarlane. "But in the real world, it's not as relevant. What can you access? What's relevant for you? We were trying to develop a product that's high-performance at speeds you'll be operating in."
Endura tested its Drag2Zero aero clothing line at various speeds, and the company claims its halo product, the Encapsulator skinsuit, is the fastest compared to its competitors from 32 to 50kph (about 20mph to 30mph).
"Five or 10 years ago we were just lucky to be testing garments in a wind tunnel, so everyone was testing at one speed," says McFarlane. "And that's where the mistake was made."
The design team also recognized that a rider's body position has a significant effect on aerodynamic gains. To that end, Endura designed the Encapsulator skinsuit for the most aggressive TT riding positions. For a more upright (but still aggressive) road racing position, the Road Suit is the tool of choice.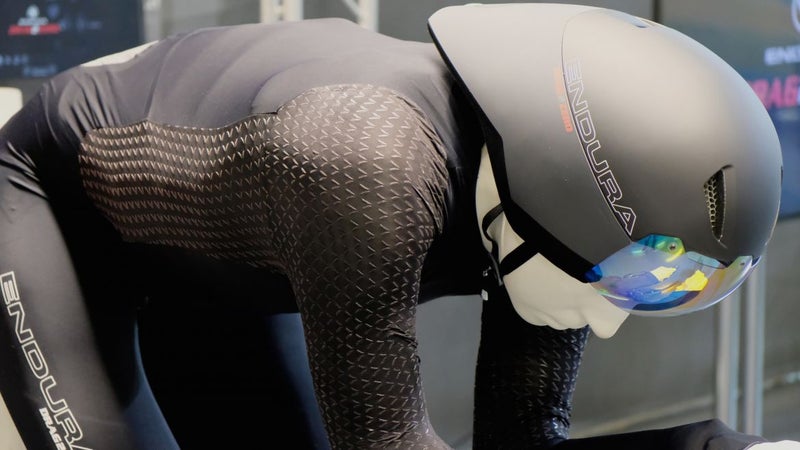 The Encapsulator
Perhaps the most notable design choice on the skinsuit is the series of silicone chevrons that dot each sleeve, as well as the flank panels. Endura calls these silicone bits Silicone Surface Topography, or SST. The patent-pending system was developed in conjunction with Drag2Zero aerodynamics consultancy.
"We developed in two stages," says Simon Smart, head aerodynamicist at Drag2Zero. "We developed the texture on certain test shapes in a wind tunnel away from the rider. And the next step is to evaluate it on the mannequin and on the rider. We get an understanding of the aspects of performance for the different silicone configurations, and how they work locally on a shape. Then we verify the position on the rider."
SST is only applied to the sleeves and flanks for a reason. These are two areas on the rider's body where laminar separation — or the separation of air from a surface — can cause problems by creating a low-pressure pocket on the trailing edge of a shape. It's the same issue that airfoil frame tube shapes address.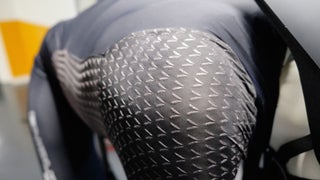 The silicone chevrons help reduce laminar separation by creating tiny vortices of air. Airflow then adheres to that surface longer and flows more smoothly around it. That means the air separates from the surface later, shrinking the drag-inducing low-pressure air pocket behind the rider.
It was such strategically-placed textures that caused a flap at the 2017 Tour de France — on a competitor's skinsuit. Team Sky drew controversy when its riders donned Castelli's BodyPaint 4.0 skinsuit, which features dimpled textures strategically integrated into the garment to achieve a similar end: turbulence to help air adhere to the surface of the suit longer. Castelli claimed its suit met UCI regulations and pointed to Endura's Encapsulator as an example of another skinsuit that employed such texture. Endura says its suit also meets UCI regulations.
Silicone chevrons aside, the Encapsulator features other strategically placed fabrics that similarly aim to reduce drag. There are four fabrics total. Aside from the SST panels, all of these fabrics are smooth.
The Encapsulator takes its name from the Encapsulator pocket, which is a mesh-paneled, air-permeable slot in which to stow a race number. This eliminates any race number flapping as well as the need for pins or tape.
Because this suit is designed specifically for a TT riding position, Endura says the Encapsulator performs best at speeds over 45kph (28 mph).
Road Suit
With all those aerodynamic gains, a rider could just toss on the Encapsulator and ride a non-TT stage too, right? Not so fast — literally. Endura developed the Road Suit for aggressive road racing positions because the Encapsulator could actually end up being a slower garment in such an environment.
Gone, for example, are the silicone chevrons on the sleeves and flanks. Their inclusion would actually make the garment slower in the road position and at typical road riding speeds. So the Road Suit instead features a cross-hatch texture on the sleeves. SST does make an appearance on the Road Suit's thigh panels, though.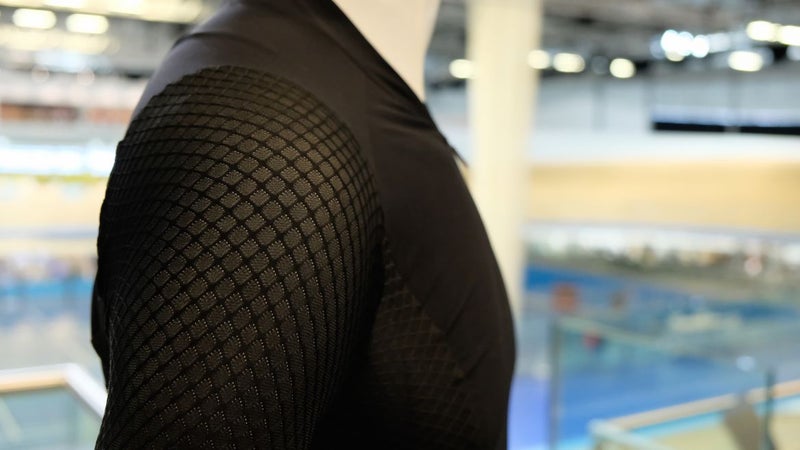 Like the Encapsulator, the Road Suit features a thin, race-cut chamois. It has three rear pockets too, with a flap (Endura calls it a Spoiler) that covers the tops of the pockets to reduce drag.
While Endura says you'll get a better fit with the Road Suit, a separate jersey and bib short is also available. The jersey and bib combo offers all the same aero benefits and design features as the one-piece road suit.
Aeroswitch helmet
Since a rider's helmet is a major leading edge in the TT position, it only made sense that Endura would develop its own aero helmet, too.
The Aeroswitch converts from an aero helmet with a pointed tail to a standard road helmet by removing the tail piece. A magnetic lens is easily removable and stows upside down when not in use.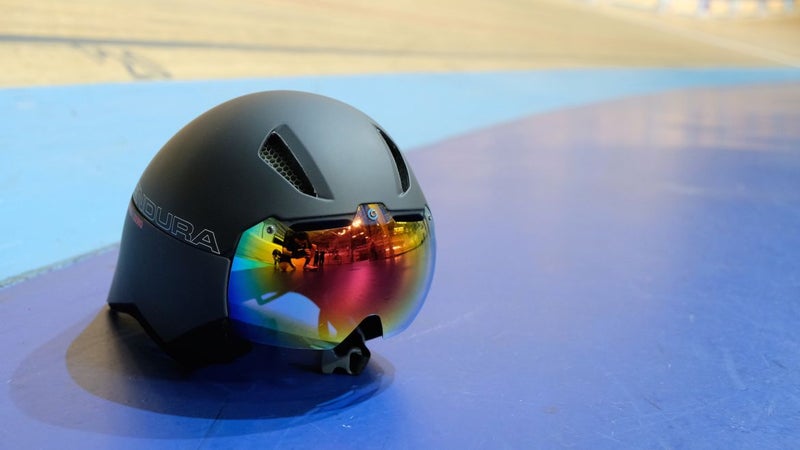 Endura has also embraced Koroyd, the same honeycomb material Smith uses in its helmets. Koroyd is light and well-vented, and it supposedly helps distribute impact forces more efficiently than EPS foam, which is most commonly used in helmet construction.
Unfortunately, the AeroSwitch is not yet available in the United States.
First ride
Over the course of several laps around the velodrome, it was unsurprisingly difficult to determine if the Road Suit actually offered any gains. That would require some in-depth wind tunnel testing.
There were no fit surprises; this is a performance garment, so it's form-fitting. The sleeves extend all the way to the crook of the elbow and there's no flapping anywhere on the shoulders or arms.
The chamois also conforms to the lightweight race theme. It's quite thin, so if you're after all-day gran fondo comfort, look elsewhere. It's also positioned forward, with almost no padding any further back than your sit bones. The chamois location assumes you'll be in an aggressive riding position throughout your ride.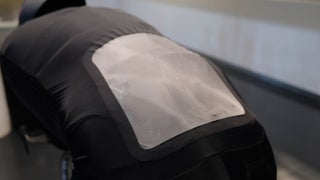 After several laps in the Road Suit, I swapped it out for the TT-specific Encapsulator.
First, it's important to note that I tested the Encapsulator on a regular drop-bar track bike, not on a TT setup. I did my best to get into the most aggressive riding position possible, but it's still no replacement for aero extensions. So check back for a long-term test of the Encapsulator once I've been able to ride it with a true TT bike.
That said, the difference between the Encapsulator and the Road Suit was immediately noticeable, which was surprising. It's often impossible to tell if a garment is performing as promised, aside from fit and comfort. Yet the Encapsulator immediately felt different.
For starters, the only place I felt wind rushing past my upper body was around my neck and chin. It felt as though the wind was missing my shoulders entirely like I was standing still. It was especially noticeable on the first few laps immediately after changing out of the Road Suit. Was this the SST in action, or simply the effects of the Aeroswitch TT helmet? It's hard to say, but there was a noticeable difference in wind movement that I could actually feel.
That's not to say I felt any faster, per se. It was impossible to tell if the Encapsulator offered any true aero benefit without in-depth wind tunnel testing. If Endura's aero claims are indeed correct, the Encapsulator would be a good watts-per-dollar investment for racers of all levels aiming for the podium.
The Encapsulator feels like any other form-fitting race kit. It's super-snug, light, thin, and breathable. The Road Suit, too, feels like a well-constructed performance piece. It's clear Endura has created WorldTour level garments here. It's fair to say the Encapsulator's palmares (Team Movistar and Team Cervelo Bigla have been using the suit throughout its development, since 2014) help back up the data Endura is presenting.
So it works for guys like Quintana and Valverde. Will it matter to you? "I think you have to ask yourself the honest question," says Drag2Zero's Smart. "Does that wattage improvement matter to you? Does it matter if you're five minutes faster over four hours?"
If those five minutes matter to you, give the Drag2Zero line a look.