First Ride: Giant Defy Advanced Pro 0
Giant's new Defy endurance bike has several clever comfort features but has the spirit of a superlight racer.
Heading out the door? Read this article on the new Outside+ app available now on iOS devices for members! Download the app.
SANTA CATERINA VALFURVA, Italy (VN) — The best visual indication that the Giant Defy is an endurance bike is its sloped top tube. Everything else would have you believe it's an all-around race bike, from its sleek lines to its dropped seat stays and integrated cable routing. Pick it up and it feels like a climbing bike.
So is it just a sloping top tube that pegs the new Defy as an endurance bike? Of course not; once you start riding it, you'll get a good sense of its all-day aspirations. Yet Giant balances such endurance features with a bike that (forgive the pun) defies its label in pedaling response, handling, and aesthetics.
Old news, new news
The Defy isn't new to Giant's line. As such, Giant has largely kept the geometry the same (though the wheelbase is slightly longer, perhaps to accommodate larger tires). And the stated goals haven't changed much either: Comfort, comfort, comfort.
But Giant has gone about increasing comfort in a different — and simple — way. Compliance comes largely from the D-Fuse seatpost and brand new D-Fuse handlebar. Those work in conjunction with dropped seat stays in the rear (this allows some flex of the seat tube and top tube for compliance) and large tires. The Defy can fit up to a 32mm tire (28mm tire if you choose to run a fender), which means you can run lower pressures that help increase traction and soak up road vibrations.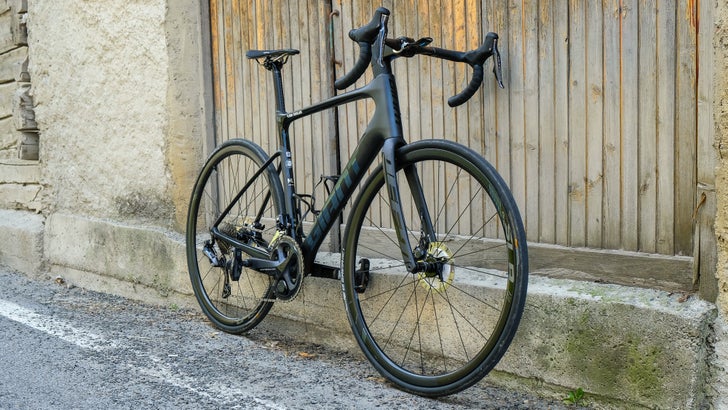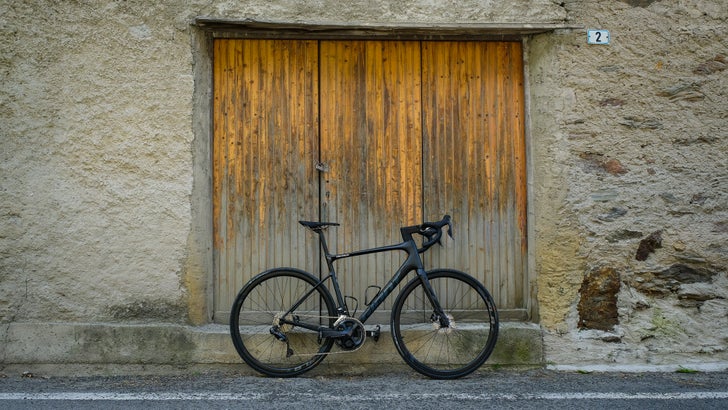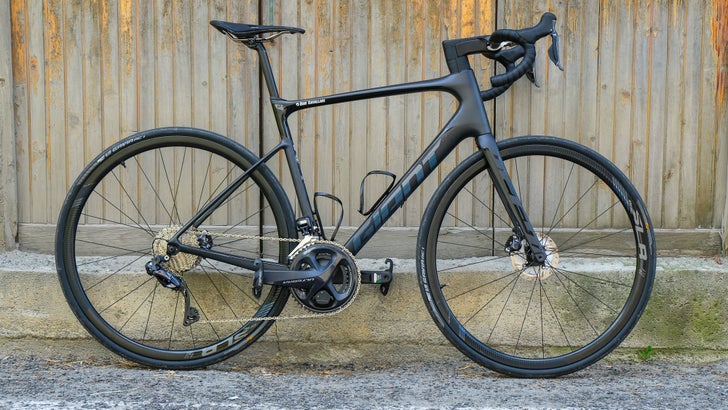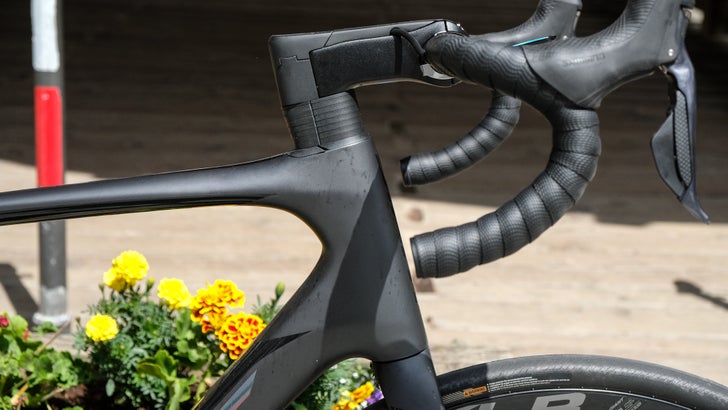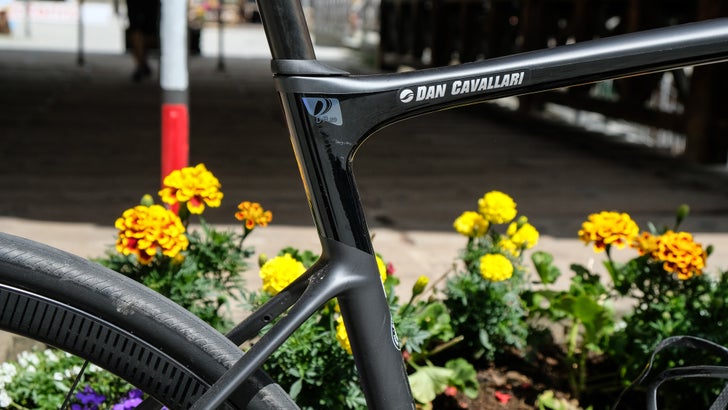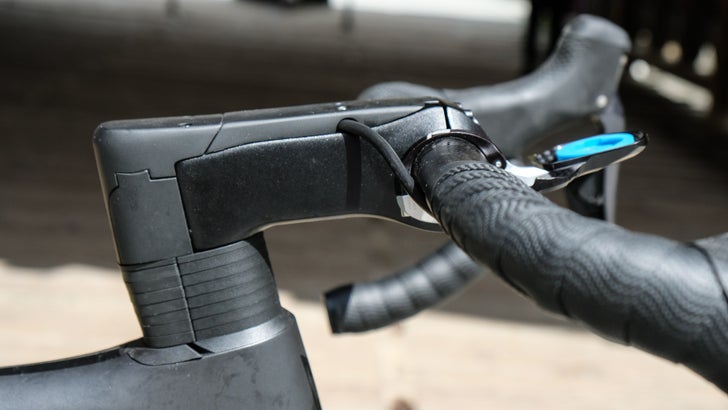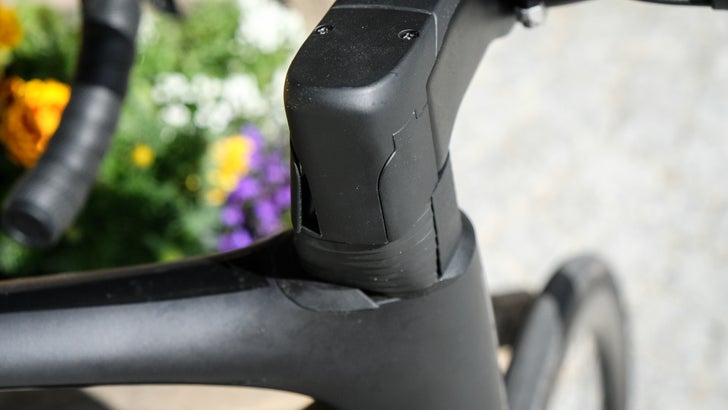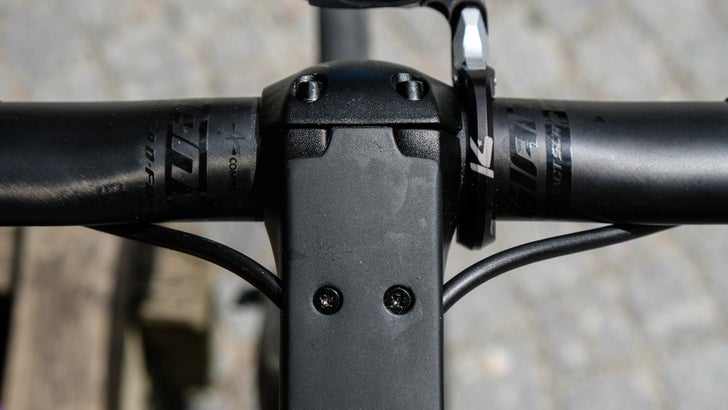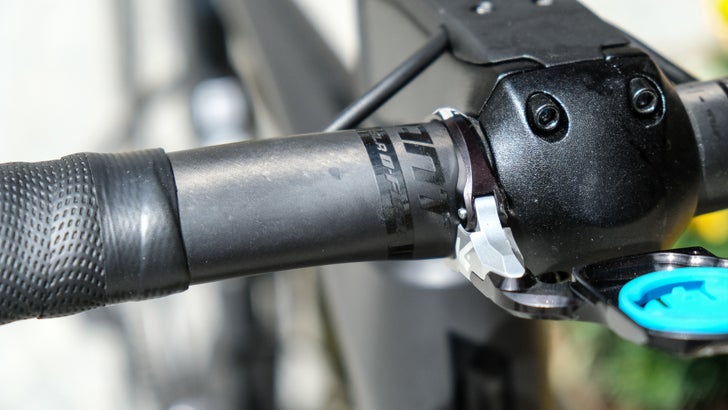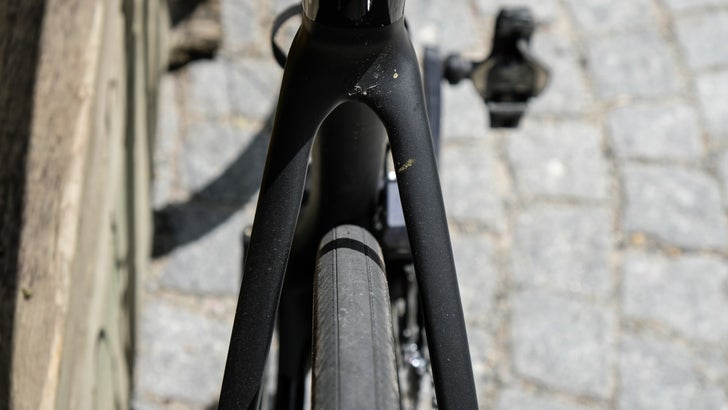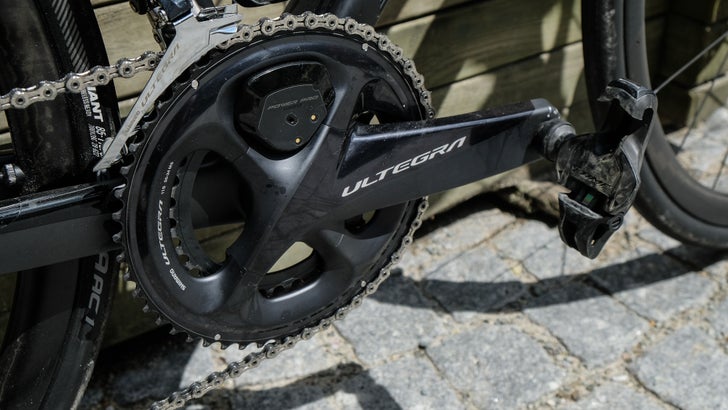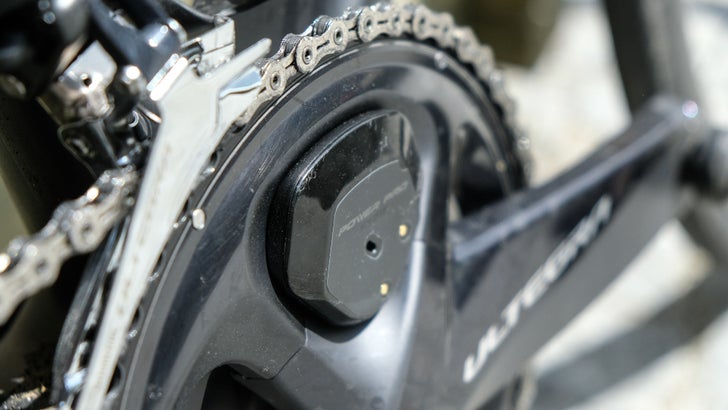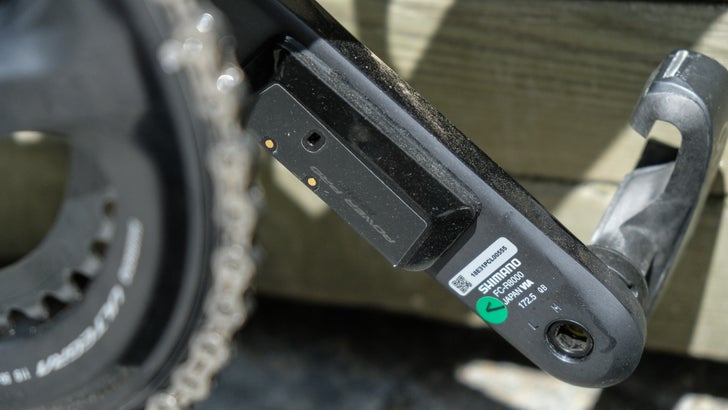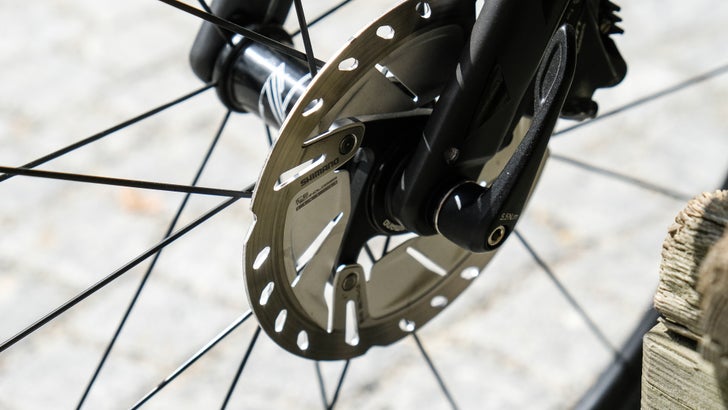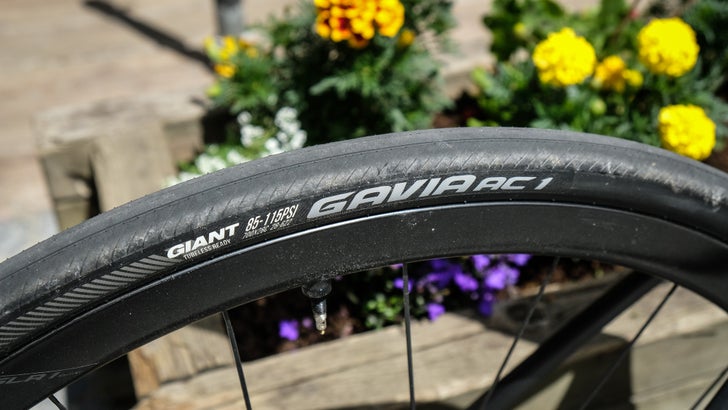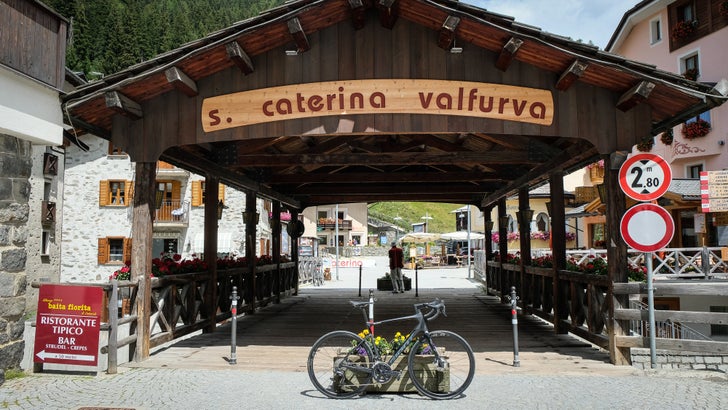 The D-Fuse seatpost isn't new and has appeared on other Giant bikes before. It has a D-shaped profile with the flat part at the rear, allowing the post to pivot fore and aft to handle impacts before they reach your body.
Building on that idea, Giant's Contact SLR D-Fuse carbon handlebar also features a unique D-shape aimed at allowing the bar tops to flex up and down. This handles impacts and vibrations at the front of the bike, while still maintaining lateral stiffness to accommodate hard efforts and precise steering. Giant says the amount of flex is slightly tunable by rotating the handlebars forward or backward.
By isolating compliance features in these areas, Giant engineers were then free to create a generally stiff frame. That means you get all the compliance you need for all-day grinds, while the backbone of the bike remains stiff to address pedaling response and handling.
In keeping with endurance trends, the Defy's head tube is quite tall at 185mm (size M/L). This ensures a more upright riding position, even if you slam the stem all the way. Here's where two roads diverged in a wood, and you have to choose which path to follow: If you slam the stem, you'll get an aggressive position, but it won't compete with the likes of an all-around bike that has a short head tube. Conversely, if you want that more upright position to spare your back, neck, and shoulders, the Defy more than allows you to do so.
So you'll need to decide what kind of rider you are before committing to the Defy; it helps to be brutally honest with yourself too. If your racing days are behind you, chances are this is the bike you need instead of the ultra-aggressive, super-responsive race bikes you may be used to.
Yet Giant doesn't think just because you're sitting more upright that you don't deserve racers' data. That's why the Defy Advanced Pro 0 comes stock with Giant's brand new Power Pro dual-sided power meter. This gives you your power reading, as well as pedal balance, force angle, and cadence readings on your computer. Giant says the battery should last 150 hours, or 1500 miles.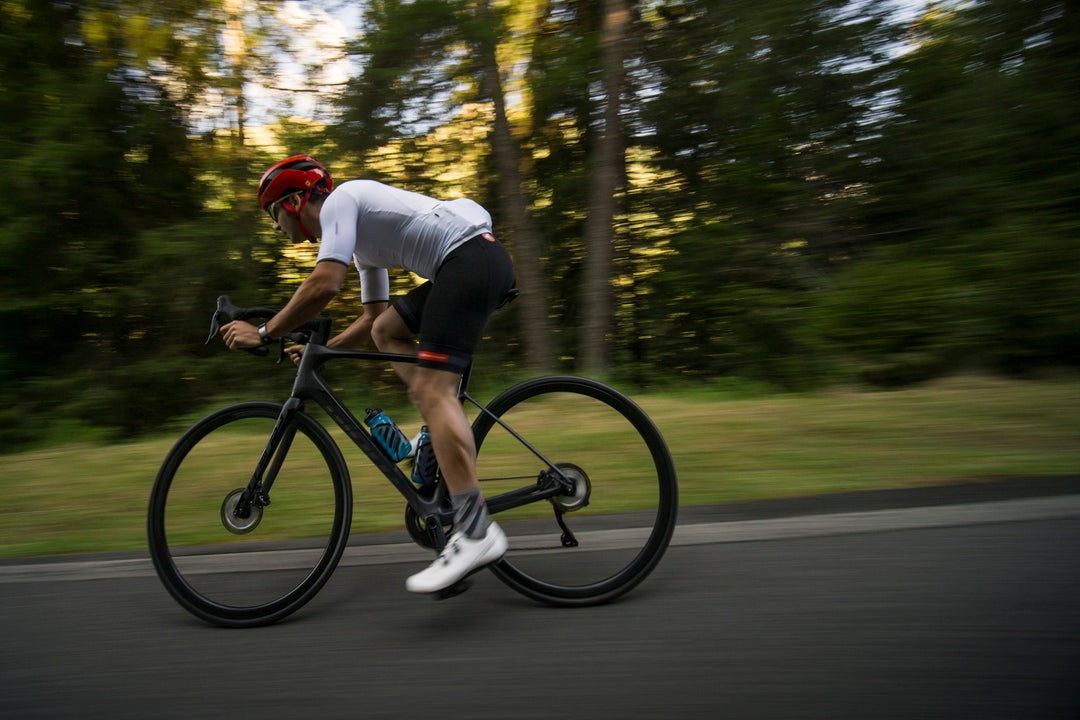 Wisely, the Defy is disc-only. Our test bike came with 140mm rotors front and rear, which seemed like a curious choice. A 160mm rotor appears to be on its way toward becoming the accepted "standard" in road cycling, and since weight savings isn't a top priority for the Defy, it seems strange that Giant wouldn't opt for larger rotors that dissipate heat more effectively and provide stronger braking.
Despite that one quibble, Giant offers an entire Defy line with smart specs at incredible price points. The top of the line Defy Advanced Pro 0, which comes stock with the Power Pro power meter, will cost you $5,300. It also comes with a sleek integrated stem to (mostly) hide your cables and housing. The Defy Advanced Pro 1 doesn't include the power meter or integrated stem, and it costs $3,600. The entry-level Defy Advanced 3 costs a mere $1,750.
First ride
Passo di Gavia is the hardest climb I've ever done. I did it on the Defy, twice. The climb was a good test of character (for both me and the bike) due in large part to the steep pitches and the rough patches of pavement.
The Defy did well on this test. (The jury's still out on my performance.) In fact, it far exceeded expectations on the climbs. It largely feels like an all-around bike when you're out of the saddle: It's eager to jump forward and never seems to be fighting hard efforts. This impressive acceleration is complemented by a surefooted feel during higher-cadence climbing.
The geometry figures are fairly conventional: a slightly long 58mm trail, 72.5-degree head tube angle, and 1,010mm wheelbase. That creates the type of steering you'd expect from a bike like this: more planted than an all-around bike, but certainly not sluggish. If you're used to ultra-responsive race bike steering, the Defy will take some getting used to.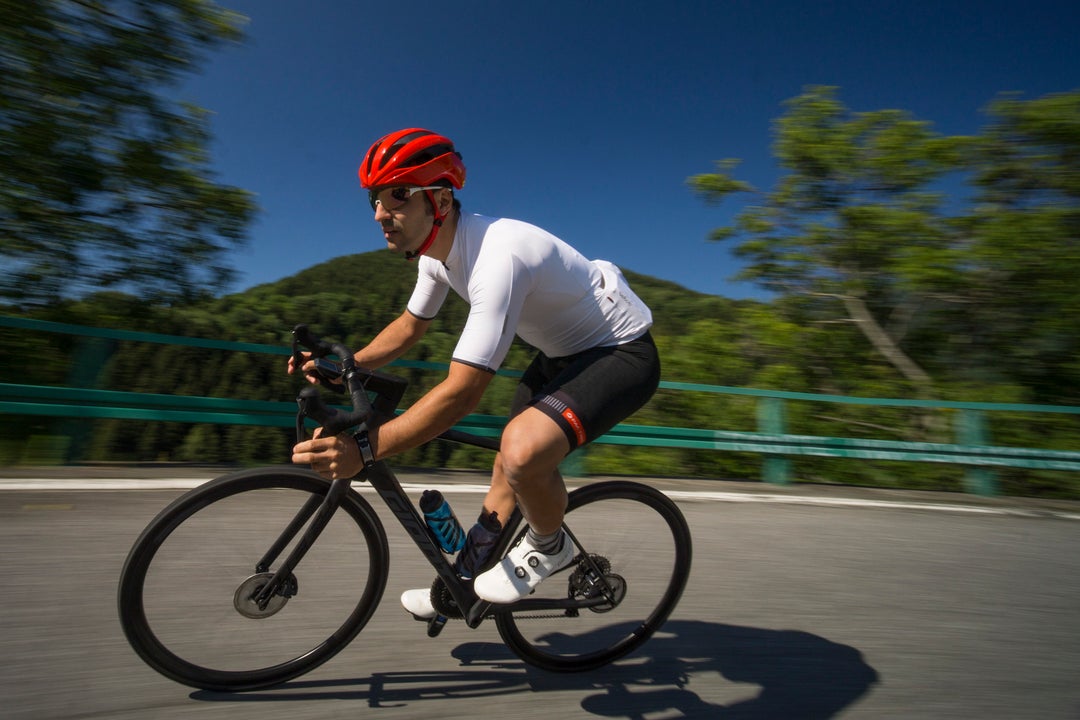 Since my test bike, which had an already-tall 185mm head tube, also had far more headset spacers than I'd normally run, that planted steering felt well behind my input on fast descents. At one point I found myself on the wrong side of the road on a high-speed descent after the bike and I disagreed on how much steering input was necessary to keep me on my line. If this was my bike to keep, I'd put on a longer stem and slam it to get into a more aggressive riding position. But if you're not the high-speed descender type, the tall head tube probably won't matter much to you. There's a reason, after all, that Giant is conservative here: The Defy is meant to feel stable and comfortable. It accomplishes both of those.
On that latter point, let's talk flex. There's a lot of it, isolated almost exclusively to the seatpost and handlebars. It's exceptionally comfortable; these two components soaked up all but the hardest direct knocks from the deep potholes on the way down the Gavia. My worry had been what that flex would feel like in terms of overall ride quality: I didn't want the seatpost bucking me off the saddle, and I didn't want the handlebars to flex enough to make the steering feel vague.
The Defy largely allayed those concerns, though the seatpost does flex enough to give you a bounce on the hardest hits. None of the handlebar flex was noticeable in terms of handling, but it certainly was noticeable when judging it on its ability to soak up road vibrations. These two components together are a fine example of doing a lot with a little. Giant deserves kudos for not overthinking its approach to compliance here.
Call the Defy an aggressive endurance bike if you like. That's what it felt like to me. It was less of that stodgy, upright, plodding stuff that had defined the endurance category for too many years, and more of its own personality, one that borrows elements from endurance and all-around bikes more effectively than I expected. I actually feel eager to ride this one again, which isn't something I say often about endurance bikes. With an included power meter and an ultra-competitive price tag, the Defy should grab your attention if you're in the market for a comfortable yet fast bike for everyday riding.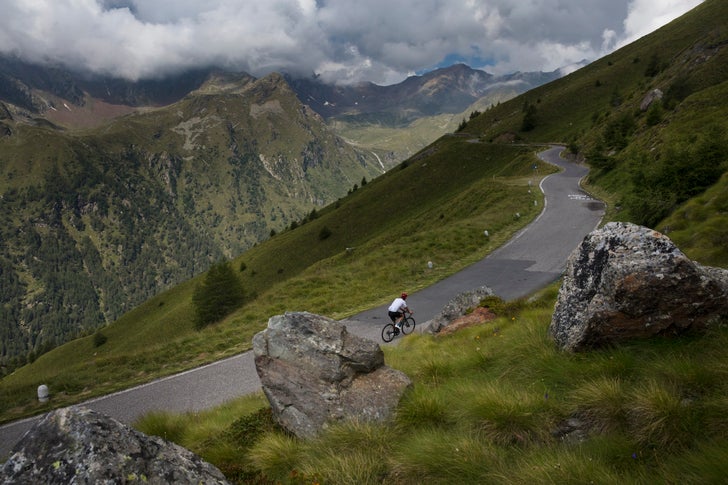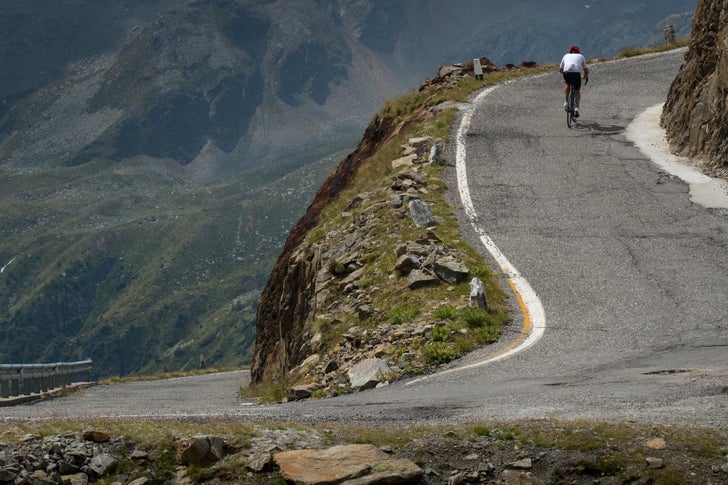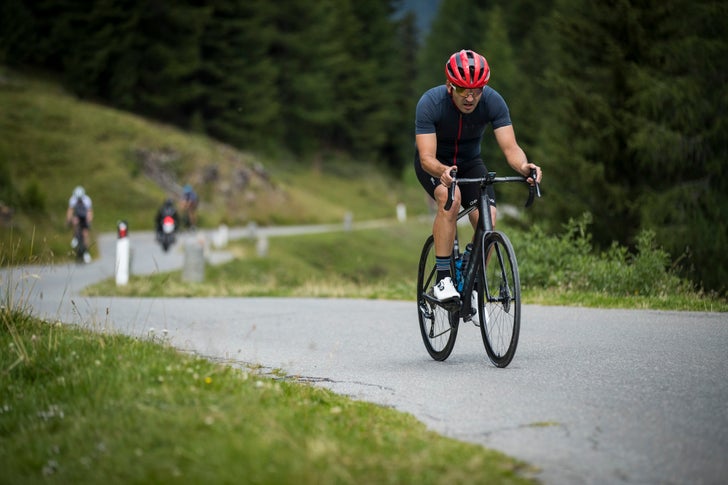 Giant provided lodging and airfare for media attending the Defy launch.