First ride impressions of the new Trek Domane on the Flanders cobbles
Tech editor Nick Legan offers his first thoughts on Trek's new Domane after a long ride on the Belgian cobbles
Heading out the door? Read this article on the new Outside+ app available now on iOS devices for members! Download the app.
For two overcast, breezy days in Kortrijk, Belgium, a fleet of journalists took to the roads aboard Trek's new Domane endurance bike. While the cobbled climbs in the area (used in many Flemish races) are known for their harshness, even the paved roads are often brutal concrete blocks with large seams in them. Despite a fairly mild winter, the number of Belgian potholes was impressive.
All told, we had perfect conditions for testing Trek's answer to the Specialized Roubaix, Cervélo R5 (or R3) and other so-called endurance bicycles. After seven hours in the saddle, and out of the saddle laboring up the Oude Kwaremont, Paterberg and Koppenberg, here are some initials impressions of the Domane.
Fit
A quick look at geometry charts is always a good place to start when talking about bike fit (see below). Comparing the Domane to the Madone, the differences are much like any other manufacturer's changes when producing an endurance bike. For the Domane, Trek increased the head tube length and slightly shortened the top tube. On many sizes the seat tube angle is steeper, but on the 56cm tested, it remains 73.3 degrees.
This combination makes for higher handlebars that are a bit closer to the rider. Nothing new here. But I was happy to see that Trek didn't overdo the head tube length. Specialized now has a 19cm head tube on a 56cm Roubaix. For some riders that makes attaining a low enough position impossible and takes some of the "race-inspired" theme out of the bike.
Trek uses the same seat mast cap that we've seen for several years on the Madone and Top Fuel. It's available in both 20mm and 5mm setback options. Trek also produces saddle rail clamps for both rectangular carbon and round rails, not something that all manufacturers offer. So, getting your saddle in the right place is very easy.
Trek geometry comparison
Domane:
Seat tube angle 73.3
Effective top tube 55.4cm
Head tube 17.5cm
Trail 6.1cm
Fork offset (rake) 4.8cm
Head tube angle 71.9
Wheelbase 101.0cm
Chainstay length 42cm
Bottom bracket drop 7.8cm
Madone:
Seat tube angle 73.3
Effective top tube 56cm
Head tube 14cm
Trail 5.8cm
Fork offset (rake) 4.0cm
Head tube angle 73.5
Wheelbase 98.3cm
Chainstay length 41cm
Bottom bracket drop 7.0cm
Ride
Trek makes some big claims about the Domane's vertical compliance and its lateral stiffness, both compared to the Madone and to Trek's competitors.
It's tough to say definitively without side-by-side testing, but after a couple rides I would say that Trek has been very successful in creating a great ride feel for the Domane. To be honest, that's exactly what we've all come to expect from one of the cycling industry's largest bicycle manufacturers. It's not surprising that the Domane is good.
Comfort
Aboard the Domane, the small hits you normally feel simply don't make it to the saddle. Over seams in the road or small bumps, the Domane is exceptionally smooth. Where you would normally brace yourself and possibly un-weight other bikes, the Domane simply absorbs road noise.
One interesting observation made by several journalists, including this one, was that the Domane is actually better on normal roads than it is on cobbles, where it feels a bit unbalanced. In fairness, no bike feels great on cobbles. Some are simply better than others and the Domane is much better most over the pavé.
But because the rear of the Domane absorbs so much vibration, the front end feels harsh in comparison. It wasn't helped by the fact that bikes at the launch were outfitted with deep section wheels. On smoother roads the imbalance goes away, though. And of course, few people ride routinely on cobblestone roads. Over dirt roads the Domane should excel.
After four hours of spirited riding, the Domane left this editor feeling good, even fresh. That's a pretty telling statement considering jetlag, a recent crash and the rough roads. So, job well done on the comfort front.
Handling
Trek's Madone is one of the preferred race geometries of the VeloNews tech crew. It does exactly what you expect a top race bike to do. The Domane is meant to be a more stable bike.
The longer wheelbase, lower bottom bracket and increased trail all accomplish that well. In practice, it is a bike that carves gracefully through corners. Hitting a bump mid-corner is very unlikely to ruin your day, not something most road race bikes can assure.
Tracking over the rough stuff is fantastic. The Domane keeps you from feeling like you might bounce your way into a ditch on cobbled roads. The implications for this on normal roads are very good.
Looking at the numbers, it's interesting to compare the Domane to the Madone and Specialized's Roubaix. Trek goes for more trail than Specialized, 6.1cm compared to 5.6cm. But Trek's Domane fork has a millimeter less rake to it. The big difference is in head tube angle. The Domane uses a 71.9-degree head tube, on par with Trek's Cronus cyclocross bike.
The most apt way to describe the handling is "confidence-inspiring." Scott Daubert, of Trek, said it best when he said, "You feel in the bike." The longer wheelbase and lower bottom bracket are responsible for that. For many riders, the Domane will better suit their daily needs than the average race bike. That said, with its race pedigree and stiff bottom bracket, the Domane is still a great weapon for any race.
Acceleration
Bontrager's Aeolus 5.0 carbon wheels certainly helped the acceleration of the bike, but Trek's claims about a stiff bottom bracket seem substantiated. The down tube is massive, as are the chainstays. We're used to seeing oversized head tubes and bottom brackets by now, but it's worth mentioning that they allow for bigger tubes. By keeping the lower half of the frame extremely rigid while allowing the top tube, seat tube and seatstays to absorb hits, bicycles like the Domane (and the Roubaix and R3) do keep you fresher after a ride.
Without the VeloLab to back my impressions, I can't quantify how torsionally rigid the Domane is, but on the road it does wind up quickly. And because a racer aboard the Domane is likely to be less abused than his competition, he'll have more of a kick at the end of a race. Win-win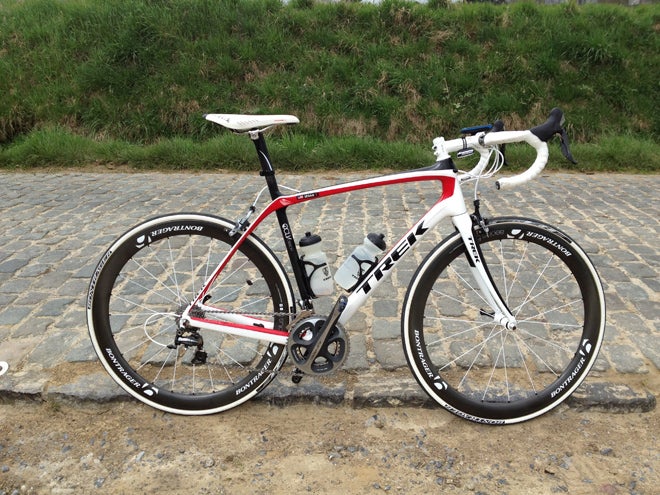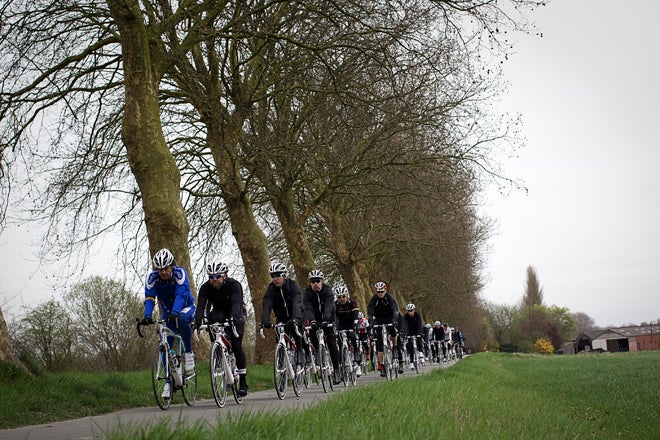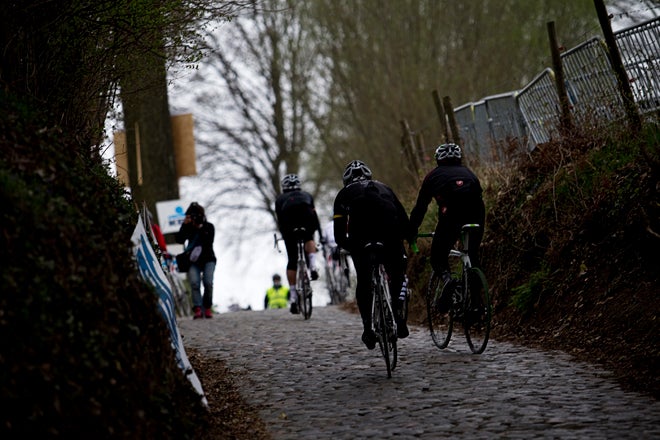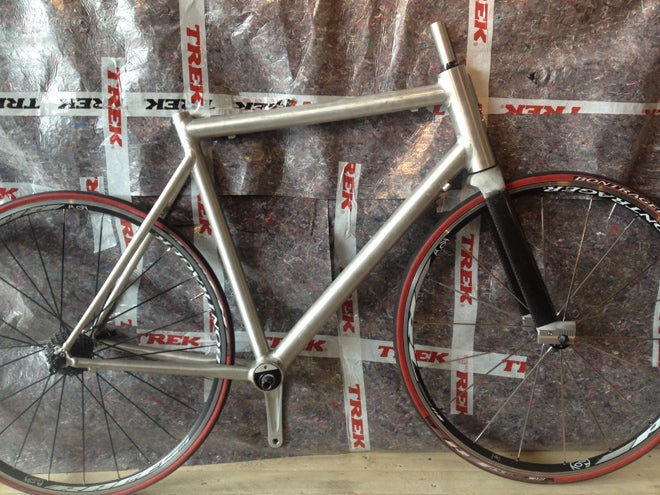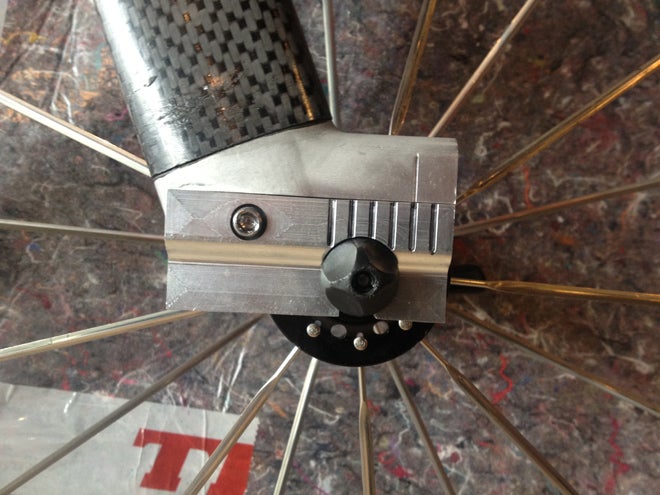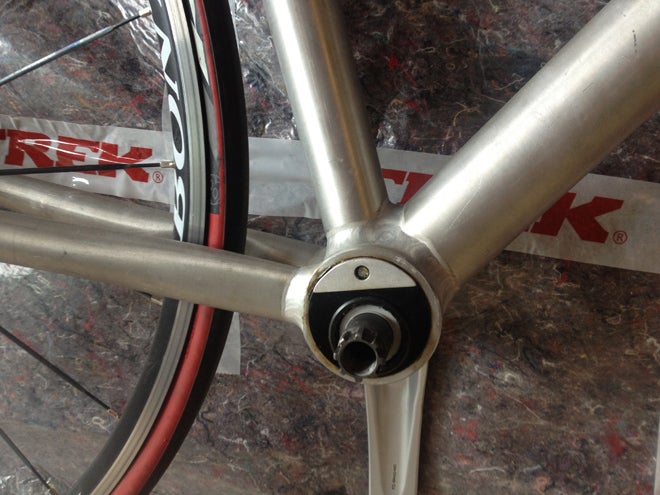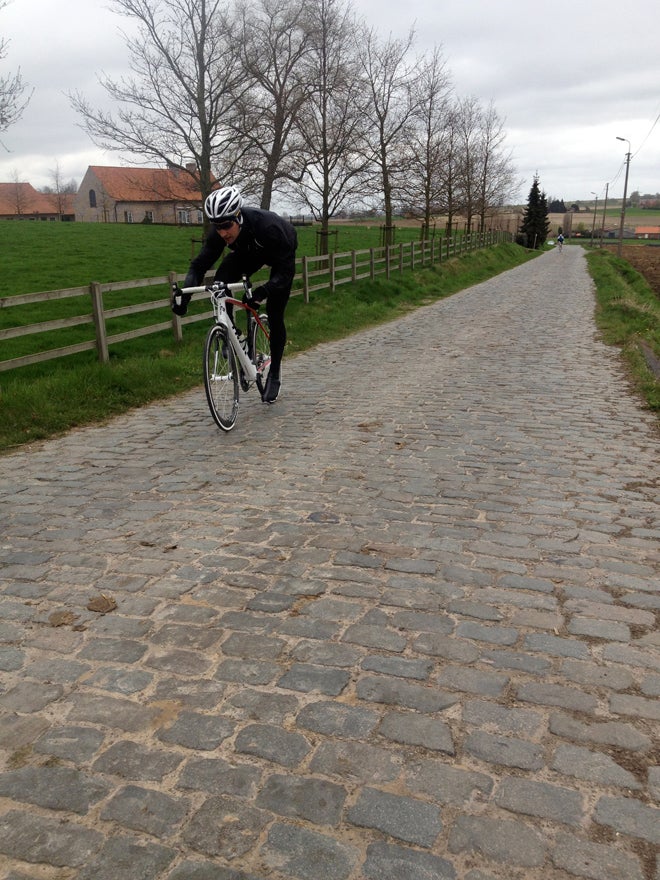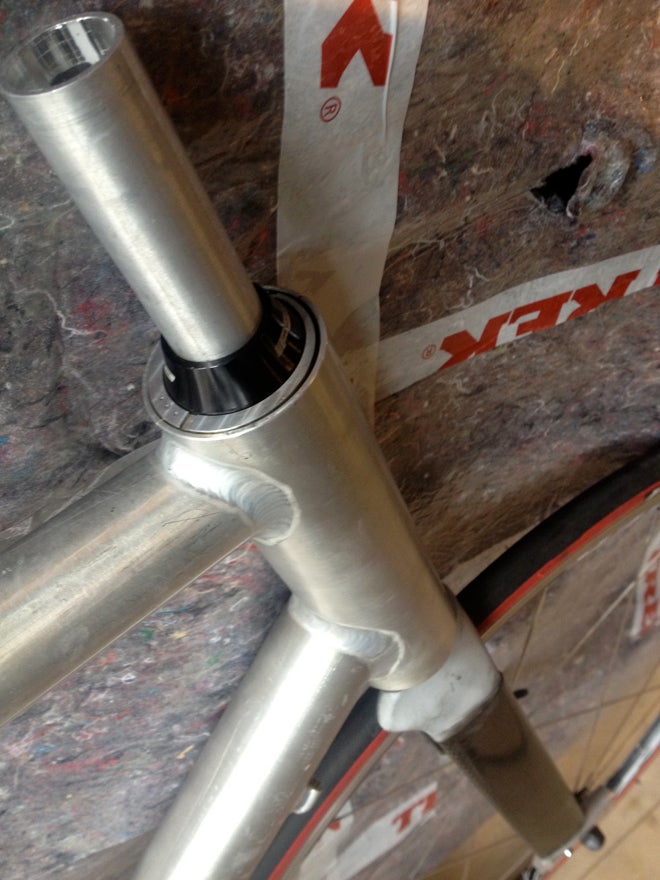 in my book.
Final thoughts
As Specialized and several other manufacturers have thoroughly shown, there is a huge market for race-inspired bikes with longer wheelbases, more stable handling and higher handlebar positions. While Trek was clearly off the back in this segment (nevermind the Trek Pilot) it may have been worth the wait for the Domane. I certainly would like to ride one more extensively.