First Ride: New Felt FR racer with disc, power meter options
Felt's new FR range is packed with progressive features to provide a balanced, race-ready ride
Heading out the door? Read this article on the new Outside+ app available now on iOS devices for members! Download the app.
Felt's new range of race-tuned, all-around road bikes is pumped full of progressive features like disc brake options, frames that are optimized for SRAM's wireless eTap drivetrain, power meters that come stock on select builds, and room for 28-millimeter tires. The FR Series combines these smart details with aggressive race geometry and size specific layups for an enlightened performance machine.
The FR Series is based off Felt's previous race platform – the F Series – and offers the same quick and responsive ride that we've come to expect from top-end race bikes: stiff when sprinting out of corners  and compliant over bumpy tarmac. But how do these new FR bikes create this balanced ride?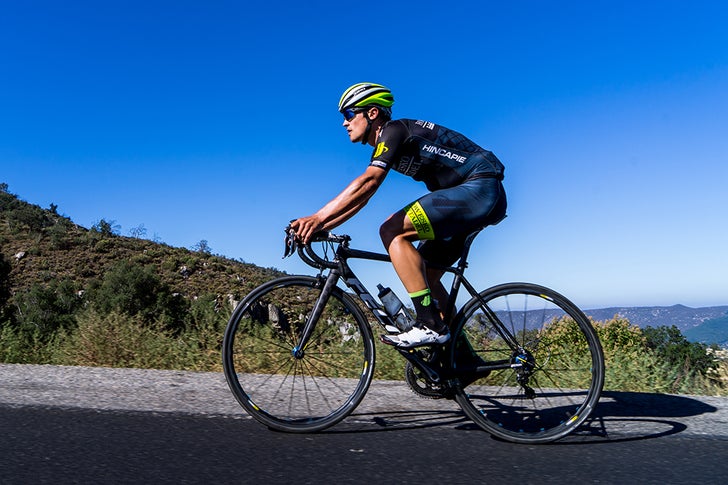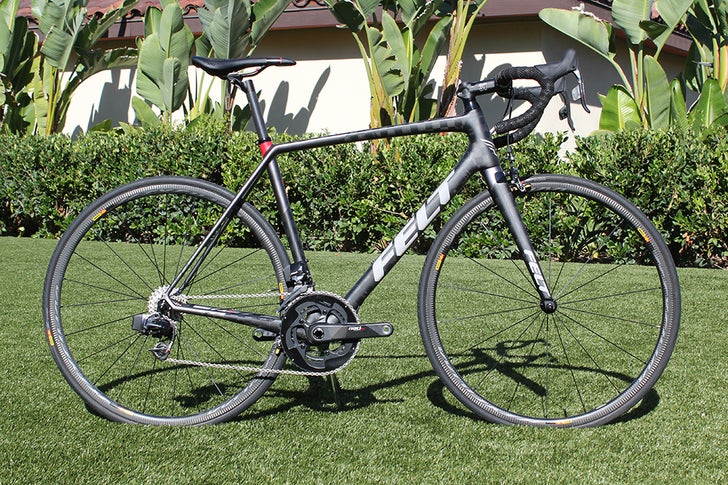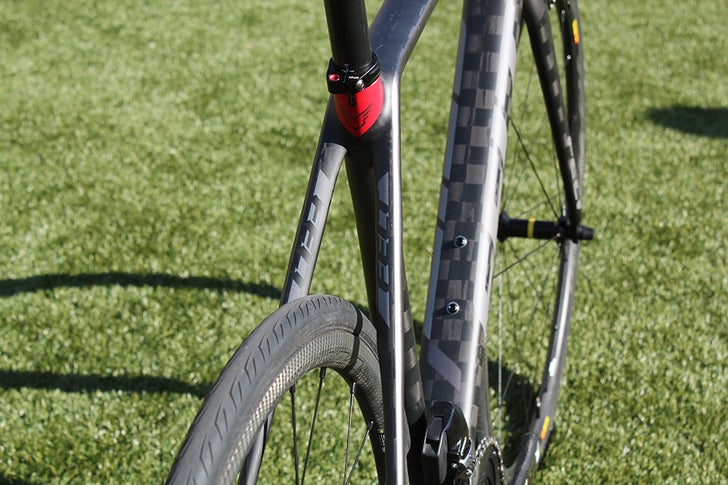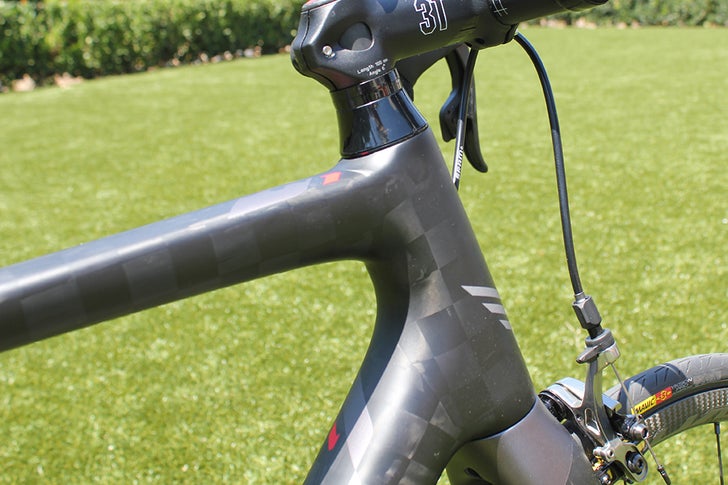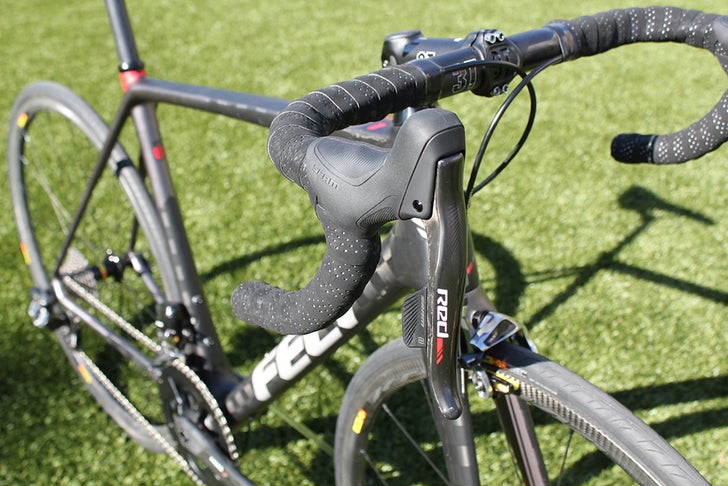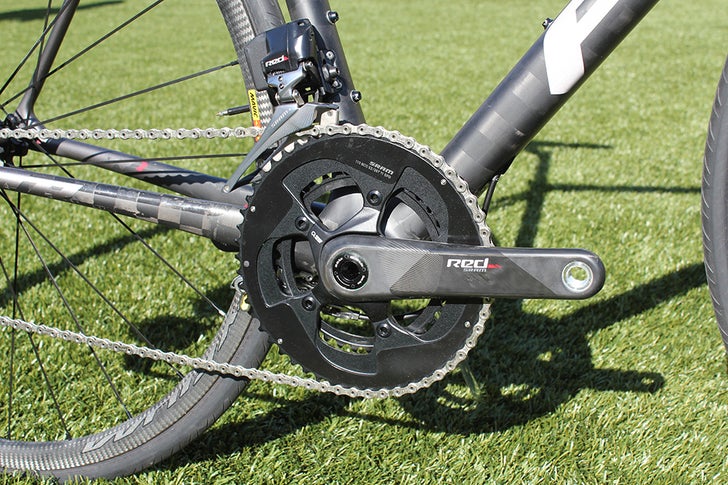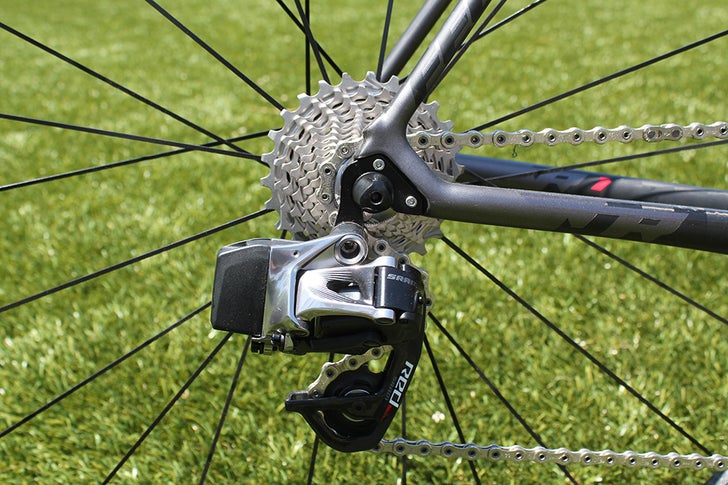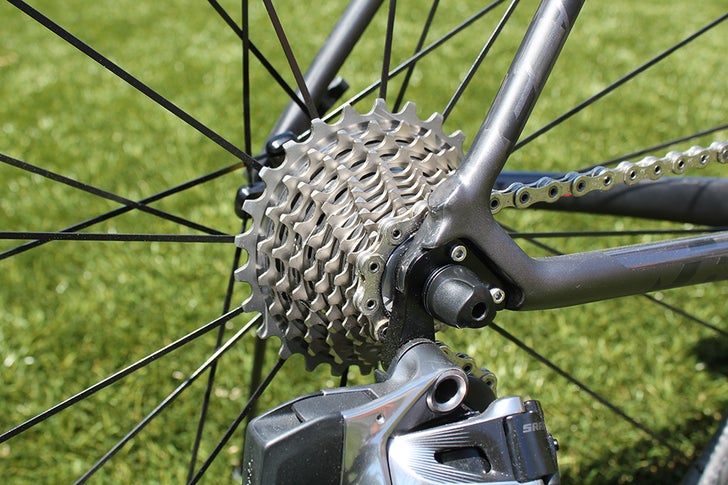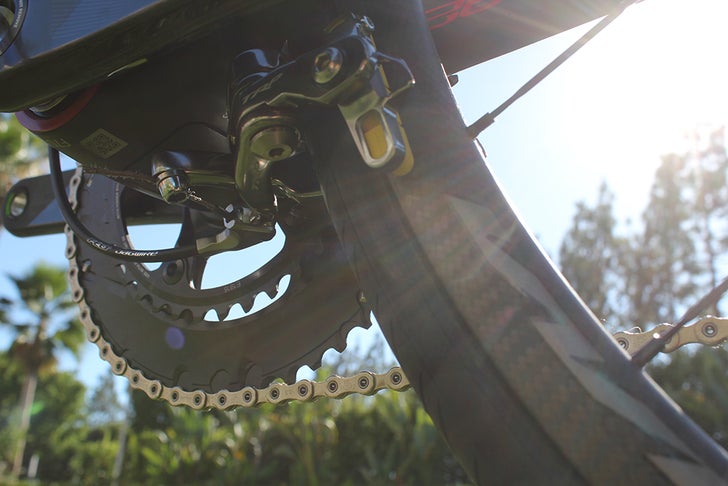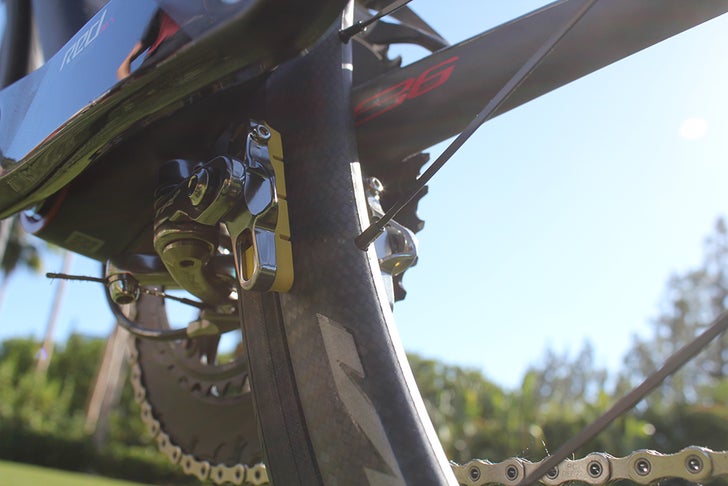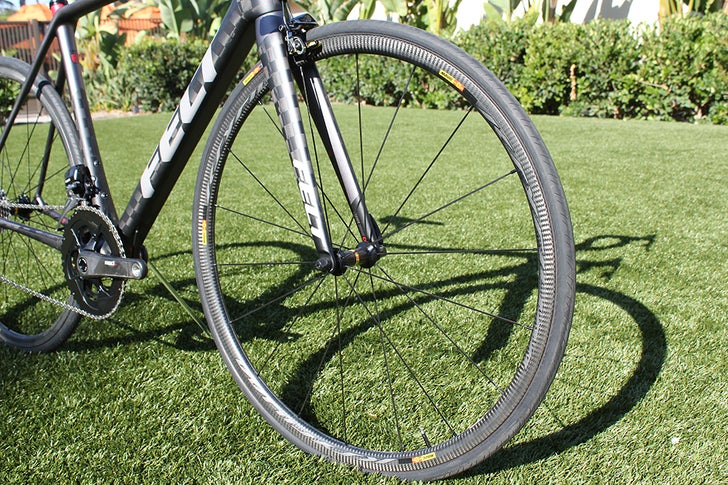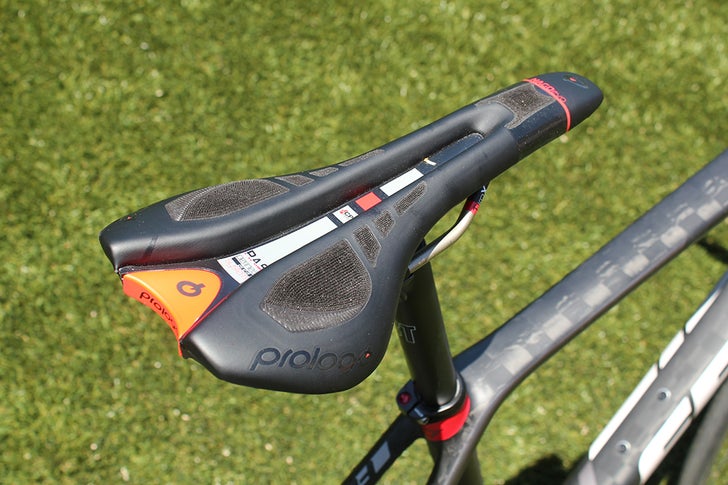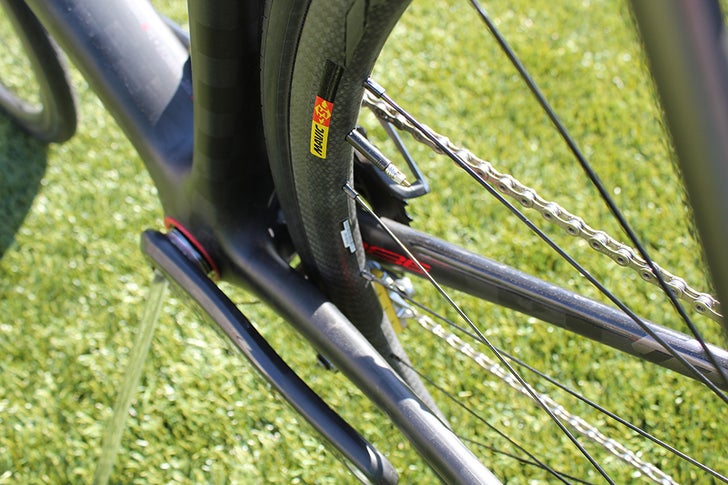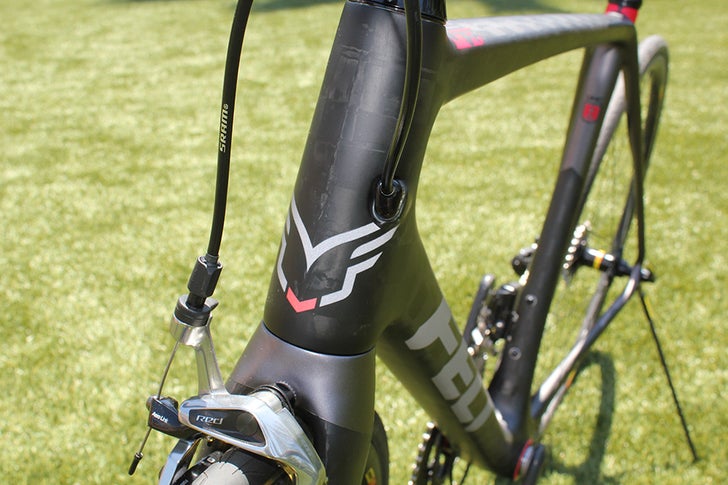 Probably the most shocking change to Felt's flagship rim brake bike is the rear brake relocation from the seat stays to below the bottom bracket. The bridgeless design both reduces weight and allows the seatstays to flex vertically for vibration absorption. Add this to the ample clearance for 28-millimeter tires that also work to smooth out the ride and Felt's FR race bikes are noticeably more comfortable than the previous F Series.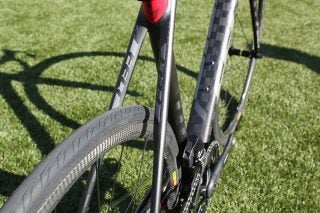 The new FR design also repositions the seatstays so they join the top tube by wrapping around, outboard of the seat tube. Felt says this improves torsional stiffness up to 30% because the bike's seatstays twist less as you hammer on the pedals. While we're no heavyweight sprinter throwing down 2,000-watt efforts, we didn't feel the bike twisting or experience any sway in the rear triangle when sprinting during our test ride. The wide, 86.5-millimeter BB386 bottom bracket also felt impressively stiff and responsive during these sprints and left us eager to get the bike into the lab for some stiffness testing.
As for the rest of the bike, Felt uses the same size-specific carbon layup protocol it has used since it first started producing carbon race bikes. Each frame size is tuned differently by using unique carbon blends applied in different areas of the bike, to provide a consistent ride quality across all sizes. But Felt does go one step further this time around, using size-specific lower headset bearings to enhance ride quality and optimize stiffness. Additionally, the FR was designed with size-specific fork rakes to keep trail measurements consistent across the wide range of frame sizes.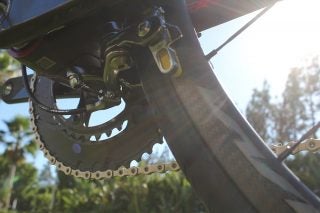 We tested a 56cm FR2 and the mix of the responsive, stiff ride with the tuned carbon layup made us want to keep riding – and racing for town lines – all day long. The updated FR geometry makes for a slightly more comfortable ride without sacrificing performance handling and fit. The 155-millimeter head tube is taller than the F Series (140 millimeters) and the 988-millimeter wheelbase is five millimeters longer, creating a more upright and stable ride. But these are still plenty aggressive for even our slammed race position, especially since the FR keeps the seat tube angle and head tube angle at race-worthy 73.5-degrees.
Besides the frame design and geometry updates, the FR platform offers both rim brake and disc brake options. As an unabashed disc brake enthusiast, I was excited to see another race-tuned bike offer the superior stopping power and refined modulation that comes with disc brakes. The SRAM eTap-equipped FR1 Disc comes spec'd with SRAM HRD brakes and 160mm rotors while the FR2 Disc goes with a Shimano Ultegra Di2 drivetrain and RS805 hydraulic disc brakes.
The FR2 rim brake option includes a Pioneer Power Meter included in the stock build. Felt calls it an interesting experiment. With more and more riders buying into the power meter and data analysis movement, Felt is testing the waters for this all-inclusive package. If you were buying an expensive race car, you wouldn't expect to pay extra for a speedometer, would you? Felt doesn't think so. We certainly enjoyed having power on our test ride and would be psyched to have the power meter ready to roll straight out of the bike box. But for riders who are loyal to a different power meter or for riders who don't want power but want the rim brake, Di2 build, the Pioneer meter is simply an extra cost.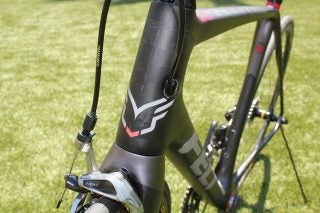 The FR1 frame is specifically designed for SRAM's wireless eTap drivetrain, meaning no holes for shift cables or wires, since eTap communicates wirelessly. While drilling fewer holes into carbon fiber is structurally advantageous, riders are limited to one group, unless another company hits the market with a wireless group sometime soon. eTap is a fantastic system that's certainly going to stick around; just make sure you love eTap before diving in.
Lower spec'd bikes with mechanical drivetrains only offer an internal routing solution for shift wires. Mechanical cables must be routed externally. Felt says the holes needed to route cables internally causes structural complications and require the frame's tubes to be overbuilt, which in turn adds weight. While a little extra weight for the sleek look of internal routing might be worthwhile, Felt seems to banking on the idea that mechanical cables are becoming a thing of the past.
Between the aggressive position, responsive ride, and size-tuned layup, Felt plants the FR Series at the pointy end of the performance bike pyramid. It's fun to ride and didn't leave me shattered after a long ride on some bumpy pavement.
The FR2 comes in at just under $5,000 for a Di2-equipped machine including the Pioneer power meter. The FR2 Disc is also competitively priced at $5,500, compared to the top of the line FR1 Disc, which is priced at $9,500. And even if the FR2 bikes are still out of your price range, Felt offers a wide variety of different build options and several alloy frame options at lower price points.
Pricing and Availability:
FR1 Disc: $9,499
SRAM Red eTap with hydraulic disc brakes
December
FR1: $8,999
SRAM Red eTap
September
FR2 Disc: $5,499
Shimano Ultegra Di2 with hydraulic disc brakes
December
FR2: $4,999
Shimano Ultegra Di2 with Pioneer power meter
October
FR3 Disc: $3,499
Shimano Ultegra mechanical with hydraulic disc brakes
December
FR3: $2,999
Shimano Ultegra mechanical
September
FR1 Frameset: $1,999
September
FRFRD Frameset: $3,499
September
***Several women's specific FRW models will also be available for the same price but with different paint schemes and touch points.
Additional FR builds will be available including several alloy frames. Prices will be $1,999 and under for the remaining models not mentioned.