Game changer: Smart ENVE 6.7 rims and wheelsets
A whole new take on fast wheels: ENVE may have just changed the way we think about aero wheels.
Heading out the door? Read this article on the new Outside+ app available now on iOS devices for members! Download the app.
ENVE may have just changed the way we think about aero wheels.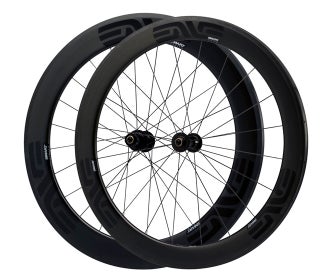 The company has taken a unique angle in the development of the its new System 6.7 wheels, collaborating with aerodynamicist Simon Smart to design a wheelset that uses front- and rear-specific rim shapes to optimize the interaction between wheels and frame. They believe they've created the fastest, most stable wheels available, taking a big swing at industry giants Zipp and HED.
The new wheels, the details of which were kept under lock and key until just weeks ago, use a 60mm tall, 26mm wide front rim and a 70mm tall, 24mm wide rear rim. The goal was to create an integrated system, taking into account the fact that front and rear wheels are not affected by wind in the same manner.
Claimed weight for a pair of 6.7's is 1,423 grams, laced to DT Swiss 190 hubs with 20 front and 24 rear Sapim CX-Ray spokes. A shallower set, dubbed the 3.4, as well as a deeper one called 8.9 are both on the horizon.
The 3.4's will feature a 35mm front rim paired to a 45mm rear. Front rim weight will be 340g, rear 380g. Widths will remain 26mm front, 24mm rear. The 8.9's will be 85mm front, 95mm rear, with respective rim weights of 550g and 580g. Widths are the same.
The wheels have seen use under Pro Continental squad UnitedHealthcare already this year, and were used by Rory Southerland in this year's Amgen Tour of California.
Development: call in the Smart guy
Alright, I apologize for the pun. But former F1 engineer Simon Smart is indeed one of the most respected aerodynamicists in the industry. I had a chance to meet the man in his home turf, the Mercedes GP wind tunnel outside of London, during a the recent launch of the Scott Foil aero road frame. He and his Drag2Zero team played a key role in that project, as well as a number of others you're likely familiar with. HTC-Highroad's super fast skinsuits, for example, are a Smart design, as is Giant's Trinity TT frame.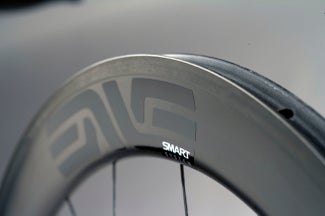 At the Scott launch I handled a pair of un-labeled 6.7's on Smart's personal bike, and got a quick lowdown on what makes them special.
The innovation comes in three major parts. The first, and most obvious, is the aforementioned front/rear specificity. No other major wheel manufacturer is designing entirely different rim shapes for each wheel. It is common to pair a shallower front wheel with a deeper rear, but using a wider front and narrower rear is unique. Smart explained that the airflow seen by each wheel is so different that it only makes sense to adjust shape accordingly.
The second is ENVE and Smart's focus on stability. Zipp and HED already spend quite a bit of time worrying about stability in crosswinds, and have developed shapes that are perceptibly more controllable than their older wheels. Zipp's Firecrest 808 rim shape, to take one example, feels very similar in crosswinds to the much shallower pre-Firecrest 404. That's an incredible achievement with a rim that is more than 30mm taller. The fact that the shape of the 6.7's appears, to the naked eye, to be extremely similar to the Firecrest shape (wide all the way to the spoke bed) is not a coincidence — we know it works.
But ENVE isn't just copying existing technology. Smart's claim to stable fame stems from his intimate knowledge and extensive time in the Mercedes GP wind tunnel. He used the knowledge of transient (unsteady) aerodynamics gained in his years as a Formula 1 engineer and applied the concepts to race wheels.
Smart designed a way to measure steering torque in response to changing crosswinds, and used this data to design a rim shape that reacts most favorably to these quickly changing wind angles. This is what makes the Smart ENVE rims unique.
The idea is basically that a linear steering torque response to changing wind is more predictable, and therefore more stable when combined with human steering inputs. The relation between wind angle and the steering torque it applies to the front wheel should be as linear as possible. This is a different approach from Zipp, which shoots for the lowest steering torque across all wind angles — and achieves it in comparison to the 6.7's according to ENVE's own data.
In theory, this difference in approach would seem to lend itself towards Zipp (or HED, which uses similar methods) being more stable in a steady crosswind, while the ENVE would be more predictable in gusts.
The third innovation is the extent to which Smart and ENVE delved into the interaction between wheel and frame. The 6.7's were tested with multiple frames, enough that ENVE is confident that their wheels are the quickest on most popular race frames available today. The upcoming 8.9 set is designed with TT bikes in mind, specifically Trek's Speed Concept and Cervélo's P3 frames.
Smart also hinted back in London that a list of the fastest tires to pair with the wheels may be released soon. For what it's worth, he was running 22mm Continental Competition tubulars on his own bike.
SMART ENVE System 6.7 wheels
Intended use: all-around racing (tubular only)
Front rim: 60mm tall, 26mm wide, 440g
Rear rim: 70mm tall, 24mm wide, 480g
Wheelset weight: 1423g w/DT Swiss 190 hubs
1,458g w/ DT 240 hubs
1,443g w/ Chris King hubs
Price: $3,475 w/ DT Swiss 190 hubs
$2,900 w/ DT Swiss 240 hubs
$3,050 w/ Chris King R45 hubs
Availability: now