Giant adds new technologies — bigger stems, integrated sensors, internal cables & more — to 2012 road line
Giant introduces a bevy of new features in its 2012 road bike line. Nick Legan gives his take.
Heading out the door? Read this article on the new Outside+ app available now on iOS devices for members! Download the app.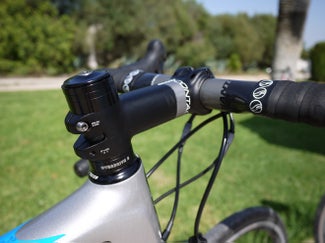 MALLORCA, Spain (VN) — Giant hasn't gone and completely redesigned its road line. Model names are the same as before (TCR and Defy for the boys, TCR W and Avail for the ladies). But with subtle changes in materials and design the world's largest bicycle manufacturer has improved its entire range.
Giant has introduced some new technologies that will be included on most Giant models (some even in the mountain bike line): OverDrive 2, PowerCore and RideSense. Giant also showed off its new internal cable routing and a new seatpost head. Before we get to the bikes, a little bit about Giant's 2012 innovations:
OverDrive 2 uses a 1.25-1.5 inch tapered steerer. This, of course, means that 1.125" (1 1/8") stems won't fit on the new system. Several manufacturers are already on board though: Syntace has long made stems that fit the larger steerer and provide a spacer for 1.125" use. Ritchey and FSA (which we saw branded as PRO on Rabobank team bikes at the Dauphine and Tour of Switzerland) also make stems for the larger steerer tube. And of course, Giant also produces stems for the new standard.
The idea isn't a new one. But it is the first time a manufacturer of this size has committed so thoroughly to it. Cannondale and others experimented with larger steerers in the past, but advances in carbon have made it a more viable option. Specialized experimented with the size in its mountain bikes a couple years ago, but dropped it. Canyon currently uses it on its Ultimate CF SLX Evo frameset.
One unique aspect of Giant's OverDrive 2 is that it fits inside the same head tube they've made for years. Engineers simply increased the internal diameter of the upper bearing to fit the larger steerer. Owners of older Giants can purchase the new fork, upper headset bearing and a suitable stem and upgrade their bike with OverDrive 2.
PowerCore is actually nothing new. It was introduced in 2009. It uses the Pressfit BB86 standard but for 2012 the bearing cups are now full composite (not aluminum). This produced a 15-gram weight savings over previous models.
RideSense is a chainstay-mounted wireless, integrated sensor that transmits speed and cadence using ANT+ technology. Much like Bontrager's Duo-Trap, the unit bolts into the non-drive side chainstay. RideSense doesn't follow the frame's lines as well as Trek's, but it does work well.
Both the TCR and Defy lines now have internally-routed cables. Now I'm not usually a fan of internal cables as I see it answering a question no one (or at least very few) is asking. Giant pointed out that it saves a bit of weight, cleans up a frame aerodynamically and keeps the cables out of the elements. Fair enough, but they're still a pain to maintain and install.
While Giant's frames come with temporary plastic routing guides to help with the initial install, there isn't a permanent liner inside frames. Because of this, shops would be wise to keep the temporary lines for future cable changes. Giant reasoned that permanent liners will often allow a cable to rattle inside the frame and Giant may have made a good decision. The cables certainly never rattled on any of the bikes I rode (they also don't rattle on my personal externally-routed bicycles).
Giant's new seatpost head is one item that I personally love. Finally a manufacturer has realized that consumers have different saddle setback needs. I personally need a zero-setback seat post on almost every bike I ride. With most other aero or integrated seat post designs, the consumer is stuck with setback.
Giant's has two versions of the head, one for integrated clamps and a slightly different version for aero seatpost models. Both work well and offer either 25mm or -5mm of setback depending on set up. It's a genuinely clever solution to a problem I've moaned about for years. Chapeau!
So how do they ride?
Well, just as you'd expect from one of the Big Three (Giant, Trek, Specialized): very nicely. Giant had three bikes set up for me in Mallorca (poolside in fact, and it was hard to resist jumping in instead of testing bikes). They were all built with identical parts: Shimano 7900 components with Giant wheels, bars, stem. I really liked Giant's approach on this launch. My host wanted the journalists in attendance to focus on frame differences and get a good sense of the new wheels.
How much?
Well, the bikes we rode were not production bicycles. The frames are finalized, but the parts that hung on them won't be available as we tested them. As I mentioned, Giant did this to let us focus on the 2012 frames. Below is a 2012 price list for many models. They're not final numbers, but a ballpark.
TCR ADV SL 0 ISP $12,500
TCR ADV 0 $4,400
TCR Composite 1 $2,650
Defy ADV SL 0 $7,000
Defy ADV 0 $4,400
Defy Composite 1 $2,650
Defy 1 (alloy) $1,350
TCR ADV W $3,700
Avail ADV 0 $4,400
Avail Composite 1 $2,650
Avail 1 (alloy) $1,350
I took each of the three bikes around a 10-kilometer test loop Giant had marked that included some climbing, a few tight corners and even a small patch of cobbles. The following day we had a big group ride on the mountainous roads of Mallorca. So the test loops served to see frame differences but also to let us choose a steed for the next's day's extended ride.
Even during those fairly brief rides the difference between the TCR and Defy geometries was very plain to see. The TCRs are race machines that love being flicked into a sharp corner and pushed hard cresting climbs out of the saddle.
The Defy encourages its rider to take it a little bit easier. But out of the saddle the Defy is surprisingly spirited. In truth, a couple kilometers into my loop on Giant's endurance bike I was falsely lulled into thinking that it was a bike for long cruises.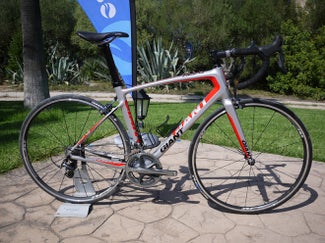 The Defy was excellent over the cobbled section and smoothed seams in the road, but in corners it seemed to prefer big swoopy lines. When I punched it hard in the big ring over a rise though, I was blown away with how responsive the bike was. It's a bit Jeckyll and Hyde, but in a good way.
The women's Avail line is still alive and well (so too is the TCR W line). For obvious reasons I didn't test ride one.
New for 2012 is the Defy Advanced SL with an integrated seatpost. By using all the same technologies as the TCR Advanced SL, but focusing more on weight and rider comfort, the Defy Advanced SL frame is 21 grams lighter than the bikes under the Rabobank WorldTour team.
The TCR Advanced is the best bang for the buck when it comes to the TCR line. The frame rides exceptionally well and I personally felt that it was a bit more compliant than the top-of-the-range Advanced SL without sacrificing efficiency. All of Giant's new technologies are present in the Advanced, and you get them in a package that is much easier to transport, adjust and resell because it doesn't use Giant's integrated seatpost. If I were to buy a Giant for my next bike, it would be a TCR Advanced.
Giant didn't have them on hand for testing, but Giant is also producing a TCR Composite line of bikes that uses less expensive carbon. They'll share the TCR geometry and will offer an entry-level carbon frame for consumers.
So what did I choose for the big ride? Well, before riding the bikes I predicted that I'd take the Defy. But after riding Giant's latest rocket, I took the TCR Advanced SL. Who wouldn't, given the opportunity?
The TCR Advanced SL is clearly a race bike and it performed beautifully. While steering precision and front-end stiffness are likely improved by OverDrive 2, I initially wondered if there was a comfort trade-off in the works.
Many race frames are overly harsh for the majority of the cycling population. But I'm happy to report that after hours cruising along, the TCR Advanced, Advanced SL and Defy all walk that fine line of performance without undue abuse. The Advanced SL though is the sharpest handling bike in the line. Descending on the bike was a true pleasure. And there was nothing about the frame that slowed me down as I suffered up Mallorcan climbs.
Giant's geometry wasn't perfect for me, but the new seatpost head went a long way in getting me closer. Giant also provides buyers of ISP bikes with both 25 and 40mm seat post caps. This helps reassure buyers about reselling them to someone with a larger inseam. Set the bike up with the 25mm head for your riding and hold onto the 40mm head in case someone taller shows an interest in buying your machine.