Giant WheelSystems: 'Premium product at popular prices'
One of the most impressive items that Giant has launched for the 2012 model year is its new WheelSystem.
Heading out the door? Read this article on the new Outside+ app available now on iOS devices for members! Download the app.
MALLORCA, Spain (VN) – One of the most impressive items that Giant has launched for the 2012 model year is its new WheelSystem. Using DT Swiss internals, every wheel in the four-model line is either tubeless ready or tubeless compatible. The two high-end models, the P-SLR1 Aero and P-SLR1 both use scandium rim extrusions. The Aero model is paired with carbon fiber for its 50 mm depth.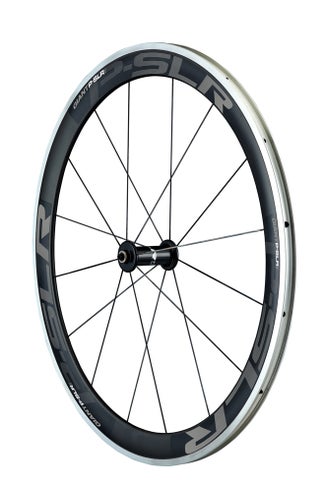 With these wheels, as well as its handlebar, stems and tires, Giant is following in the footsteps of Trek's Bontrager line. And the results are impressive.
I rode the P-SLR1 wheels with Giant's (also new for 2012) P-SLR1 clincher tires. The tires feature a 120 tpi casing and front and rear specific dual compound treads. Giant also included a wear indicator in the tread to help consumers monitor a tire's lifespan.
While labeled a 23 mm tire, the P-SLR1 tires ride like a larger tire thanks to the supple casing and the wide 21 mm rim they were mounted on. Wider rims are all the rage lately and with good reason. They allow a rider to run lower pressures without increased risk of puncture and this, in turn, aids in the tire's performance and rider comfort.
The 200-gram tire rode extremely well, even over a short section of cobbles. I did manage to puncture the rear after playing on a dirt and gravel path though. But not to worry, Giant also offers the P-SLR2. It is virtually the same tire, but with 15 grams of Kevlar belting under the tread rubber. A tubeless version is in the works.
At 1,390 grams Giant's new tubeless clincher climbing wheel is 74 grams lighter than a pair of Shimano Dura-Ace C24 tubeless wheels. At $1,000, Giant's P-SLR1 wheels are also $400 less than the previously mentioned Shimano wheelset. That makes them a pretty great deal for a pair of light aluminum tubeless wheels.
Wide front hub flanges keep the front feeling very stiff laterally, but nothing about the set was jarring. Again, I think the supple tire and wide rim helped a lot here. Overall I was thoroughly impressed with this wheel "system," as Giant would prefer I call it. I look forward to putting in more miles on the P-SLR1's so much that I just might have to buy a pair to avoid returning them.
I wasn't able to ride the Aero version, but the finish is great and Giant's own numbers from the wind tunnel show it is fast. Giant focused especially on its side load numbers in yaw situations in order to keep riders fresher in difficult wind scenarios.
As a bicycle builder, Giant's foray into wheels raises the question: how integrated is its frame, fork and wheel design? Giant's Global Brand Manager for components, Bill Miller, said, "We evaluated multiple rim profiles and determined that this one performed best with this fork."
He went on to say that there will be more engineering overlap in the future between frame, fork and wheel design. The possibilities are huge for front and rear wheel optimization and so far only Enve has tuned into the idea of using different depths and profiles for different frames. It will be exciting to see Giant's approach in the future.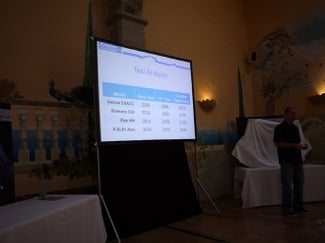 Also worth mentioning is Giant's partnership with DT Swiss for the WheelSystem project. Miller said, "Once we decided that WheelSystem engineering was the way we wanted to go. We first looked for a partner and found it in DT Swiss. They have massive experience and great dedication to Giant. They allocated head engineers to work solely on our wheels. They even have their own assembly and manufacturing facilities in Taiwan. (something fundamental to Taiwanese-based Giant's needs)"
It looks like the partnership is working well. The P-SLR1 WheelSystem is one of the most interesting wheels I've seen recently. It marries a wide rim to tubeless technology in a wheel that is both light and robust. The hub internals guarantee long life and efficiency and the shallow profile makes it suitable for everyday riding.
If Giant is able to effectively market its wheels, other manufacturers could be in trouble. Giant is, afterall, the world's largest bicycle manufacturer. Someday soon, Giant could be the world's biggest wheel manufacturer.