Going tubeless for cyclocross: tires and technique
Going tubeless — even on standard rims with non-tubeless tires — is a good alternative to the hassle of tubulars.
Heading out the door? Read this article on the new Outside+ app available now on iOS devices for members! Download the app.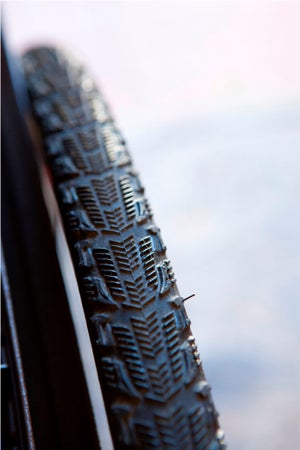 The performance divide between clinchers and tubulars in cyclocross has historically been pretty wide, but these days it seems to be getting a lot skinnier. Old favorites and new technologies have been the catalyst for a slew of dramatically improved clincher options in the last few years.
There is no question that in almost all conditions tubulars are lighter, more supple and faster than clinchers. But the expense, time and hassle of mounting tubulars make them impractical for most weekend warriors. With the goal of finding some solid alternatives, I called on fellow tubeless expert Erik Voldengen to compare notes and come up with the best clincher solutions.
Clinchers with tubes are ill-suited to cyclocross because of their potential to pinch flat at low pressure. But I've found that tubeless systems work well and are getting better all the time. In my mind, they're the best alternative to tubulars.
I am not an inner-tube guy. I can't remember the last time I mounted a set of clinchers with tubes, be it road, mountain or 'cross. My default is to mount a tire tubeless with sealant and see how it rolls.
I've had good luck with my systems. I'm 180 pounds and I can run low pressures without the tires burping and losing air. Some of my colleagues run really low pressure and can't make tubeless systems work, because the tires roll around on the rim too much and lose air. But that hasn't been a problem for me.
Some of the best tires, for mountain biking and 'cross alike, are the non-tubeless ones, juiced with sealant and mounted minus inner tubes. Sometimes it takes a bit of sleuthing to find the good ones, but my goal is to help speed the process for you.
Getting started – the tubeless conversion
If you own tubeless-ready wheels you are off to a good start and have a bigger selection of tires to choose from. Shimano makes several Dura-Ace tubeless-ready wheelsets and one Ultegra. DT Swiss Tricon, Fulcrum 2-Way Fit, and Hutchinson RT-1 wheels are also tubeless-ready.
If you have standard rims, you can use tubeless tires and one of Stan's NoTubes rim strip systems, either just the lightweight yellow tape or the rubber rim strip/tape combination. You won't need the thicker rubber rim strips if you have standard rims with a nice little bead step for the tire to pop onto. These include Mavic Ksyriums, most recent DT wheels and of course Stan's own wheels.
One the rim is prepped with tape so the tire bed is airtight and you have a tubeless valve in place, all you have to do is choose from among the wide array of clincher 'cross tires available. You'll probably have best results with tires that have proper tubeless-ready beads, because they fit the rim and bead hook more tightly. But even standard tires can be made to work. In either case, you simply pour a few ounces of sealant right into the tire, mount it, inflate it and slosh the sealant around to seal leaks.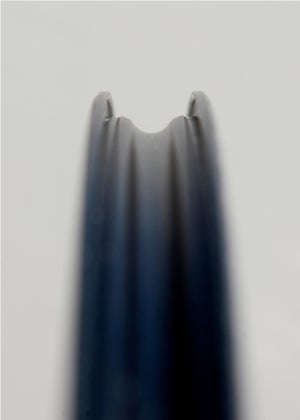 A note on mounting tubeless tires: As with so many things in life, preparation and proper technique make all the difference. Your rim surface should be clean and free of old sealant. If you are re-mounting an old tire you need to clean off as much old sealant as possible. Using soapsuds, not soapy water, helps dramatically with inflation and getting the tire to seat nicely on the rim. It also won't contaminate or water down your sealant. An air compressor is nice to have, too — some non-tubeless tires might not inflate easily without one.
If you have proper tubeless wheels and tires they should pump up pretty easily with a floor pump. I have had good luck soaking troublesome tires in cold water — it seems to shrink them down, tighten the bead and make them inflate a lot easier. Removing the valve stem to get more instant volume in the tire is also an effective trick, as is mounting the tire with a tube and then removing the tube, being careful to unseat only one side of the tire, then re-inflating tubeless.
Finally, if you have trouble inflating non-tubeless tires you can build up your rim bed with a layer or two of Stan's yellow tape to tighten up the fit of the tire. If you are using tubeless-ready rims inflate the tires to 60-70psi. They should make a nice loud pop when they seat.
Remember: Non-tubeless tires don't have the bead strength for super high pressure, so don't go over that 70psi mark. If you can't get the tubeless system to inflate and you don't have a compressor, just get your setup ready and run over to your local bike shop or gas station. But do be careful about too much pressure in non-UST tubeless ready tires.
Next steps – some tires to try
In the last month, armed with a few sets of trusty Shimano tubeless wheels, I have put several different setups through their paces and had some good results. I started all of the tires I tested at 33psi and moved up or down as required.
First up was the newest Hutchinson tubeless-ready duo, the Piranha and the Bulldog. Hutchinson has stepped up its bead design, allowing for lower pressures with practically no burping and better overall performance.
The main improvement was taking a cue from Hutchinson's road tires and changing the 'cross bead to carbon, according to marketing manager Levi Olsen.
"The carbon beads take our tubeless-ready 'cross tires up a big notch," Olsen said. "No other clincher can reach the lower pressures without burping or pinch-flatting."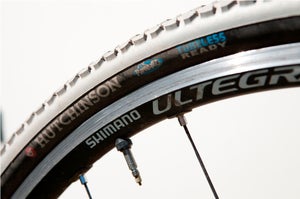 I would have to agree — the new Hutchies are noticeably tighter to install and inflate easily. The sidewalls are still pretty stiff, but the tires handle well and corner like they are on rails. The Piranha is good for any conditions in which you'd use a file tread, and the aggressive side knobs make it a decent all-rounder with the exception of really muddy conditions.
The Bulldog is also a good all-round tire that leans towards the nastier conditions. It rolls well and the knobby tread pattern gives solid performance in all but the worst slop. If you feel more secure with the full tubeless-ready setup these or Stan's own cyclocross tires are the best way to go.
Next up was Michelin's pair of 'cross treads, the Jet and Mud2. I love these tires. I have trained and raced on both of them over the years and usually cite them as my top picks for tubeless clinchers. Jets are file treads with a soft rubber compound. They wear quickly but have excellent grip. Michelin Muds are brilliant in the slop.
Both tires have just the right sidewall structure, making them handle somewhat like tubulars. Of course these are not officially tubeless-ready tires, so theoretically the risk of burping or failure is higher, but I have never seen or heard of an unusual Michelin failure.
The last tire I tested in this round was the new Clement Crusade PDX 34. These have a mud tread pattern similar to the Dugast Rhino or Challenge Fango. The compound is soft and the sidewalls nice and supple, so fast cornering was a bit vague at 33psi but at 35psi they firmed up nicely. Clement is also making a file tread that looks fantastic.
Other notables that I've used tubeless with good success are the Schwalbe Racing Ralph, Maxxis Raze, Kenda Small Block Eight and Stan's tubeless tires. The Small Block's tread pattern lacks a bit of versatility. I plan on testing the new Stan's tires and Alpha 340 rims for future review.
Final thoughts
Volume seems to be the key to good tubeless clinchers. That's why tubes are troublesome —they seem to take up too much room in the tire and diminish its effective air volume.
Another thing to note is that tires measure at different widths depending on your tubeless setup. For instance, Michelin Jets say 30mm on the side, but set up tubeless on Dura-Ace wheels they measure at almost 34mm and widen even more over time as they stretch out. This could be a problem with the UCI's new tire-width restrictions. But most local racing bodies have not thus far adopted the UCI rules, so you should be fine unless you are a top pro or planning on heading to nationals.
If you're worried about weight, Hutchinson's tires are the heaviest at around 380 grams per tire, but the upside is that they are slightly more durable. Many of the non-tubeless clincher treads come around 320-330 grams or less per tire, which is competitive even against tubulars.
My bottom line: With tubeless 'cross systems, you can have high-end performance, broad tire selection and relative ease of installation. And in a lot of cases, you can use gear you already have. Yes, the wheels are heavier than high-end tubular, but with many clincher wheelsets weighing in at or below the 1400-gram mark you are well and truly in the game. Plus, it's easier to change a tubeless tire the night before a race than it is to re-glue a couple sets of tubies.
Stay tuned for more testing on clincher tires and wheels for 'cross as we get deeper into the season.
Editor's note: Australian native Michael Robson grew up racing dirt bikes and flat-track and in his teens progressed to BMX. He first came to race in the U.S. in the early nineties and ended up in Europe as a workaday roadie. Now a professional photographer and rabid cyclocrosser, Robson is reliving his youth ripping it up in master's 'cross, making great photos for a living and testing gear for VeloNews.