3T Exploro Ultra gravel bike review: The unlikely duo of pace and capability
3T takes the aero gravel concept to the extremes.
Heading out the door? Read this article on the new Outside+ app available now on iOS devices for members! Download the app.
This review first appeared on CyclingTips.
Story Highlights
What it is: The Exploro aero gravel formula tweaked for use with MTB-sized rubber.
Frame features: Aero-shaped carbon fiber tubing, clearance for 650×61 mm or 700×46 mm tires, dropper seatpost compatibility, 1x or 2x drivetrain compatibility, partially internal cable routing, 160 mm "direct mount" brake caliper interfaces, BB386EVO press-fit bottom bracket shell.
Weight: 1,130 g (claimed, 54 cm frame only); 450 g (claimed, fork only); 8.78 kg (19.36 lb), as tested, 54 cm size, without pedals or accessories.
Price: US$5,700 / AU$TBC / £5,100 / €5,600 (with stock wheels).
Highs: Immense off-road capability, radical aesthetics, still feels decently fast on-road.
Lows: Old-school frame geometry, wooden ride quality, poor cable routing, radical aesthetics.
An unexpected mix
Is it possible to combine proper off-road capability with aerodynamic efficiency? That's the promise of the 3T Exploro Ultra, which boasts immense tire clearance and dropper seatpost compatibility to tackle just about any terrain you might be tempted to tackle with drop bars, together with a radical carbon fiber frame that promises aero efficiency to go with it.
The look is definitely more than a little non-traditional, but if you like to go fast while traveling way, way off the beaten path in search of a little adventure, the Exploro Ultra sure seems to tick a lot of boxes. It's indeed fun, fast, and capable, but 3T may still have lost the plot with this one a little bit.
Going Ultra with the Exploro
3T's original Exploro was a pioneer when it was first introduced in mid-2016, offering clearance for 700×40 mm-wide knobby tires to suit a wide range of conditions, and a carbon fiber frameset that was shaped for aero efficiency and road-like handling. It was a distinct outlier six years ago, but 3T was clearly on to something given how widely the concept has been adopted by other brands. Since that fortuitous debut, the Exploro family has expanded to a family of bikes with variations on the theme.
In June 2020, 3T introduced the Exploro RaceMax, which sported an even more radical-looking aero carbon fiber frame and an intentionally two-faced personality. It was billed as a competitive road racing bike when fitted with narrow tires and aero wheels, or a super-capable off-road steed when equipped with 27.5×2.1″ knobbies. I personally didn't find that bike to quite fulfill that aim as well as 3T said it would, but it was a bold and interesting bike nonetheless.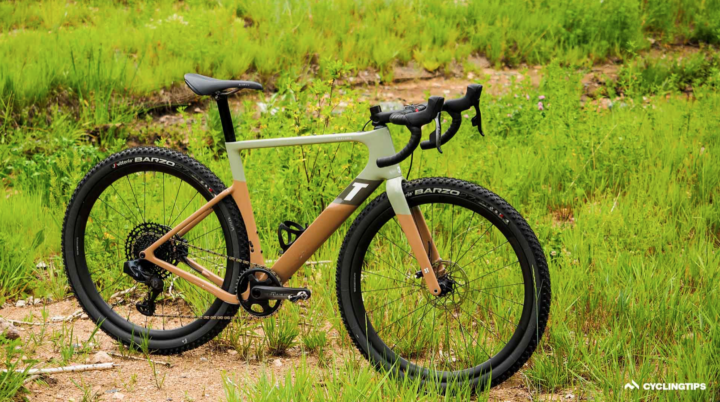 Instead of trying to be a true dual-duty machine, the latest Exploro Ultra is concentrating on the off-road end of the spectrum.
Most critically, tire clearance bumps up yet again, if only just a little. The maximum stated 650b tire size is the same 61 mm as before, but 700c clearance is up slightly from 42 mm to 46 mm (both of those figures decrease a few millimeters if running a 2x drivetrain setup). That increase is modest on paper, but the real-world improvement is more dramatic given how much room there is around the rear tire now.
Although the general design theme of the Exploro Ultra frame is carried over from the Exploro RaceMax, there are a lot of subtle changes.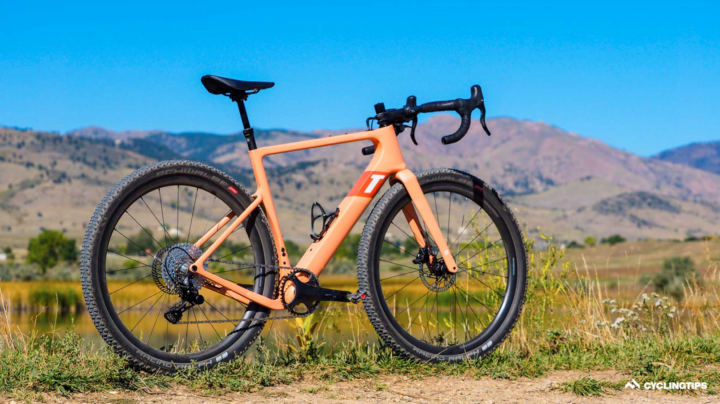 Up front is a similarly narrow head tube with relatively small drop-in headset bearings to help reduce the overall width. The down tube has the same U-shaped profile, and once again has a stepped width depending on location: narrower up top to match up with the airflow coming off of the front tire, and flared further down to divert air around water bottles. But whereas the RaceMax's down tube was 50 mm wide at the head tube, the Ultra is even bigger at 60 mm; both are 75 mm at their widest point.
Out back, the Ultra's stays almost seems as if they came out of the same mold as the RaceMax, at least in profile. The chainstays are symmetrically dropped so as to boost tire and drivetrain clearance, and the seatstays are dropped, too, joining the seat tube about a third of the way down. Looking closer reveals a more subtle change, as the chainstay length grows from 415 to 419 mm – a smidge shorter than the Trek Domane despite having far better tire clearance.
The seat tube sees perhaps the biggest functional changes, with the aforementioned deeper cutout on the rear for increased tire clearance. The U-shaped profile and hidden binder carry over, but the Ultra now uses a conventional 27.2 mm-diameter round seatpost instead of the RaceMax's aero-shaped bit. Internal routing is included for droppers, too.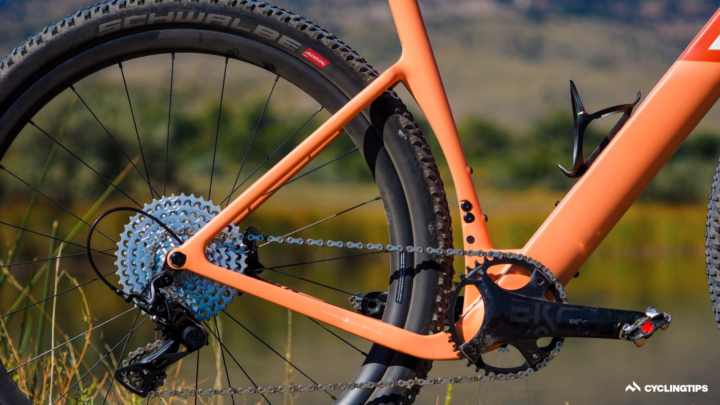 Speaking of routing, 3T has resisted (so far, anyway) the trends of fully hidden lines and electronic-only compatibility. However, the Ultra still uses the same oddly-placed port in the top tube behind the stem. Down below is a BB386EVO press-fit bottom bracket shell, thankfully filled with thread-together cups to minimize any creaking issues.
As for mounts, you've got three bottle mounts (two inside the main triangle and one under the down tube), a feed bag mount on the top tube, and front and rear fender mounts. Conspicuously absent are cargo mounts on the fork, although in 3T's defense, the Ultra isn't billed as a bikepacking rig despite all the claims about capability.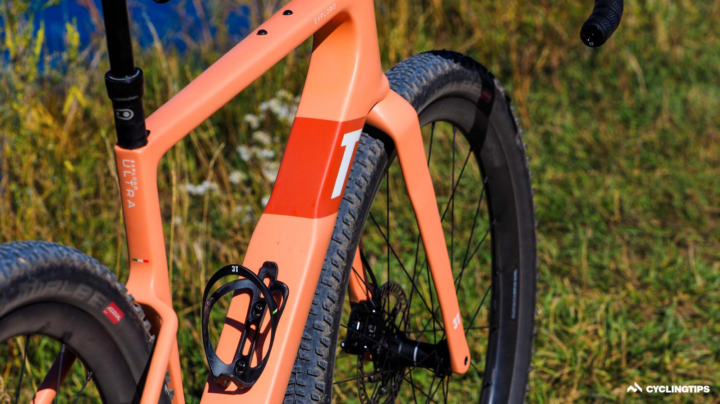 3T is offering the Exploro Ultra in six sizes to roughly suit riders from 1.45-2.0 m in height (4' 9″ to 6' 7″), and in three complete builds plus a bare frameset option. Claimed frame weight is 1,130 g for a painted 54 cm sample plus another 450 g for the fork.
For this test, 3T supplied a complete bike outfitted with a Campagnolo Ekar 1×13 mechanical groupset, the optional 650b 3T Discus carbon upgrade wheels wrapped with Schwalbe Racing Ralph tires, a Crankbrothers 100 mm-travel dropper seatpost topped with a Fizik Argo saddle, and a 3T Apto forged aluminum stem and Superghiaia flared carbon fiber bar. Total weight was 8.78 kg (19.36 lb) for my 54 cm sample, without pedals.
Retail price with the standard Fulcrum Red 900 wheels is US$5,700 / AU$TBC / £5,100 / €5,600.
Mega capability
I should first say that I admire 3T for taking more of a focused approach on the Exploro Ultra. The Ultra's purpose is clearly stated, and while it may very well be able to hold its own in a fast group ride (with appropriate wheels and tires, of course), that's just not what it's meant to do. As such, almost all of my testing on the Exploro Ultra was on unpaved surfaces, with more than a little underbiking to really test the bike's mettle as a sort of pseudo-mountain-bike-with-drop-bars rig.
As promised, the Exploro Ultra is super capable on a wide range of dirt and gravel terrain. I eventually settled on just 15 psi front and 16 psi rear in those fat Schwalbe tires, and at those low pressures, there's grip for days. Want to rally that sketchy corner? Have at it. Got a loose climb to tackle? No problem. That questionable rut you always avoid on your regular gravel bike? This thing laughs it off. The footprint is just so big that traction just isn't usually the limiting factor in terms of what you're able to ride confidently.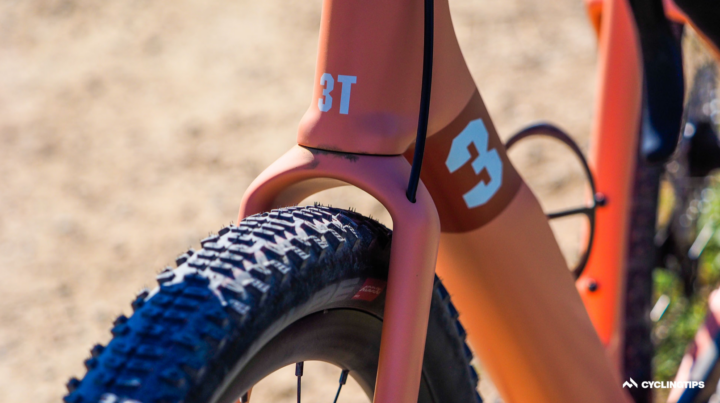 To be clear, those pressures are a lot lower than I run on my trail bike, but I'm also not hitting terrain that's quite as demanding, or as fast. Even at slightly higher pressures, the Exploro Ultra just puts so much rubber on the ground. Given the traction advantages at lower ones, however, I'd say this bike is a prime candidate for foam tire inserts.
Despite those big footprints, the Exploro Ultra is still anything but slow – at least not like you might expect. Those big Schwalbes don't roll as well as narrower and lighter gravel tires, but the supple and pliable casings carry speed better than you'd guess and are arguably faster in the sort of super bumpy terrain in which the Exploro is designed to excel.
One of my regular rides takes you up an old fire road littered with loose and chunky gravel that never gives you a break, and gets continually steeper as you approach the top. It's often a struggle to maintain traction with typical gravel tires, but it's a walk in the park with the Ultra: just stay seated and grind it out. Once at the top, the initial descent is fast and loose with a bunch of water bars; the rest has a more gentle grade and is slower, but it's also chunkier with lots of square-edge rocks, and usually requires you to tip-toe through if you're on standard gravel tires.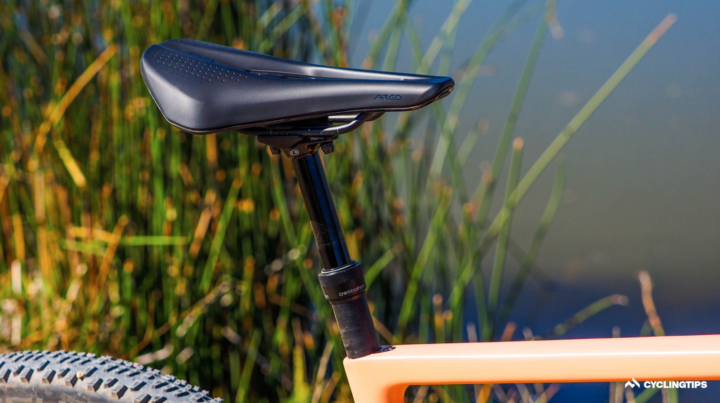 But on the Exploro, it's all point-and-shoot, especially if you make use of the dropper seatpost. It makes quick work of various terrain features, and the whole experience is punctuated with lots of grins and giggles.
Not to be ignored is 3T's claims that the Exploro Ultra is so aero that it'll feel "so much faster than your brain can compute." 3T notably doesn't provide any wind tunnel data to back up those words, so I can only offer my seat-of-the-pants assessment. Particularly at higher speeds where those gains are generally most obvious, does the Exploro Ultra actually feel faster than you'd expect for a bike with tires like this? Um… maybe? Let's just say it's not the super visceral experience I get from hopping on a pure aero road bike, and I can still compute these speeds just fine, thankyouverymuch. But I'd be lying if I said the Exploro Ultra was the lumbering beast I expected it to be on the road.
Also lending a hand in that department is the Exploro Ultra's excellent frame stiffness. As you'd expect given the generous proportions, bottom bracket flex isn't an issue at all, nor is front-end twist when mashing the pedals out of the saddle or muscling the bike through hard, bermed corners (which, yes, we actually have on gravel-friendly trails where I live). If a girder is what you're after, a girder is what you're getting here.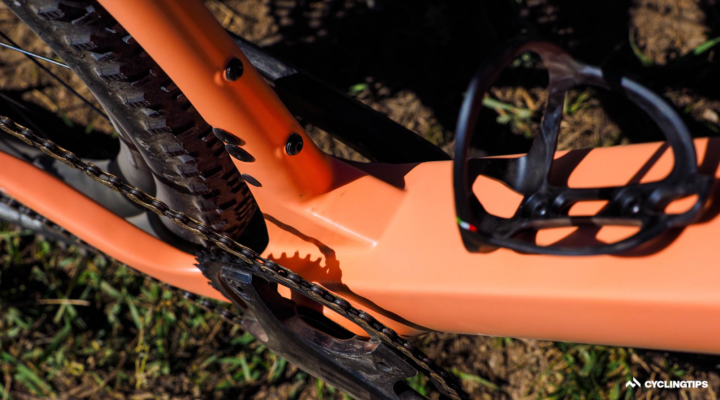 Granted, a "girder" isn't usually what you want in terms of comfort, and at higher tire pressures, the Exploro Ultra's ride quality leaves a lot to be desired, especially with the dropper post (which are notoriously lacking in compliance compared to better rigid options). It's stiff and unyielding, and as I noted in my review of the Exploro RaceMax, the overall feel is dead and lifeless without a hint of springiness. That said, none of that really matters much if you're running the tire pressures the way you should. After all, who cares about frame compliance when you're running 15 psi?
Not-so-Ultra
While the tires infuse the Exploro Ultra with just as much off-road capability as you'd expect, the fun is still, unfortunately, limited by the frame geometry.
On paper, the 63 mm trail dimension seems oddly quick given the Ultra's intended use. However, it nevertheless feels about right off-road in most situations when those big 650b knobbies inflated to appropriate pressures. The Exploro Ultra cruises through most sweeping corners and fast, flatter sections of trail without issue. However, 3T gets there by combining a road-like 71° head tube angle with a big 54 mm of fork rake. As a result, there's more wheel flop than I'd prefer at slower speeds, and while the steering effort feels good on looser ground, it builds to an awkwardly high level if you suddenly find yourself with that same tire setup on grippier surfaces (a reasonable scenario if you're looking to "get to the worst roads fast" as 3T envisions Exploro Ultra owners will be).
A bigger issue to me is the short reach dimension – a modest 373 mm on my 54 cm tester.
A lot of modern gravel bikes –  like the BMC URS, Devinci Hatchet, and Evil Chamois Hagar – are much more progressive, with longer front ends and shorter stems that place the front wheel further ahead of you and shift the overall weight distribution rearward. That change allows you to push the front tire harder in corners without the sudden sting of a wipeout that you often get with a shorter front center and more compact wheelbase, and the increased capability generally comes without major compromises in handling on tamer terrain, either.
But on the Exploro Ultra, you're pitched over the front end more like a traditional road bike, and it's harder to strike that delicate balance between gleefully two-wheel-drifting through a corner and just dumping the front end. It feels less confident if you have to tackle a steeper downhill bit, and you have to pay more attention to how you shift your weight when the traction is iffy.
That's not to say the handling of the Exploro Ultra is bad; it's just that other bikes have demonstrated how much better it can be – and how much more fun you can potentially have. The straight-line performance of the Ultra is unquestionably fantastic on rough ground, but I never got over the impression that it was leaving a lot on the table in the corners.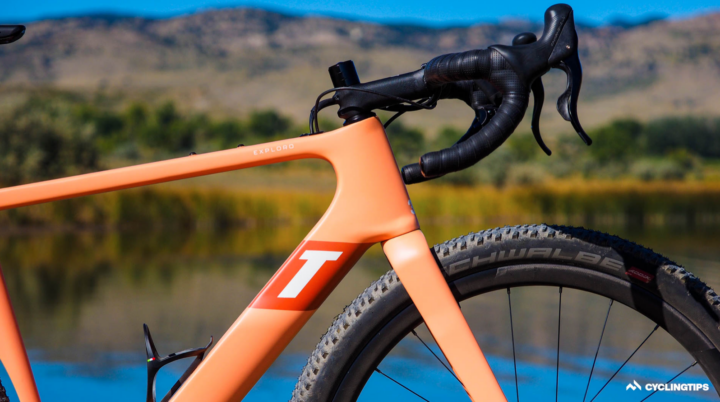 There's also the issue of the dropper seatpost – and not that the idea that the Ultra is compatible with one, but rather the execution.
I like having a dropper on a gravel bike in certain situations, though I'm also not one to suggest that you need one. It's a worthy addition here as it allows for faster and more secure descending and cornering when the going gets rough. However, 3T is showing its relative inexperience with droppers as the rear wheel cutout in the Ultra's aero-shaped seat tube limits insertion depth more than it should. I'm right in the middle of 3T's suggested rider height range for a 54 cm size, yet even with the modest 100 mm of travel on the Crankbrothers dropper my test sample arrived with, I couldn't quite get to my preferred saddle height with the post at full extension.
Making matters worse is that convoluted cable routing setup. The shape and position of the Crankbrothers handlebar remote isn't bad, and there are dual paddles that can be accessed while in the drops or on the hoods. However, the tight bends and long housing runs generate so much friction that you'll want to start a gym routine for your left thumb.
Spec notes
Aside from the issues with the dropper remote, there aren't any major spec-related issues to speak of here.
Campagnolo's Ekar 1×13 mechanical gravel groupset continues to impress me with its earth-flattening gearing range, rewardingly tactile shifter operation, and excellent ergonomics (better than the company's mechanical road groupsets, in fact). No, it doesn't make that beep-boop noise when you move the shift levers, but gear changes are nevertheless fast and reliable, and the system generally feels great while doing so. I say "generally", however, because like any mechanical drivetrain, it's sensitive to housing friction. As with the dropper remote, the goofy cable routing on the Exploro Ultra squelches what has otherwise been a light and low-friction feel in other Ekar-equipped bikes I've ridden the past couple of years, muddying the feel and compromising shift performance.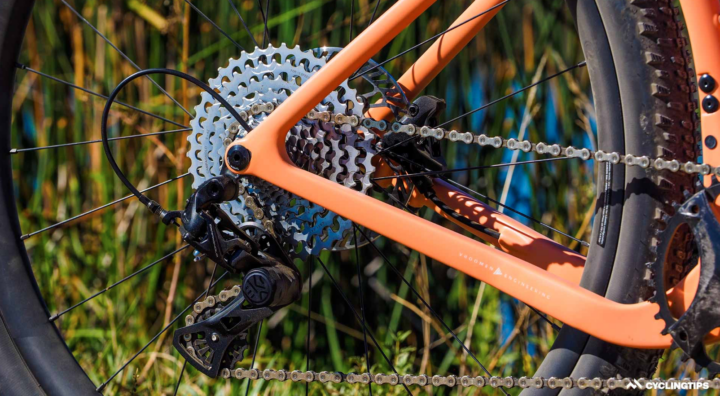 That awful cable routing, thankfully, doesn't affect the performance of hydraulic brakes, and the Ekar disc calipers are still among the best around (and seriously underrated). The tighter-than-average pad clearances require a super careful setup, but the stopping power matches whatever Shimano or SRAM have to offer, and with finer levels of control – the perfect blend of initial power and progressive build-up. They also run with blissful silence, and since they were co-developed with Magura, they operate with more user-friendly mineral oil instead of DOT fluid.
3T supplied my test sample with the optional wheel upgrade – a set of 650b 3T Discus Plus i28 LTD carbon clinchers – and it was pleasantly free of surprises. The 28 mm inner width offers plenty of casing support for those high-volume knobbies, they're reasonably light at just over 1,500 g, and although I would've preferred a speedier freehub engagement from the 3T GW "Bombproof" hubs, at least they fulfilled their stated mission of not exploding, and they're refreshingly quiet.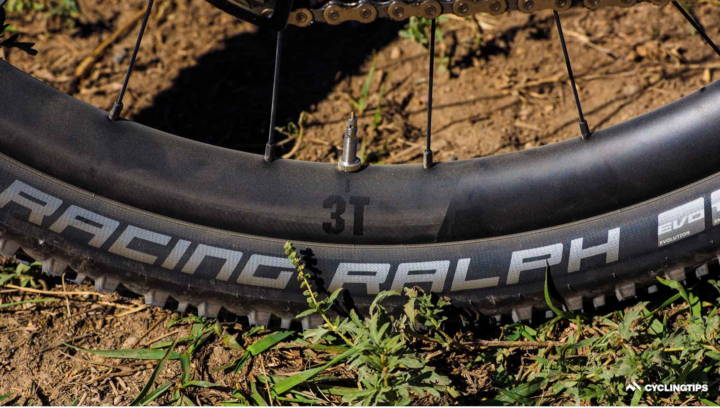 Up front, the 3T Superghiaia carbon bar's unusual drop shape is worth its own mention. By isolating the flare to only the lower portion of the drops, the Superghiaia maintains a normal hood angle while still offering the control that comes with the added width. The tops are comfy to hold, too. Call me a fan.
I'm absolutely not a fan whatsoever of the infuriating 3T Apto Stealth stem, though. Sure, the faceplate looks clean with its rear-facing bolts, but how the heck are you supposed to properly torque them when tool access is nearly impossible? Whoever designed this thing, I curse you.
A bit of a head-scratcher
I see where 3T was going with the Exploro Ultra – and on paper, I can see how it might make sense – but I'm nevertheless struggling with the fundamental premise of the thing.
This is a bike whose entire existence is based on the idea of speed: going faster on smooth ground because it's supposedly aerodynamically efficient, and going faster on "rough terrain" because of the fat 650b knobbies.
However, given 3T's usual penchant for blinding you with science, I can't help but wonder just how aero the Exploro Ultra really is. And even if it is nominally aero (which, again, it does seem like it might be), is that worth the compromises to its primary goal? Speeds are generally lower on "rough terrain" where those aero advantages are less advantageous, and the frame shaping required to get those gains also compromises ride quality, seatpost functionality, and weight.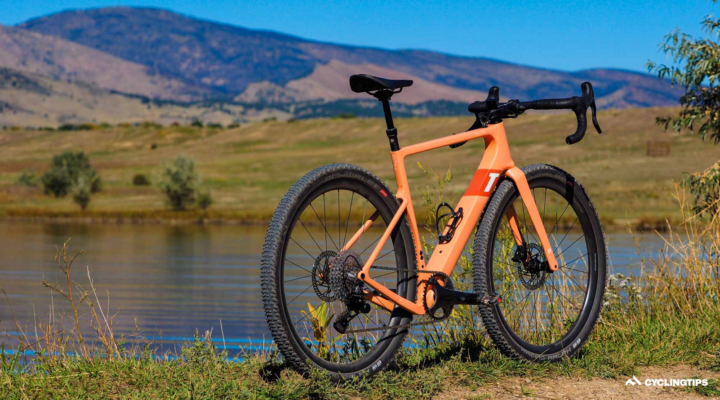 Building an entire concept around the idea of MTB-size 650b knobbies also seems inherently questionable. Lightweight and fast-rolling tire options have been dwindling in numbers since the XC racing world already shifted en masse to 29ers ages ago, and that trend isn't going to reverse itself.
And finally, the geometry oversights just make me wonder how well 3T understands the more extreme end of the gravel market that it's trying to target here. To me, it feels more like how a hardcore roadie would imagine that sort of riding to be like.
All of this is not to say I didn't find the Exploro Ultra to be an enjoyable bike to ride overall. It is – mostly, anyway – but that also doesn't change the fact I still just don't entirely get it.
More information can be found at 3t.bike.