Lennard Zinn: The 20-year history of Campagnolo Electronic Power Shift (EPS)
A look at Campagnolo's 20-year effort to bring electric shifting to market
Heading out the door? Read this article on the new Outside+ app available now on iOS devices for members! Download the app.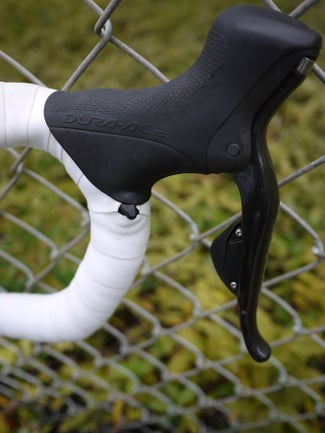 Q. Dear Lennard,
Nice electric shift review at VeloNews.
Having ridden Di2 for two years, I have only one issue: There should only be one front ring shift button to "go to the other chainring." A second button is an unnecessary complication. Worse, it allows mis-shifts by pressing the wrong button.
It seems silly to me to match the old mechanical layout, and until there's a triple version, there's just no need.
— Will

A.Dear Will,
I agree entirely.
There is only need for a single button, as there is always only a single choice of which chainring to shift to on the front on a double system. I think both companies should adopt this (and SRAM, if you're listening and working on electronic shift), especially when Shimano and Campagnolo are on a pursuit of saving both weight and cost on the electronic systems to make them more competitive with cable systems in both arenas.
On the Campagnolo system, for instance, the entire lever behind the brake lever could be eliminated, saving considerable weight and expense. All that is needed would be the single, small thumb button. Shimano, too, could greatly shorten up that wing behind the shift lever.
— Lennard

Short history of Campagnolo electronic shift
Giuseppe Dal Pra, the manager for groupsets, has worked on the Campagnolo electronic-shift project for 20 years — since 1992.
At the time, Mavic was up and running with its electric rear derailleur, and Campagnolo's system started as an electro-mechanical one, relying both on cable pull and electric impulse. That method gave way to fully electronic systems with servo motors in each derailleur.
To also illustrate how long this has been, consider that the first Campy electric systems were in the era of eight-speed cogsets! Campagnolo also built nine-speed, 10-speed, and, now, 11-speed electric derailleurs.
Many of them were tested and raced upon by the various iterations of the Spanish Reynolds team (Banesto, iBanesto.com, Illes Balears-Banesto, Illes Balears-Caisse d'Epargne, Caisse d'Epargne-Illes Balears, Caisse d'Epargne, and, now, Movistar).
An interesting turn of events happened that changed the order of which company introduced electronic shifting to the market first. Campagnolo's 10-speed electronic shift components were ready for the market in 2005, and it planned to introduce them. However, after a successful Giro d'Italia campaign with Illes Balears-Caisse d'Epargne, a number of the bikes failed to shift after being driven to Trento in driving rain at 150kph. The system worked after it was dried out again, but this is exactly the kind of thing that keeps electronic-shift engineers awake at night. This snafu stopped the progress dead in its tracks, as the company had other fish to fry and could not afford to devote resources to this project at the expense of its core business.
It continued to work on the system, but slowly. In 2009, Campagnolo introduced 11-speed drivetrains at a number of price levels, so all of that changeover, performed in secret, required the undivided attention of Dal Pra and other engineers.
Check out the gallery below for a look at some of Campy's early efforts at electric shifting. Also be sure to check out  our article from 2007 on Campy's prototypes during that era.