'Advanced' Placement Puts Giant at Top of Class
New Anthem X Advanced SL gets lighter while the Trance X Advanced SL goes carbon.
Heading out the door? Read this article on the new Outside+ app available now on iOS devices for members! Download the app.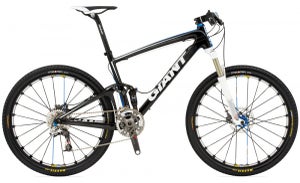 You've seen it, we've reported on it and everyone expected it to eventually be offered for sale and now it's finally official: Adam Craig's Anthem X Advanced SL carbon racer will be included in Giant's 2010 mountain bike line.
The new World Cup-worthy full-suspension carbon race bike will be accompanied by a ground-up redesign of the Trance composite platform, which was absent from the line in 2009, but will be offered again in 2010 as the Trance X Advanced SL.
Anthem X Advanced SL
Last year Craig won mountain bike nationals on the aluminum Anthem X before it was available to consumers. At that point, he was already helping Giant product managers and engineers define the design criteria for the composite version.
Craig first jumped on a prototype eight months ago. Since then, Giant produced four prototypes of the 4-inch travel bike. While the Maestro suspension system and geometry carries over from the aluminum model, the bike's design details differ and the bike is lighter. Despite his relaxed demeanor, Craig is still a World Cup cross-country racer and that means shaving weight is important, although not to the point that it adversely affects performance.
"It's a cross-country race bike thing; people weigh these things in grams," said Craig. "Still (it has to) be a mountain bike. We actually had the first version of the 'totally awesome' prototype (the code name dubbed by Craig and Giant category manager, Kevin Dana) under 2000 grams, but it wasn't quite as solid as we needed. It's cool that it was light – I can't believe that I'm saying this – but (I told him) maybe we should make it a little more stout so that you can actually go for a mountain bike ride on it."
The final production version of the frame weighs 2,100 grams, 200 grams less than the alloy Anthem X. More importantly the frame's stiffness increases by five percent, meaning that it meets Craig's requirement that it also ride like "a real mountain bike."
CARBON CREATION
While most manufacturers do have the ability to change the layup schedules of their carbon frames, few can control the process to the extent that Giant can. All of Giant's frames are made at the company's C-Tech facility on its Taiwanese campus. Giant doesn't outsource to subcontractors.
Furthermore, Giant starts the construction process of its composite frames from thread — Toray T-800 carbon thread is used for the Anthem X Advanced SL model. Giant weaves the carbon thread on its own looms into its own carbon sheet then impregnates it with its own resin — it owns the entire carbon manufacturing process.
From here the prepreg carbon is handled in the same way other manufacturers do: it's cut and put into molds in specific schedule, which represents the variable for Craig's four prototype bikes. Riding the prototypes is the final step in proving amount and placement of the carbon in the frame to produce the desired performance and weight characteristics.
The Anthem X Advanced SL relies on the same geometry and Maestro suspension system as the alloy version, but the carbon bike borrows the OverDrive tapered 1.125- to 1.5-inch head tube and MegaDrive oversized rectangular down tube from the TCR Advanced SL ProTour road bike. Both features are modified for off-road use through design and carbon layup.
The bottom bracket and chainstay area of the new bike also underwent revision to accommodate SRAM-Truvativ's narrowest 156mm Q-factor XX crank, by way of a 68mm threaded bottom bracket shell. The 2010 Anthem X Advanced SL0 comes equipped with SRAM's XX component group, including a custom XX SID suspension fork with a tapered alloy steerer tube (that boasts a 25-percent stiffness gain over the standard 1.125-inch model), custom finished Mavic Crossmax SLR wheels and a custom tuned Fox Float RP23 shock.
Giant also used the opportunity to launch a new line of cockpit components with its 2010 bikes. The Anthem X Advanced is equipped with the brand's Contact SLR carbon stem, handlebar and seat post. According to Giant, a medium Anthem X Advanced SL0 weighs just 21.8 pounds, without pedals. The suggested retail price of the bike is $7,800.
Trance X Advanced SL
"You can imagine with my role as global category manager for Giant, I have a lot of bikes at my disposal," said Kevin Dana, Giant mountain bike category manager. "I've got everything, but when people ask me, 'what's the one bike you ride when you're not developing or working on something new?' That bike is Trance X, every time, without question; I built the bike that I ride."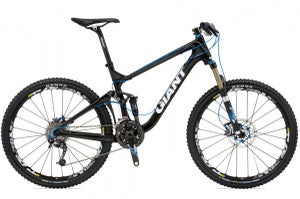 Dana's main goal in designing the Trance X Advanced SL, which sports five inches of travel, was to drop weight off the platform without compromising the bike's on-the-trail capabilities. The stiffness and weight statistics Giant claims for the new chassis lead one to believe that he achieved his goals; the new bike is more than 15 percent lighter and seven percent stiffer than the 2009 alloy model.
TRANCE&TRAIL
Giant equiped us with its top-tier Trance X Advanced SL 0 for a three-hour jaunt on the Colorado Trail. It was a perfect course to highlight the prowess of a do-it-all trail bike.
Out of the blocks two attributes were noticeable: The bike's front-end stiffness and its modest weight. The combination of OverDrive head tube design, tapered steerer, QR 15mm, and large diameter carbon top and down tubes are striking after just a couple pedal strokes and the weight, or lack there of, is noticeable over a long climb. Turn the Pro Pedal lever of Fox's RP23 Boost Valve shock on; adjust the Talus travel lever to 100mm and lockout the 32 Talus RLC fork and the Trance X Advanced climbs like a XC racer; keep in mind it posts almost the same weight as this year's alloy Anthem X.
A three-hour ride is far from qualifying as a thorough test, it allows a recommendation that the new Trance deserves a good look before buying another carbon trail bike.
The new chassis weighs 2250 grams, 400 grams less than the alloy version, in a size medium with its shock, paint, clear coat and all of its hardware.
Like the new Anthem X, the Trance X Advanced SL utilizes Giant's OverDrive 1.125- to 1.5-inch head tube mated with a matching tapered steerer on its Fox suspension fork and MegaDrive downtube. Giant did shorten head tube heights on the large and extra large sizes by 5mm and 15mm, respectively, based on rider feedback.
Otherwise, the Trance X geometry remains trail worthy with a 69.5-degree head tube angle, 73.5-degree seat tube angle and 435mm rear center (chainstay).
The big story associated to Trance X Advanced SL is uncompromised trail performance, something that seems to be reflected in its component spec. The bike comes in trail-worthy dress including notables, like: Fox's 32 Talus RLC fork, Mavic Crossmax ST trail wheelset and 2.1-inch Kenda Nevegal tires. With these proven, trail worthy components Trance X Advanced SL 0 tips the scale at a claimed 24.5-pounds. Giant hangs a price tag of $6,800 on its flagship trail bike.