BC Bike Race: Tire Choice
You won't find a lot of 1.9s rolling around the trails of the BC Bike Race.
Heading out the door? Read this article on the new Outside+ app available now on iOS devices for members! Download the app.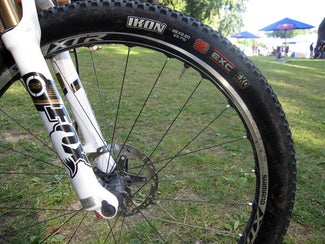 BC BIKE RACE
26 vs 29
Hydration Pack or Bottles?
When it comes to mountain bike racing, few decisions are more personal than tire choice. One man's Corvette is another man's clunker.
The BC Bike Race is no exception. A perusal of the sprawling bike corral following the stage 3 Powell River circuit on Tuesday revealed a broad diversity of choices from at least a dozen manufacturers. But despite the differences, two things was clear: Tubeless tires are the overwhelming majority and a very few riders are afraid of a little girth.
Indeed, you won't find a lot of 1.9s rolling around the trails of this seven-day cross-country stage race in British Columbia. Instead 2.2s and even 2.25s were the rubber du jour.
The reason for paying what is an undeniable weight penalty? The trails are rough around here. Rough like a bad neighborhood in the Bronx. Rough like when the roots are around every turn and the turns come almost constantly.  Here's a look at what some of the top pro's are running and more.