Eurobike Tech: 45North's award-winning winter boot
Minnesota-based big-wheel brand launches new performance winter riding boot
Heading out the door? Read this article on the new Outside+ app available now on iOS devices for members! Download the app.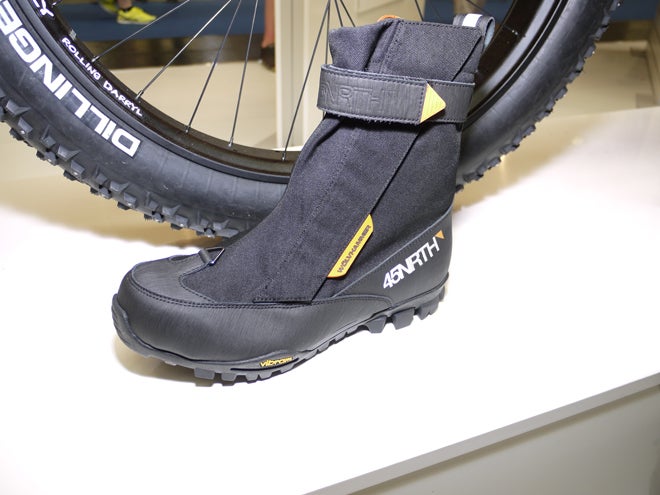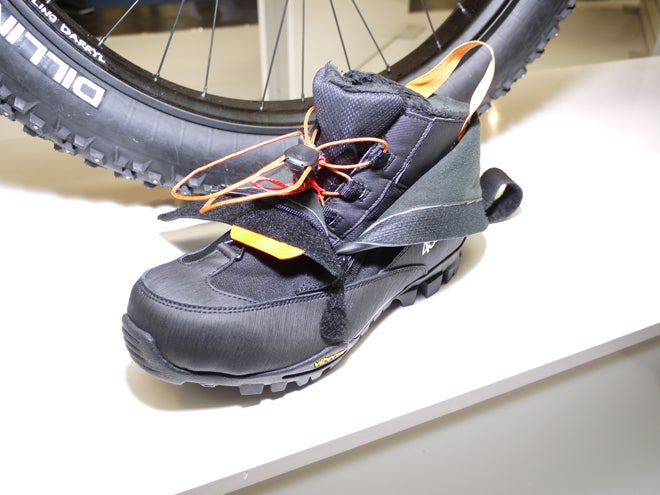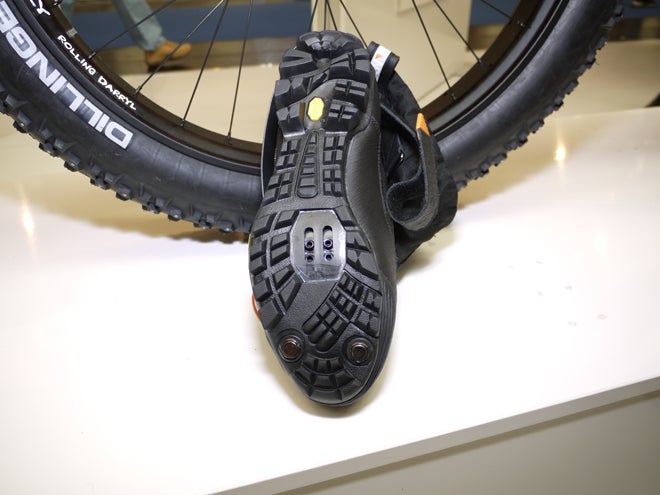 FRIEDRICHSHAFEN, Germany (VN) — Want to talk about a niche within a niche? Winter cycling is booming right now thanks to brands like Fatback in Alaska and now Surly, Salsa, 9:Zero:7. It isn't exactly a tidal wave like we saw with clipless pedals or integrated shift/brake levers, but the increase in fat bike sales and offerings are both up in a big way. And now, an Upper Midwest start-up is offering a tough, insulated boot to go with the craze.
With increased interest in winter cycling, more brands have devoted resources to the segment. New brands have been born dealing solely with bikes with tires wider than three inches. One of them is Minneapolis-based 45North. Get it? The 45 North latitude line runs through the city and signifies that it lies halfway from the equator to the North Pole. Live at or north of that line in North America and you can count on some chilly winters (or wet ones if you're in the U.K.). David Gabrys runs the brand, which is just a year old. He took time to show us the Wolvhammer, the latest addition to the 45North winter cycling lineup.
45North already makes excellent fat bike tires (great for both snow as well as sand and dirt trails), pedals, chains and some nice winter wear. But the weakest link in these devoted winter cyclists' wardrobe was footwear. Many dedicated winter cyclists wear Sorels or other insulated boots and flat pedals for riding in frigid conditions. But a bit of market research told 45North that most winter riders preferred to clip in, given the choice, so the company launched a boot project.
Instead of starting with a cycling shoe and trying to make it warmer, 45North looked at mountaineering boots and repurposed them for cycling. What it came up with is called the Wolvhammer. Its six-layer construction ensures that feet are kept warm and dry during the chilliest of rides. How cold? Well, Gabrys was justifiably slow to put a temperature range on the shoes, but he felt that he could safely say that most riders would be comfortable for 60-to-90 minutes of riding in temperatures ranging from 10 to 20 degrees Fahrenheit.
The shoe starts with a Vibram sole. This makes for great traction and durability. 45North used a wide last for the shoe to make room for additional insulation above the last. Next up is the insole. This uses a two-millimeter aerogel, a material used by NASA to keep astronauts warm when in shadows in space, sandwiched between two different densities of foam. This keeps a rider's foot from experiencing a cold spot where the cleat is attached to the shoe.
While not technically waterproof, the boot is extremely water resistant. A Cordura outer goes high over the ankle, with a Velcro strap to cinch it at the top and a water resistance zipper to close the gaiter-like outer. Natural rubber covers the toe of the outer and a coating helps guard against abrasion. Inside, the inner bootie uses 200-gram Insulate for insulation with Nylex fleece surrounding the foot and fur on the ankle cuff and tongue. Cinch lock lacing keeps the closure simple and easy to adjust even with gloves on. It is also possible to stuff a toe warmer between the outer gaiter and inner bootie to ward off numb toes for even longer.
The shoes come in full European sizes from 38 to 50 (excluding 49). The boots will run $325 and will be available December 1, though Gabrys encouraged prospective buyers to act fast: certain sizes are already pre-sold out.
And the award? Yep, the Eurobike show announced that 45North had won an award in the clothing category for shoe design. The selection committee mentioned it was particularly impressed by the shoe's construction and 45North's use of materials in the boot.
For updates on endurance mountain biking, follow Singletrack_com on Twitter and like us on Facebook
Catch the week's best stories by signing up for The Dirt newsletter