Sea Otter '11: Ibis Mojo SL-R
Ibis SL-R contains all the best of its Mojo predecessors but with weight-saving updates
Heading out the door? Read this article on the new Outside+ app available now on iOS devices for members! Download the app.
IBIS MOJO SL-R
Weight: Frame/ Kashima Fox RP23 is a claimedis sub-5 pounds (2250g) size large
Complete bike with XTR 22.4lbs claimed size large
MSRP: Frame w/ Kashima Fox Float RP23: $2,499
XTR build: $6,699
• 140mm rear wheel travel, dw-link suspension
• Carbon fiber monocoque frame and swingarm
• Kashima Fox Float RP23 with Adaptive Logic Boost Valve technology
• Tapered head tube for HD-comparable stiffness
• Cane Creek AngleSet compatible, allows 67.5º head angle
• Direct mount front derailleur for with 2×10
• BB92/Press GXP style integrated BB is lighter and stiffer and better for molding
• Carbon fiber post-mount rear brake mounts
• 142mm Maxle rear axle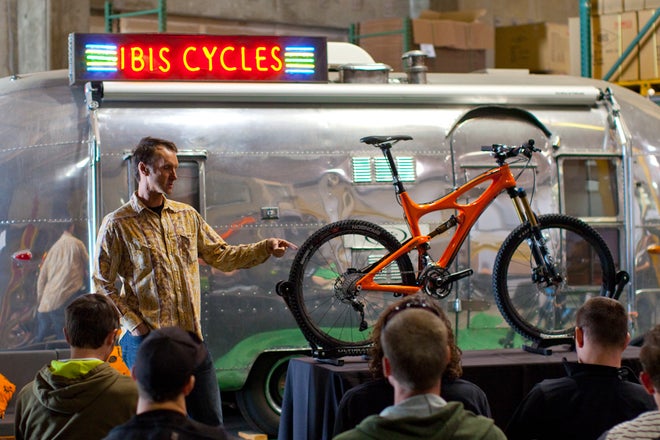 Watch the video below…
What do you need to know about the new Ibis Mojo SL-R? It contains all the best of its Mojo predecessors — the SL 140mm and the HD 140 and 160mm — and updates the instantly recognizable aesthetic with the latest available technology.
"We really learned a lot from the Mojo HD," said Ibis founder Scot Nicol at the SL-R launch in Santa Cruz a few days prior to the Sea Otter Classic. "But we'd wrung out everything from the Mojo platform in six years."
However, a new molding technology that allows for continuous loops that negate the need for weight-inducing dams in certain areas of the frame allows for a sub-5lb weight and allowed the Ibis crew to wring out a little more goodness. Mix in a tapered headtube, 142mm Maxle rear axle and the BB 92 and everything mated up perfectly with the new molding process to create the 140mm Mojo SL-R. And to top it off, the new rig was introduced on the company's 30th anniversary.
After a few hours in the saddle of an SL-R, the approximately 22.5lb bike and its sweet build gave the impression of an extremely capable mountain bike that is light and stiff. The bikes slight build and DW link suspension made hay out of the one large climb on the demo ride while the rig ate up a section of trail filled with tooth-rattling small bumps. After one ride, it's pretty safe to say this is an all-day, up-and-down-the-mountain bike the can take hits with its longer-travel brothers.
Rounding out the build is a Kashima-coated Fox Float RP23 shock with Adaptive Logic Boost Valve technology and Talas 32 FIT Terralogic fork riding atop Easton's light, new EC90 XC wheels. The XTR build is said to weigh in at 22.4lbs.
Headtube angle is 69 degrees, but the Mojo SL-R can take Cane Creeks AngleSet headset, which can put the angle down to 67.5. Torsional stiffness is said to be 100 percent stiffer than the orignal Mojo and 10 percent stiffer laterally.