GPS IQ: What to Know Before You Buy
As dorky as using GPS on a mountain bike might seem, the technology has real benefits, especially when it comes to safety and risk management.
Heading out the door? Read this article on the new Outside+ app available now on iOS devices for members! Download the app.
By Wendy Booher
GOIN' GLOBAL
Garmin Edge 705: $499.99
Magellan Triton 2000: $399.99
DeLorme Earthmate PN-40: $399.95
As technically dorky as using the Global Positioning System on a mountain bike ride might seem, the technology has real benefits, especially when it comes to safety and risk management.
Of course GPS can also be a real drag, since now every rider with a receiver can scope out, record and share your coveted singletrack on the World Wide Web. But if you and your clan are searching for an off-road adventure in a place where the remote, wild vastness beckons, then the GPS might be your best riding partner.
GPS receivers come in all shapes and sizes with a dizzying number of functions usually intended for one purpose, but which cater to many. Historically, mountain biking has proven a particular challenge for manufacturers since device maps don't often show trails, and route decisions end up being a coin toss anyway.
Nonetheless, mountain bikers agree that there are two great uses for a GPS unit. The first is for exploring unknown areas because GPS reduces the chance of getting lost by letting riders see where they've been. The second is accessing a quick escape to the nearest road in the event of an emergency.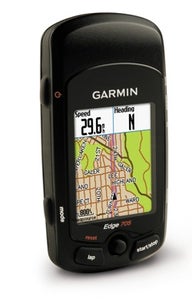 You've probably heard of Garmin and Magellan, both of which make enviable devices for cycling in general, but there's also DeLorme, the map industry leader, which ratcheted up competition for handheld GPS devices. Each company offers multiple models of their devices. Here we'll take a look at what the top of the line device from each manufacturer offers to mountain bikers.
Device weight varies significantly between the Garmin Edge 705 (104g) to the Magellan Triton 2000 (226g), with DeLorme's GPS Earthmate PN-40 weighing in at 189g with a Li-Ion rechargeable battery and 198g with AA batteries. While the Triton weighs a bit more, it does have additional features like a two-mega-pixel camera, a voice recorder and flashlight.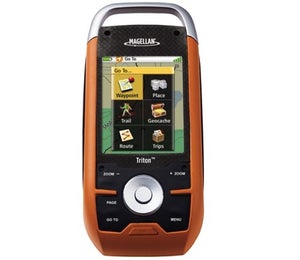 Aesthetics like a color screen, button size and a touch screens vary little between the devices, but some users have groused that the PN-40's smallish buttons are difficult to activate with gloved hands.
Maps and software rank as the two most frequently criticized aspects of GPS ride mapping. Only DeLorme bundles all its PN-40 devices with complete US street and topographic maps, which help if you also use the device to get to the trailheads; however, since so few trails are documented on topographic maps, they will be more useful to see where you've been rather than to explore where you're going.
The Edge 705 also comes bundled with a data card preloaded with City Navigator for US, Canada and Puerto Rico street maps, but the maps cannot be copied or viewed on a computer. Each company sells maps for the rest of the world via their websites, which makes the fantasy of riding off-road in Africa, India or Korea a reality.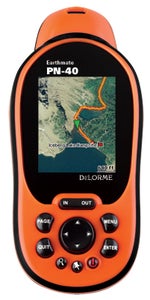 In the past, Mac users have been excluded from GPS data tracking software included with most devices. Third-party software solutions exist, but users may sometimes need more than one to read ride data. Garmin is the only manufacturer with Mac-compatible software for its Training Center program. Garmin also offers the only devices with advanced functions for bicycle training metrics, however, measuring cadence and programming splits doesn't likely carry the same weight with mountain bikers as with roadies.
Speed does matter though, and DeLorme's Earthmate PN-40 scored points with its laser-quick satellite acquisition capabilities, which return signals faster than any other device out there.
Some other things to consider when shopping for a GPS device include battery life, whether or not it can be used for driving and how durable the mounting hardware is.
Out of the dozen or more GPS devices currently on the market, a few rise above to meet the demands of off-road riders. If you need to liven up your riding with some fresh trails, a GPS device could literally point you in the right direction.