Interbike Grab Bag: DT Swiss, CamelBak, Easton-Bell, Light and Motion
Wheels, hydration, helmets, lights and more: Singletrack.com's Zack Vestal runs down Interbike for you.
Heading out the door? Read this article on the new Outside+ app available now on iOS devices for members! Download the app.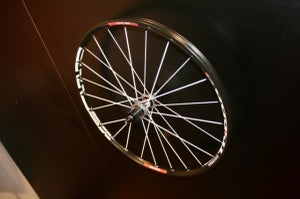 We got a first look at a new 2010 DT Swiss wheel line in Germany, at the Eurobike show. Like so many things over there, we ran out of time to have a good look and get the story out. Fortunately, DT Swiss is well supported here in the States with a U.S. office, and they put on a great show here at Interbike as well.
DT Swiss's "Tricon" line includes one mountain bike wheelset and a road wheelset. Tricon technology refers to a complete system of hub, spokes and rim, which are not sold as separate components, only built into a complete wheel.
Tricon starts with a completely new hub from DT Swiss, one in which the hub flanges are threaded on to the main hub body. The goal is to isolate any strain or deformation on the hub caused by spoke tension, and thus, keep the bearings turning more smoothly and tension-free. The new flange design also incorporates straight pull spokes which anchor in the flanges not with a normal spoke head, but a threaded end. DT Swiss says that this reduces peak load and stress on the hub end of the spokes.
At the rim, the Tricon system also uses a new interface, this time in the form of an insert in the inner rim wall. The insert, rather than a normal eyelet, is said to better distribute the load of spoke tension and permits a lighter rim. Best of all, the Tricon spoke insert eliminates the need to drill through the rim at the tire bed, making the rim 100-percent tubeless ready-it's airtight and requires no rim strip.
Other features include what's called "open crow's foot" lacing (a mix of 1-cross and radial spoking) and a slight concave shape to the rim sidewall, for extra strength. The hub internals are based on the tried and true 240 hubs, so new spare parts won't be needed.
Two wheelsets use the Tricon system. The mountain wheelset is called XM 1550, which weighs about 1550 grams for the pair and uses a 26 mm wide rim is meant as a trail or "cross-mountain" wheel, is great for bikes in the 5-inch travel range.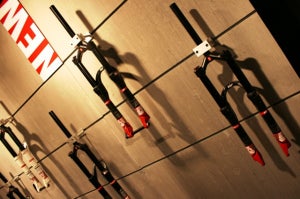 In other news from DT Swiss, their suspension fork line is getting some love in the form of new magnesium lowers, with a hollow, internally braced arch called "Torsion Box." Torsion Box significantly improves stiffness in new forks with magnesium lowers, like the XMM and EXM, available with 120 and 150 mm of travel, respectively. Additionally, DT Swiss's damping units have been reworked for better performance.
CamelBak Podium bottles get even colder
CamelBak gained attention for providing insulated Podium Chill water bottles as standard equipment to the Garmin-Slipstream team at the Tour de France. The Chill is claimed to keep fluid cold twice as long.
Now, CamelBak introduces Podium ICE, an insulated bottle that should keep your water cold up to four times as long. Podium ICE uses Zero-LoftTM extreme aerogel, a highly effective insulator with the lowest thermal conductivity of any solid. This water bottle will cost $20, weighs about 120 grams, and will be on shelves this spring.
Also new from CamelBak is a digital accessory for hydration pack tubes, called Flow Meter, and also revised wearable hydration, in the form of RaceBak and VeloBak jerseys and base layers. Flow Meter calculates the remaining fluid in your hydration bladder, and can also be programmed to monitor your fluid intake and help you stay hydrated. It will integrate with any CamelBak reservoir and will be available at retail locations nationwide in October for $30.
VeloBak is a jersey with a hydration bladder sleeve built into the back, and joins the newly revised RaceBak base layer in the wearable hydration collection from CamelBak. In both pieces, mildly compressive material supports the hydration bladder without restricting breathing or ventilation. The new VeloBak jersey will retail for $130.
New from Easton Bell Sports
Skateboard artist and Santa Cruz local Jimbo Phillips was brought in to do the artwork on some Bell helmets. Photo by Zack Vestal

The Giro Prolight helmet, which will be available in January for $200. It weighs around 200 grams, thanks to a lighter RocLoc SL made from webbing and elastic and the elimination of the internal frame. The new shell structure is 100 percent EPS foam, which forced reduced vent size, but Giro maintains airflow by deepening the internal channels.

Giro Havik 2 sunglasses, which are redesigned for fit and tension on the earpieces. Pressure on the temples is now reduced by a third, with no reduction in fit or retention. Plus, new pearl graphics with matching nose pieces are on the way.
New graphics on certain Bell helmets, including the Drop and Faction gravity-oriented helmets, plus the Variant and Sequence trail helmets. Skateboard artist and Santa Cruz local Jimbo Phillips was brought in to do the artwork, and it's available on certain products at no extra charge.
A new Blackburn Flea light, with a USB charger and solar charging option.
New Blackburn trainers, which are benchmarked for stiffness and stability, plus widely variable resistance to suit riders with different power outputs.
Easton Haven Disc MTB wheels, which are a light, sturdy trail wheelset with internal rim width of 21mm and a weight of 1650 grams. New rim and spoke nipple technology permits the wide rim at a lighter weight with no sacrifice in strength. Haven wheels are UST compatible, available in 26- or 29-inch sizes, and adaptable for both standard QR or 15QR hubs.
Light and Motion is as bright as ever
The year 2009 roughly marks the 20th anniversary of Light and Motion. In 1989 the company made a scuba-diving light from a motorcycle battery and halogen bulbs, and the rest is history.
For 2010, Light and Motion continues to provide lights that are as bright and light as ever. The Stella 150L uses a two-cell lithium-ion battery and a single LED to put out 150 lumens for four hours, all in a sub-200 gram package that requires only five hours to charge. The lamp unit is a sweet, svelte, red-anodized alloy, and the battery pack has a new rubber strap for fast, easy mounting to a stem or top tube. Retail price is $230.