Katie Compton Gearing Up for MTB Season
Cyclo-cross queen Compton will hit the World Cup and domestic mountain bike circuits on her new Stevens Scope 26-inch race rig that weighs in at about 17.5 pounds.
Heading out the door? Read this article on the new Outside+ app available now on iOS devices for members! Download the app.
By Phil Heckler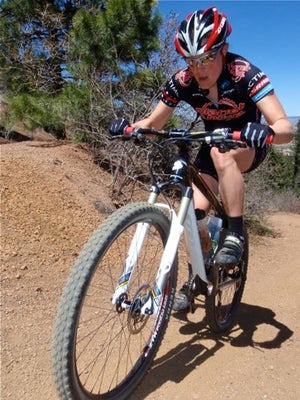 Cyclo-cross power Katie Compton is prepping for the cross-country mountain bike season with a new fleet of bikes.
Last season Compton raced a titanium, 29-inch Independent Fabrications bike. Then in August of 2009, German bike manufacturer Stevens signed Compton when the company's product manager, Volker Dohrman, saw photos of Compton playing with her dogs Bella and Rufus. Dohrman is also a dog lover, and thus began the partnership between the two. Compton will be riding both Stevens mountain and cyclocross bikes for the 2010 season.
But Stevens doesn't make a 29-inch bike. The company is, however, developing a prototype aluminum rig for Compton, which she should have in her hands before the Offenburg, Germany World Cup race on May 22-23.
In the meantime, Compton is riding a Stevens Scope 26-inch race rig that weighs in at about 17.5 pounds, compared to last year's 22-pound 29er.
In a perfect world Compton said she would love to have a stable of bikes to choose from — hardtail and full suspension, 26-inch and 29er. If any other rider could back up the desire to have a stable of bikes for any possible trail condition, it's Compton.
At the U.S. mountain bike nationals in 2008, Compton won the short-track race, was third in the Super D and tenth in the cross-country race, not to mention the trash bag full of other victories throughout the rest of her career in mountain biking alone.
"I'm really excited for the 26-inch bike," Compton said. "It's light, it's stiff. It tracks really well on climbs. But it really depends on the bike you feel most confident on."
The change to the smaller wheel size is good, she said. The World Cup events Compton did last year on the 29er were tight and technical enough that she "got caught up on the twisty stuff more than I needed to."
Compton said she is excited about the upcoming mountain bike season and will mix domestic racing and UCI World Cup events. She'll start at the Chalk Creek Stampede in Nathrop, Colorado, on May 15-16, before heading to Europe for the Offenburg World Cup. She'll bring it back stateside for the Subaru Cup in Mt. Morris, Wisconsin, and MTB Nationals at Granby, Colorado.