Love 'em or Hate 'em, Big Wheels Hit the Big Time
Specialized's Jaroslav Kulhavy rides a 29er — full suspension, no less — to a World Cup win — the first ever for a big-wheeled bike.
Heading out the door? Read this article on the new Outside+ app available now on iOS devices for members! Download the app.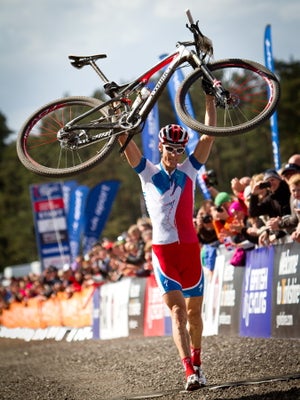 CZECH-ING IN WITH JAROSLAV KULHAVY
Singletrack.com: Why do you think there is some resistance to 29ers in Europe, especially amongst elite cross-country racers?
Jaroslav Kulhavy: I think a lot of riders are conservative and they need more time for testing 29ers. It is same as full suspension several years ago. Their use has increased after some years. Riders must get used to their bikes gradually and their bikes must be on a top level — geometry and weight.
ST: How much discussion, if any, was there among Specialized riders about being the first to win a World Cup on a 29er?
JK: Not so much. Burry Stander was third on a 29er in the championship last year in Mont Sainte Anne. The first victory was near. We are glad for our team Specialized! It is great for further innovation of 29er bikes.
ST: What was your first take after riding a 29er? Did you like it? How much skepticism did you have about the big wheels and geometry, especially as a potential World Cup race bike?
JK: My first ride was really fun. The 29er was incredibly strong in technical downhills and fast flats; worse was in the slow turn. Geometry is OK, but a rider has a higher position on 29-inch bike. The feelings were more positive than negative.
ST: After the Subaru-Fisher (Trek) Mountain Bike Team decided only to race 29ers last season, what did you think? Crazy? Marketing? Legitimate?
JK: I thing mainly legitimate. Marketing not so much because the race results show success! I can use 26er or 29er bikes, but I have already decided on 29er for all season, My choice will be between Epic 29er and Stumpjumper hardtail 29er.
More than likely you have never heard of Jaroslav Kulhavy. More than likely you have heard of something called a 29er mountain bike.
You have probably even taken part in a discussion about the merits or demerits of those damned/blessed two-niners. But after Sunday, when Mr. Kulhavy won the second round of the 2011 World Cup season aboard a 29er — a dualie, no less —  there are undoubtedly scores of big-wheeled disciples out there beaming with knowing 29er Kool-Aid-stained smiles.
For all the debate over two-niners, Kulhavy's win aboard a Specialized S-Works Epic 29er, the first victory for the big wheels at a cross-country World Cup — ever, is the shot that wasn't heard around the world.
Guys like Wes Williams and Gary Fisher have long been the 29er standard-bearers. And they have legions of two-niner soldiers ready to espouse the magical (it's said they ride themselves) qualities of the bikes. But for all the converted there are those who swear by their trusty 26-inch-wheeled steeds. They love the acceleration, flickability and nimbleness of their rigs.
And they're totally spot on about the positives that 26ers offer. It too seems they're also the most critical of wagon wheels. We'd wager that a few of those nay-sayer riders saw Kulhavy's back side on Sunday, too.
On Twitter, Geoff Kabush noted that "a touring bike finally won a MTB World Cup."
Take that as you may, but Kulhavy's race at Dalby Forest in the U.K. wasn't the first time a 29er carried a rider to a World Cup podium. Burry Stander, another Specialized Racing rider, took third place last year at the same track aboard a Specialized hardtail two-niner — the first World Cup podium by way of wagon wheels, and a bronze at MTB worlds.
Kulhavy, meanwhile, said Sunday's race was fast.
"My bike was perfect. It was fast, and I think it was the best bike for the course today," he said on Specialized's website.
The Czech rider was onboard a 9.5kg (20.9lbs) Epic with a 2×10 drivetrain, including front SRAM XX rings (39/27T).
And don't worry, not all the Specialized Racing crew is on 29ers (Christoph Sauser and Todd Wells), Stander finished seventh on a 7.5kg (16.5lbs) 26er Stumpjumper hardtail with a 1×10 drivetrain (36T front Rotor ring).
"I was trying out a new Specialized 26er here," Stander said. "I've been training on it for three weeks. I think it's an awesome bike."
So, for all the small-wheel rollers out there, there you have it; the mountain bike as you know it survives — all is not lost. (Well, at least for now…)
DALBY FOREST ELITE WOMEN'S GALLERY
DALBY FOREST ELITE MEN'S GALLERY