New Gear: 2011 Shimano XTR
Hot damn! One rippin' ride on 2011 Shimano XTR has Singletrack.com's tech editor Zack Vestal highly impressed with the venerable group's re-tooling.
Heading out the door? Read this article on the new Outside+ app available now on iOS devices for members! Download the app.
[album id=63 template=extend]
One. Single. Ride.
In my case, that's pretty much all it took to re-establish my opinion on Shimano's place in the hierarchy of elite off-road componentry.
One sweetly punishing, 17-mile ride through the rugged Lakes Basin in the high Sierra north of Truckee, California signaled that 2011 XTR has swiftly reclaimed the throne.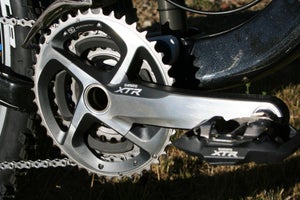 The new M980 series XTR is really, really good. Damn good. So good that I didn't even pay much attention to it during one of the most burley and technically demanding rides of my season so far. Despite its tactile newness (and my grateful awareness that I was among the first in the world to enjoy a real ride on the ultra-premium parts), I hardly paid attention to it. All I did was bang out perfect shifts and precisely modulated brake input, front and rear, left and right, up and down, over miles of blocky, batholithic granite.
Of course, one ride is no way to gauge a parts group. Not even close. Maybe the stuff is going to break into pieces after a few months of hard use. Maybe it doesn't do well in the mud (we only rode dry, abusively rocky alpine terrain). Maybe the seals around the ceramic brake pistons eventually gum up and stop working.
I don't know, but I doubt it. What I do know is that my first impression — one ride's worth — is that 2011 XTR is damn fine.
The Obligatory Automotive Analogy
I'm on record as a big fan of SRAM's XX group, and I still dig it the most. I've spent almost a year with it. Shifting and braking are extremely firm and positive, with never a missed input. The 2×10 drivetrain is SRAM's best-ever, both intuitive and efficient. In my experience, every part of the group has proven durable and easy to service. But it's a race group and sometimes feels a little rough around the edges. It demands a level of attention and skill to command its best traits, yet it does reward with results.
But where SRAM XX feels like the raw American muscle of a Corvette, new Shimano XTR has the sublime, silky refinement of a Mercedes Benz P8 supercar. (I'm not a car guy, but I'm just hypothesizing here, so bear with me). Both cars produce 500-odd horsepower. They're both built with pure intent for precision, power and speed. They're both marvels of technology and sophistication. They're both worthy of pole position on the track (or valet parking at the Palazzo).
But in contrast to XX, XTR offers a new level of positively buttery, brainless performance. XTR has all the power and responsiveness that you could ask, but blends a degree of effortless suppleness and elegance that I find missing from XX. The precision is exquisite. Just like a supercar can make up for an inexperienced driver's mistakes, 2011 XTR almost seems to correct or override subtle miscues in the driver's input.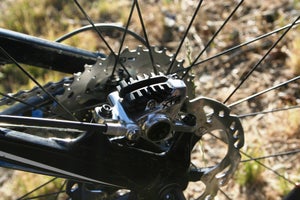 Braking with the new levers and calipers is exceptionally powerful but subtly, sweetly modulated on everything from slow, creeping steeps to hot, high-speed double-track rippers. Shifting with the new Vivid Index levers is exact and foolproof with no hesitation, even under last minute, full-power gear grabs. Shift pressure at the levers is even, light, and consistent through the entire stroke. The new chain and derailleurs combine to smooth full-load shifting performance. The drivetrain as a whole feels more stable, effortlessly holding gears while pedaling full gas through babyhead chop or grinding up ledgy boulder moves. Even though I didn't need the granny gear in my triple-chainring setup, living in the 32-tooth middle ring is easy and efficient.
OK, OK. It was just one ride. I'll shut up for now.
How'd They Do It?
The Japanese giant appeared seemingly dormant since the last XTR group was released (the M970 series) back in 2006. Everyone knows that during those intervening years SRAM forged four-lane freeways into Shimano's turf at the top of the totem pole.
But it doesn't take a degree in bike technology to know that appearances are usually deceiving when it comes to Shimano's activity. Prod the deliberate, slow-moving samurai long enough and you're likely to suffer a surprisingly comprehensive and well-planned retaliation.
In this case, Shimano's response included wholesale drivetrain upgrades beyond merely adding a tenth cog and gutting the group in search of grams. In fact, the group actually grows to embrace a broader range of applications and end-users.
Recognizing that fewer riders need or want parts built for just World Cup race tracks, the company added multiple component options within the XTR family. The ultralight bare-bones race-grade parts we expect from XTR are still there. But a bunch of the parts are available built with added features and versatility for more aggressive trail duty. These different XTR specifications are loosely grouped as "race" or "trail" parts, but in reality, Shimano's goal is simply to offer an appealing, tunable range of its highest-caliber parts to riders of all stripes.
That's what the concept is called: "Rider Tuned." And in fact, most riders don't ride at either of the two extremes (pure racing or extremely aggressive all-mountain). Rather, Shimano wants riders to feel free to custom tune a blend of the efficiency, durability and control demanded by both riding styles. XTR pieces of each type can be mixed and matched interchangeably.
For example, as a stronger cross-country-style rider with a road background, I'd select the double crank option for my drivetrain, the lighter XC-oriented wheels, and the lighter, slimmer pedals. But I've never been a great descender, so to improve my confidence and control in the face of gravity, I'd probably go for the beefed-up brake levers, finned brake pads, 15QR front wheel option, and maybe a 180mm front rotor. (Um, Shimano guys, you jotted that down, right?)
As Shimano marketing manager Devin Walton said, "With XTR, we're not just offering a choice of soup or salad. It's more like, now that you've chosen salad, what dressing do you want on your salad?"
All the Bits
Drivetrain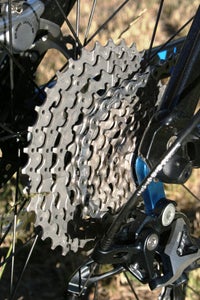 Shimano moves into the realm of 10-speed with their new Dyna-Sys drivetrain. The chainring sizes shrink and the cog size spread grows. Both of which conspire to reduce cadence jumps when a shift is executed. Now, with the mainstay 42-32-24 triple crank option, a single front shift equals two rear shifts. Furthermore, by using generally smaller chainrings and larger cogs, Shimano says that chain tension decreases, which reduces power-robbing friction, chain stretch and suspension effect. By making a wider range of gears available in the cog spread, a rider can spend more time in the 32-tooth middle ring, where most suspension designs are optimized.
What else?
There are three crank options, each offered in 170, 172.5, 175, or 180mm lengths:
• The mainstay 42-32-24 triple
• Two narrow Q-factor XC doubles (with either 42-30 or 40-28 chainrings),
• A "trail" double crank (38-26 tooth chainrings mounted on the inner and middle positions of a normal, wider Q-factor triple crank, so it can accommodate a chainring guard or even convert back to a standard triple)
Nine new front derailleur options have cage profiles to suit 10-speed. There are separate derailleurs for two- and three-ring use, but even with multiple mounting options, the number of SKUs actually shrinks (there are four triple and five double crank derailleur options).
The two rear derailleurs (SGS long and GS mid-cage) are all Shadow, all the time. The low-profile rear mech improves drivetrain stability by shortening and straightening the shifter housing loop. Additionally, the new, longer cable pull arm lowers cable tension, reduces shift effort at the lever and adds mechanical advantage over the derailleur return spring. Benefit: the derailleur holds its position much more effectively while pedaling through chop.
A new, asymmetric hollow pin chain (similar to the Dura Ace 7950 chain, but with much different plate profiling) that's specifically engineered for the demands of gear shifts in each direction. The outer plates are profiled to shed mud, and they lack the cutouts of the Dura Ace chain to improve torsional stiffness. (Note to mechanics: the new chains MUST be installed with the Shimano logos facing OUT for best performance).
The Hyperglide cassette remains more or less the same, but with the addition of a 10th gear. There are five titanium cogs and a three-arm aluminum spider holding the largest cogs. Sizes include 11-34 and 11-36.
Controls
Shimano's menu of XTR options differentiates more strongly with the control levers and brakes. "Trail" brake levers offer more power, adjustability, and heat management. Shimano's brake heat management engineering is collectively referred to as Ice Tech, and involves materials and design in the rotors, pads, and calipers to help pull heat from the brake surfaces. In a really sweet serviceability development, XTR brakes now bleed in one direction, from the top down. And, the lever clamps are hinged.
XTR brake levers are available in "race" (M985) or "trail" (M980) format.
• The M985 spec is 40 grams lighter than current XTR, but gains 10-percent more power. These "race" levers feature a new master cylinder design, adjustable pad bite point, and slender lever blades.
• The M980 "trail" spec adds 25-percent more power, at the same weight as current XTR. All the M985 race lever features are there, but the M980 trail levers get added Servo Wave adjustment. Servo Wave adds mechanical advantage and therefore power.
XTR calipers are the same for both race and trail duty, but they're newly upgraded with ceramic pistons (for heat management) and stiffer brake hose (for more power). There are several brake pad options, the most notable of which is the Ice Tech spec with aluminum fins extending above the caliper to help shed heat. (Shimano says the fins are good for a 50-degree pad surface temperature reduction).
The new XTR rotors have an aluminum core with stainless steel surfaces. Shimano says the dual material construction is good for a 100-degree rotor temperature reduction. Centerlock mounting returns. Rotor sizes from 140 to 203mm are available.
On the outside, new XTR shifters have subtly revised lever shape. On the inside, they get a new cable pull profile and shift detents so that shift effort across the entire gear range is reduced. At the same time, the detents are firmer so executing a shift still feels precise and crisp. The re-engineered shifter feel is called Vivid Index.
The rest: wheels and pedals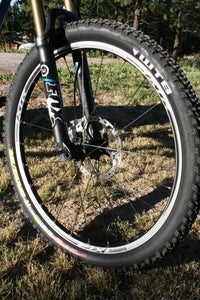 There are now two XTR-level wheelsets. The "race" wheels have 19mm scandium alloy rims and weigh 1480 grams per pair in 9mm quick release format (a 15QR front wheel is available). The 1700-gram "trail" wheels have wider, 21mm rims, come in 15QR front only with options in the rear for 9mm quick release or 12x142mm thru axle. Both are fully UST tubeless compatible and feature Shimano's adjustable angular contact bearings in the hubs.
As with just about every other component in the XTR line, there are two options in pedals. The lighter pedal has an ovalized center section for better mud clearance and more surface area for shoe contact. This XC pedal weighs about 310 grams per pair. The heavier, 400-gram trail pedals have twice as much surface area plus a wider body for stability.
Saving the Best for Last
According to Walton, in the lightest "race" build possible, the new XTR group (without wheels and pedals) is about 200 grams lighter than the current version. Add the new wheels and pedals, compared to the old group with wheels and pedals, and weight savings jumps to 400 grams.
Even if you build a bike with nothing but the heaviest XTR "trail" components, you'll still save 50 grams over the current group (minus wheels and pedals). Again, add the pedals and wheels to the balance sheet, and weight savings jumps to 150 grams.
In both cases, the weights are impressive considering that braking power climbs, heat management is improved, there's a tenth cog out back, and shifting with the Dyna-Sys drivetrain is outstanding.
Here's the kicker: according to Walton, a 2011 XTR group won't cost much more (if any) than a current M970 group. That's right – pricing is forecast to remain more or less the same as it is now. Wow.
It's lighter, works better, is more customizable for build configuration, is built for the demands of XC racing and heavy trail use alike, and should cost the same as current XTR. What's not to like?
Nothing, but we can't vouch for long-term durability of the new parts. Trust us : We'll do the hard work of riding this sick new group from now until the snow flies, and we'll let you know how it goes.
Stay tuned!