New Gear: Avid Brakes 2012
Improvements have been added to last year's line, plus three new Elixir models.
Heading out the door? Read this article on the new Outside+ app available now on iOS devices for members! Download the app.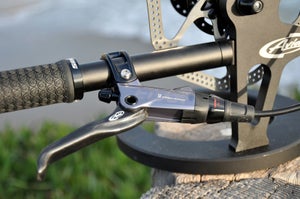 Avid has added a few improvements over last year's product to their 2012 line, as well as three new Elixir brake models. Admittedly hard to notice most of the changes at first glance, SRAM's Tyler Morland said "small details make big differences" in this year's line.
On the outside
Rotors are all new for 2012, and will now come in 20mm increments across the board(140/160/180/200). The HS1 rotor will be replacing the G3, and will be used on XO through Elixir 3. The HS1 should run a bit cooler, offering more surface area by replacing the G3's slots with multiple holes. Weight is also reduced by running a narrower contact track, but SRAM was keeping amount of weight difference under wraps.
Claimed weight loss in rotors is also in part to the new design featuring interruptions in the outer diameter. The pattern change is said to allow more manipulation of the strength to weight ratio, and also adds more surface area for improved cooling as well.
Avid brackets see a "more manageable" bracket selection, as well as a reduction in weight by as much as 27-grams (comparing this year's 200mm rotor adaptor to last year's 203mm adaptor). The new brackets will be available in 20mm, 40mm and 60mm for I.S., as well as 20mm and 40mm for post mounts.
Wondering if you're current brakes will work with new rotors and/or adaptors? They will.  Avid will also continue to support the older model rotors and adaptors as well.
On the inside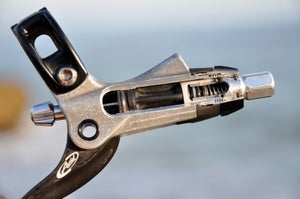 A nice internal change to Avid's Taperbore design is the omission of a seal over a timing port that would essentially wear out too quickly, allowing air to be easily pushed from the low-pressure side to the high-pressure side. Without boring (get it?) you to death on the details, the new design now basically offers a small, low-pressure chamber to trap air without interfering with system pressure, and is conveniently located by the bleed port to remove it much more easily during service.
New Models
Elixir 9
Weighing in at a claimed 358-grams, the Elixir 9 features the above-mentioned changes and will be available this April for a MSRP of $215. In addition, the caliper itself is a new two-piece design and comes with an adjustable banjo. Lever blades will only be available in carbon for aftermarket, but there will be an aluminum OEM option. Reach and Contact Adjust are both tool-free, and the Contact Adjust is claimed to not affect the point of pad contact.
Elixir 7
Essentially the same brake with the same options as the Elixir 9, the Elixir 7 comes in a few dollars and grams lighter by the absence of Contact Adjust. How much does that little pad contact adjuster weigh?  A claimed 7-grams. The Elixir 7 will be available this April as well for $179.
Elixir 1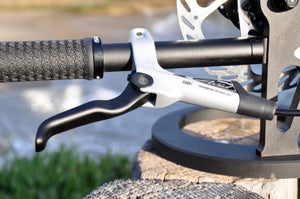 At an MSRP of $89 per wheel, the new Elixir 1 features much of the same technology as its more expensive Elixir family, but at roughly half the price. A few of the shortcuts to keep price down are a cotter pin to hold brake pads in, a stamped lever, and a simple, single-bolt clamp that has to be slipped over the handlebar. There is also no Contact Adjust, and the Reach Adjust requires a 4mm allen key. But the guts are said to be the same, so performance should be very comparable to the higher-priced Elixir models. No weight or availability date was available.
First impression
With one day of riding some really fun Santa Cruz trail on a set of Elixir 9 brakes, the changes over last year's Elixir brakes were hard to decipher. Both reach and contact adjustments were easy, there wasn't any noticeable fade on the longer descents, and while squeal was audible, it wasn't reaching up into the overly annoying decibels. They did seem a bit grabby though, and left better modulation something to be desired.