New Gear: Mavic Crossmax 2012
Mavic has vastly improved XC, trail and all-mountain sets in their venerable Crossmax line.
Heading out the door? Read this article on the new Outside+ app available now on iOS devices for members! Download the app.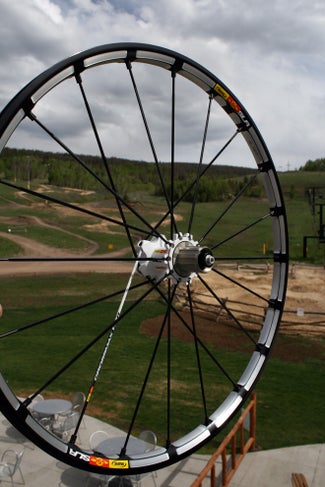 Mavic has spent two years re-thinking their venerable Crossmax line, tweaking tried-and-true technologies to yield vastly improved XC, trail and all-mountain sets.
Take a wide-angle view and the new versions appear remarkably similar to their predecessors, but bust out the zoom lens and the smart modifications are immediately apparent.
Names remain the same — SLR for cross-country, ST for trail, and SX for all-mountain — and prices don't move much either. The SLR remains $999, ST gains $25 and will now be $799, and the SX sticks to $899. Materials are largely unchanged as well; rims are still extruded out of Maxtal aluminum and are laced up with Mavic's distinctive Zircal aluminum spokes. Mavic says there's no demand at the moment for a carbon SLR, so don't expect one anytime soon.
There are no plans for 29er sets anytime soon, either; an omission that Mavic marketing manager Zack Vestal was quick to address. The first issue, he says, was that at the beginning of the last development cycle there was almost zero interest in 29ers from the pro racers Mavic uses to cultivate their line.  Second, he explained, is that "building a 29er to Mavic standards requires more than just taking a 26 inch wheel and sizing it up."  So they won't release something until they can get it right – and that's just fine by us, to be honest.
Hubs
The new hubs get a bit lighter thanks smaller flanges, redesigned disc tabs and more extensive internal machining. But more exciting is the increased axle compatibility and redesigned ITS-4 freehub body, now applied to both the SLR and ST versions in addition to the SX.
The SLR will now be compatible with both QR and 15mm thru-axles. Centerlock and 6-bolt disc mounts are available, as is a Lefty front hub. Gone is the 20mm axle of previous generations. The ST will come stock with a 15m thru-axle, with adapters available for QR and 20mm. The SX can be easily swapped between 15mm and 20mm, with a QR adapter available. The SX has no Centerlock option.
A version of the ITS-4 freewheel is already found on the current SX hubs, but has been redesigned and now graces the SLR and ST versions as well. The new ITS-4 is lighter, and new seals have reduced drag. Engagement is much quicker, just 7.5˚ versus the current 17.5˚ on the ST and SLR models.
Rims
MAVIC CROSSMAX 2012
Crossmax SLR
– $999 / 1440g
Crossmax ST
– $799 / 1590g
Crossmax SX
– $899 / 1755g
Availability: this fall
www.mavic.com
The new rim shape, both wider and rounder, makes the Maxtal rims of all three versions lighter and stiffer.
The SX will now have a 21mm inner width, more suitable to aggressive riding. The tire well is now rounded, easing tire installation. Handily, this change increases stiffness as well.
The SLR and ST versions use the same rim profile, now with a 19mm internal width versus the old 17mm. Wider rims improve tire profile, particularly for high-volume tires, and increase stiffness. The SLR uses Mavic's ISM 3D milling to further reduce weight, down a total of 20g per rim despite the wider bed. Both rims use the same rounded tire well as the SX rim.
All three use Mavic's FORE technology, a super-heated drill (that's a drastic oversimplification) that pushes material from the rim inwards, and then threads that material. This prevents drilling through the rim bed, and allows for a fully sealed UST rim with no tape or strip.
Spokes
The Zircal aluminum spokes haven't changed, but lacing and spoke count has. All three sets use Mavic's ISO-Pulse pattern, with radial drive side lacing and two-cross non-drive side. This allows Mavic to move the drive side flange out by 2mm, improving bracing angle and bringing the two sides' spoke tension closer together. The result is a stiffer, more durable wheel.
The new SLR will have 20 front and 20 rear spokes, down from 24. The ST will run 24 front, 20 rear, and the SX gets 24 front and rear.
First ride
I got two hours each on the SLR and SX wheelsets, thanks to a morning cross-country ride and afternoon lift-access at Sol Vista resort in Granby, Colorado.
The SX's were mounted up to Yeti's new SB-66 frame, a perfect rig for these 1755g all-mountain wheels. Initial impressions were good — relatively light and therefore not a total pain to lug uphill, but still super stiff when laying them sideways in the corners. The new ITS-4 hub is noticeably less draggy than the previous version, which I found tended to stack the chain up badly when it neared the end of it's too-short maintenance cycle.
Given the drop in spoke count, I was worried that the new SLR would be flexier than the old version, but that didn't turn out to be the case. The new, wider rim appears to have taken up the slack, and the SLR's were as laterally rigid as they have always been. Speaking of the wider rim, the better tire profile it provides is immediately apparent and much appreciated, rounding out the 2.1 WTB Nano tires (which are narrower and more square than I tend to ride) nicely.
The ITS-4 hub is a welcome addition as well. The old SLR hubs were slow to engage, but no more. The engagement isn't instant, but is now as near as makes almost no difference.
I brought a pair of the SLR's back to our Boulder headquarters, so look for a more in-depth review soon.
Caley Fretz joined the Singletrack.com crew in May 2010. Beyond his journalistic pursuits, Caley holds a Pro XC license, is a Cat 1 road, cross and track racer and is former President of the Colorado State University cycling team.