Ridden: Giant Trance X Advanced SL 0
Singletrack.com's Zach White says Giant's 5-inch trail machine is one of the most precise and solid-feeling mountain bike frames he has ridden — period.
Heading out the door? Read this article on the new Outside+ app available now on iOS devices for members! Download the app.
Editor's Note: Catch more of Zach White's thoughts on Giant's 2010 offerings as he reports from the Rabobank-Giant and Giant Factory Off-Road Team camp in California this week.
By Zach White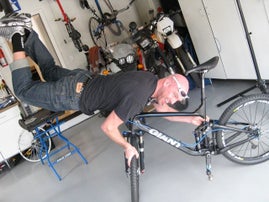 Sure, the carbon platform of Giant's 2010 Trance X Advanced SL shaves at least a pound off the alloy Trance X, but the best thing the carbon fiber brings to the trail is comfortable, all-day riding.
But I didn't discover that until I put the bike through its paces, as I'd been wanting to bounce around on the Trance X Advanced SL for months, especially on actual trail. But not because of the bike's geometry, or its Maestro 5-inch travel "trail" suspension (that hasn't changed since its 2005 debut), or even to get a feel for any of the 2010 product featured in the build kit.
No, I simply wanted to see how a carbon version would handle on the trail in direct comparison to the alloy version I've been riding quite a bit over the last two seasons.
Giant saved a claimed 400 grams from the alloy version with the Advanced SL frame, which is manufactured in their own facility overseas; a rarity in the industry shared only with Easton in producing its own name-branded product. And with the addition of Giant's Contact SLR carbon handlebars, stem and seatpost, the two large-sized bikes at our disposal weighed in at 25.04lbs and 25.07lbs, both with XTR pedals and Kenda Nevegal 2.1 tubed tires.
Not the most svelte choice out there in the increasingly lightweight trail bike division, but definitely a pound or so lighter than the alloy version. And these were actually built up to be trail-ridden with Mavic Crossmax ST wheels, real trail tires, and no noticeable shortcuts in the name of weight-savings.
The Ride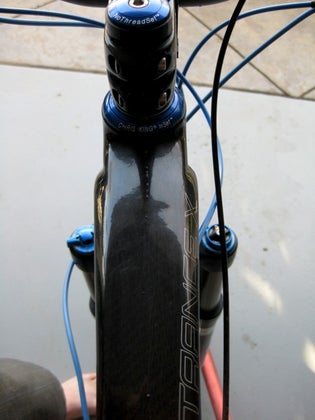 So, how did the Trance X Advanced SL ride? Finances and fear of carbon fragility aside, I'd take this bike over the alloy Trance X any day. The weight reduction, while nice, is by far the most miniscule benefit of the SL. When ridden through stuttery, small-bump-laden sections of trail that usually go poorly answered by most suspension, the damping properties were resolute, and sparked thoughts of comfortably riding all day.
For how supple and absorbant the ride was through the rough stuff, I expected to feel some give or odd flex under out-of-saddle climbing in higher gears, while throwing it into a steep switchbacks, or in technical sections that required above average amounts of body English. But this is one of the most precise and solid-feeling mountain bike frames I've ridden — period. Granted the SL features a tapered Overdrive headtube with 1.5-inch lower bearings not available on the alloy Trance X, but I'm pretty sure that's only part of what's able to hold this bike steady under any situations my flailing 205lb body could throw at it.
The shape and amount of carbon that's wrapped around the headtube is most likely the true cause of the SL's superior handling.
Now, if I had to cough up the $6800 to roll one of these off a showroom floor, I may second-guess its superior qualities. After all, I'm the kind of guy that thinks about the trail ahead, and not the potential of a pedal gouging a downtube from a hasty packing job in the back of the van/bus/truck/Yugo while en route. But that's just me. If your budget allows it, and you possess the ability to throw yourself, or your first-born, between this frame and anything that threatens its structural integrity, by all means buy one and make me jealous.
Zach White started writing for VeloNews in 1996, and after a solid run at trying to escape the bicycle industry over the last few years, we were finally able to suck him back in. With a history of both competing and working on bicycles since 1986, Zach has the kind of experience that is hard to come by. We'll have him reviewing product for Singletrack.com this time around, but don't be surprised if he squeezes in stories of racing the 1991 World Championships on a hardtail with cantilevers, wrenching for international teams, or running white tires and grips before you — in 1987.