Sea Otter: Must-Have MTB Products from Ibis, SRAM, NiteRider
SEA OTTER: Singletrack.com's Zach White reports from the Sea Otter Expo area with what's new, improved and just kinda cool.
Heading out the door? Read this article on the new Outside+ app available now on iOS devices for members! Download the app.
Get Your Mojo Workin'
Chuck Ibis, AKA Scot Nicol, showed us the new Ibis Mojo HD, which hopefully you won't get too excited about as the bike is already sold out until October, even though the first one just shipped to the dealer last Friday.
A "Heavy Duty" version of their very popular Mojo, the HD offers 160mm of rear travel and a more relaxed 66-degree or 67-degree head tube by running recommended 180mm or 160mm forks, respectively. A nice touch is the ability to either run a standard front derailleur or an MRP chain guide specific to the HD that threads directly in to the suspension linkage for a clean, clutter-free system.
Chuck said the weight on a medium is 6.2lbs, retails for $2,399 (frame only), and will weigh in at around 27lbs complete with a "trail-worthy" build kit.
SRAM Decoder Ring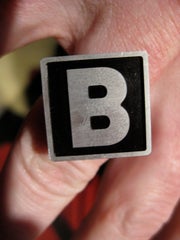 SRAM's very own "Purveyor of Dreams" (as titled on his business card) Benny Cruickshank let us in on the latest Black Box technology at the company's annual shindig on Thursday.
Having both nothing and everything to do with all things prototype for SRAM, the company made 25 CNC'd and anodized rings for their biggest team players.
"[The rings] will never be made again; it was a one-time fabrication for the best of the best in the SRAM rider arena," Cruickshank said.
Not available in stores, and apparently never available again, these little blings are essentially decoder rings to know "who's who" on the circuit.
Silly? Yes. But we want one. Bad.
Good NiteRider
NiteRider is keeping their next generation of lights under wraps for a few more months, but they allowed us a sneak peek at a few of the prototypes they had on hand.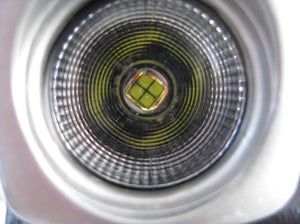 Improving lumens at a claimed 50-75 percent across the board for the line, which will be available in July, the most impressive feature is that prices are staying the same.
Or, in the case of the MiNewt mini150, the price actually dropped $10, while still gaining 50 lumens.
Ranging from 700-lumen systems that'll light up a small village to their new Lightening Bug line designed to simply be seen with 1 LED ($11.99 retail), Nite Rider has obviously been working at improving an already great product line.
Hopefully we'll get our hands on a couple of trail-friendly models in the near future and let you know how they did.