Secret Sea Otter Tech: Felt Edict
SEA OTTER: They're not ready for a splashy launch, but Sea Otter is often a time to get a peek at secret bikes like Felt's new four-inch XC rig — the Edict.
Heading out the door? Read this article on the new Outside+ app available now on iOS devices for members! Download the app.
[album id=19 template=extend]
Sea Otter is always a little hit or miss when it comes to tech. Some years, everyone has new and exciting bikes, forks and parts to keep riders drooling until the parts are on shelves later in the year.
Other times, it's more subdued as manufactures choose to keep quiet and work in private, with an eye toward showing new stuff later in the season. This year's Otter feels more like the latter.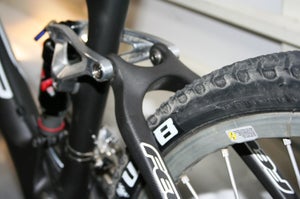 But every so often, we get lucky at the Otter and catch a few bikes behind the scenes. They're not ready for a splashy launch, but these secret bikes are close enough to being race-ready that the builders bring them along and keep them hidden in their race team trailers. Then they try to stealth 'em straight to the start lines for their top riders, who zip around before hiding the bikes again. Generally the bikes are under wraps between events.
Well, with a little luck and some cajoling, we got lucky and shot spy photos of new cross-country bikes from both Felt and Cannondale before they hit the line. Look for the Cannondale bikes here.
Spy Photos: 2011 Felt Edict
Top Felt designer Mike Ducharme waved us back to the team trailer and gave us a look at his new bike. It's called the Edict, and it marks an entirely new approach to XC performance from Felt.
"It's a new philosophy on what a cross-country racer wants," said Ducharme. "We re-thought the whole thing."
He explained that the current four-inch travel, cross-country race bikes seen under Felt-sponsored riders are part of a limited run of just 100 frames that were first shown at last year's Sea Otter. At the time, the bike was code-named "Revolt," and as it was sent out for sponsored riders it came to be known as FRD 100. But it never saw full production.
This bike relied on a shorter-travel version of Felt's Equilink suspension design, but it never saw full production. Ducharme said that even last season, he and Felt recognized the need for a simpler, lighter, and more race-specific cross-country full-suspension bike.
"We decided as a team that it wasn't right for World Cup-level racing," said Ducharme.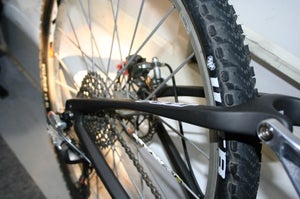 Enter the Edict. It's a race bike, pure and simple, built around an entirely new frame platform. A one-piece carbon fiber rear triangle pivots on a single main bearing set above the bottom bracket and pushes the shock with a rocker link. The rear triangle wears no pivots above or below the dropouts, but instead acts like a leaf spring to help hold the bike at its sag point. Flex built into the seat and chainstays help add progression as it moves through travel and causes the spring rate to ramp at the end of the stroke. Felt is calling it "FAST," for Felt Active Stay technology, and it's simple and light.
The main pivot location is optimized for 2×10 drivetrains. All the hardware is titanium, and the smaller rocker link pivots rely on DU journal bushings rather than bearings to further shave weight. Ducharme said that the frame and shock currently tip the scales at 3.8 pounds, but that Felt is still tweaking the carbon layup pattern.
"All the tooling is done," so the shape will remain the same, he said. But even if a few plies of carbon are added here or there, he said the goal is to keep the Edict frame and shock at less than 4 pounds.
If all goes as planned, Edict frames (in sizes small, medium, large, and extra large) should be available starting in June to Felt's sponsored riders. Complete bikes for sale to the public are scheduled for late August or early September. Ducharme said that it's meant as a high-end racer, so expect spec and pricing to follow suit.
Check out photos of the early pre-production version that Ducharme brought to Monterey.