Tech FAQ: Finding Pad Perfection
LZ goes out and finds all you ever wanted to know about disc brake pads
Heading out the door? Read this article on the new Outside+ app available now on iOS devices for members! Download the app.
Dear Lennard,
I also had a question about disc brake pads. I routinely find conflicting information about the general characteristics and differences between organic, metallic and sintered (or any other variation of these) disc brake pads. Any way you could shed some light on their different characteristics and how/why they perform differently from each other?
-Spencer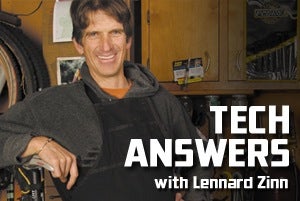 Dear Spencer,
This is dependent on the rider, the brake, the bike it's on and where it's being ridden. There is no single answer, so here are some answers from some manufacturers. Shimano's answer gives a good overview of the issues, while SRAM, Hayes and Hope answer very specifically to the intention of each pad type. Magura's answer is specific only to Magura brakes.
-Lennard
From Shimano: This is tough question to answer either specifically or generally. The most difficult part of the discussion is speaking in positive terms. Often pad selection is more tied to what you don't want the pads to do and you can't just spend a little bit more and get the perfect pad for everything.
It may help to consider what the pad should be doing or the brake itself. We want power and we want it consistently, so why disc brakes? They feature a dedicated braking surface and maintain braking power in the wet, so they remove two of the major, early obstacles to good MTB braking. Rims get bent, rims have inconsistent braking performance (not controlled by brake maker and changing with wear) and rim brakes go away in the wet.
Compared to these extremes, disc brakes are more consistent — power in wet and dry is good, rotors are made by brake guys and tend to stay true, and don't require increased tire pressure for insurance. But the higher forces and higher friction that make discs good, also make them bad. They are more prone to vibration and cannot be toed like rim brakes, so disc brake makers attempt to develop forgiving pad compounds; just enough of this and that to provide braking friction and quiet performance. These are the resin pads or non-metallic pads on the market. They tend to be good for noise, but they lack the durability of metallic pad compounds and can be worn quickly by mud. Additionally, at higher temperatures the chemicals in the pads start to glaze and they can out gas and actually affect the surface of the rotor. Since a majority of riders rarely get their brakes this hot, the resin pads tend to be the safest and most common choice of shops and OEMs. Because noisy brakes always equal unhappy customers, resin pads have a smooth feel at the lever, the power comes on slower (less friction = less bite) and they are very good against vibration. They have positives, but you can get better performance and durability with metal — so they should be less popular?
Some people don't have the luxury to ride resin. If you weigh over 175 lbs (my number, not a Shimano number) and ride in the mountains, at some point you are going to need more power for an extended period than is available with resin. If you ride in the wet on a semi-regular basis, or have aggressive dirt, you will not get the durability out of resin. If you need all the power and appreciate a good bite for late braking, you absolutely need the metal. The only drawbacks of metal are the higher friction feel at the lever (less smooth, more sandpaper), the increased bite (some love it, but some two-finger riders haven't learned to ease in) and the increase in vibrational noise. With the OEMs trying to make the lightest frames and all of us with light calipers and rotors, it's easy to get into a resonant scenario.
So that's today. Eventually, brakes will exist without the trade-off. Our new XTR disc brakes have a reformulated metallic pad compound that shows great promise with a smooth feel and reduced vibration. Our ice-technology's biggest beneficiary is our resin pad material — it takes a pad that I could not ride (I am over 175) and turned our race brake into our second best brake ever (the XTR trail is my favorite). I am sure the other guys are working on similar improvements. Admittedly, light weight and vibration resistance is a tough goal. That's why bikes are so awesome — we can't just throw more weight at it, so more work for the future.
From Hayes:
Brake pad categories: Sintered metallic – Various metals are used for the pad material, such as copper, nickel, tin, iron, aluminum oxide and others. The pad is then attached to a copper plating steel backing plate. The copper plating acts as solder (welding) during the sintering process.
Best for high speed, heat and pressure riding
Best for wet conditions
Longest burnish or break in time
Most prone to noise and vibration
Transfers the most heat to caliper, pistons and fluid
Long wear life
Highest cost
Organic and/or Resin – 100-percent organic materials are used, no metal, for the pad material. Such as ceramic fibers, rubber, graphite, aramid fiber and cashew dust. It is then pressed into the steel back plate and permanently attached with adhesive or glue.
Best for lower speed, heat and pressure riding
Poor wet performance
Fast burnish or break in time
Low noise and vibration
Insulates caliper, pistons and fluid from heat
Short wear life
Low cost
Semi-metallic – A combination of metal (copper) and organic material are used for the pad material. The material is held together with resins and attached to a steel or aluminum backing plate with a adhesive or glue.
Moderate performance in high-speed, heat and pressure riding
Moderate to poor friction degradation in wet conditions
Faster burnish or break in than sintered
Moderate noise and vibration
Insulates caliper, pistons and fluid from heat
Long to moderate wear life
Middle cost
From SRAM/Avid: Organic: the friction material is bonded to the backing plate so it's easy to drive weight out of these pads by using alternative material backing plates (i.e. Aluminum, Ti); organic pads typically run quieter than other types of friction material and they bed in fairly quickly. As far as performance characteristics go, organics tend to have a stronger initial bite and a bit less ending power and will wear faster than sintered metal compounds. Great for XC use when weight is a consideration.
Sintered Metal has excellent wear characteristics. They will always have steel backing plates, which is a requirement of the manufacturing process. The performance of the sintered metal pads is typically very consistent in all types of conditions; they tend to have a little less initial bite than organics but have a strong ending power band. These also require a bit more time to bed in properly. Perfect for gravity/all- mountain use when conditions can be challenging.
Semi-Metallic: This pad compound is made up primarily of organic friction material with some percentage of metal embedded into the friction puck. Based on the percentage of metal, these pads will roughly fall in between the performance curves of organic and sintered metal.
From Hope: For wet weather we use a sintered pad, which is harder in material and cuts through the dirt better. In dry conditions we use the organic. These are a softer compound but tend to have more bite than a sintered but generally don't last as long if used in wet dirty conditions.
From Magura: Magura does not use sintered or metallic pads only organic. Organic pads run cooler that the other pads. Using metallic or sintered pads will void the warranty of the brake and could cause them to overheat. Only use genuine Magura brake pads in Magura brakes.
Readers can send brief technical questions directly to Lennard Zinn.
Technical writer Lennard Zinn is a frame builder (www.zinncycles.com), a former U.S. national team rider and author of numerous books on bikes and bike maintenance including the pair of successful maintenance guides "Zinn and the Art of Mountain Bike Maintenance" – now available also on DVD, and "Zinn and the Art of Road Bike Maintenance," as well as "Zinn and the Art of Triathlon Bikes" and "Zinn's Cycling Primer: Maintenance Tips and Skill Building for Cyclists."
Zinn's regular column is devoted to addressing readers' technical questions about bikes, their care and feeding and how we as riders can use them as comfortably and efficiently as possible. Readers can send brief technical questions directly to Zinn.
Follow Lennard on Twitter.