Tech FAQ: Shoe Getting Beat at the Cleat?
Lennard Zinn asks around about how to keep your shoe soles from getting trashed by pedals.
Heading out the door? Read this article on the new Outside+ app available now on iOS devices for members! Download the app.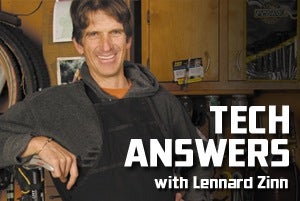 After last week's discussion about shoe shields for Crank Brothers pedals on carbon-shoe soles, I was interested to see whether these are recommended for Look and Time, which have similar wire spring loops to engage the cleat. I asked them both and got these answers:
From Look:
"With the QUARTZ pedal, we recommend putting a spacer in between the cleat and the sole. A few spacers of different thickness are delivered in all QUARTZ box. These spacers have two main functions: first, to tune perfectly the shoe to the pedal and to have the best platform possible, and secondly to protect the sole of the shoe from the bales. These spacers are in a composite material.
-Frédéric Roudergues
Product Manager
LOOK Cycle International
From Time:
"You don't need one of those shields with our pedals as they all have a platform that provides a wide contact area.
-Mary Moncorgé
TIME Sport USA"
However, just before his departure for Bend, Oregon, where he repeated as 40-44 masters national cyclocross champion, I noticed that mountain bike and cyclocross god Pete Webber, who uses Time ATAC pedals, had severely chewed-up carbon soles on his Specialized MTB shoes, right behind each cleat. I asked him about them and received this response:
"I have two pairs of significantly damaged Specialized Carbon Pro MTB shoes due to the retention bars on Time ATAC pedals. Crank Brothers shoe shields solve the problem. Failing to use shoe shields is a big mistake if you want the soles of these shoes to remain undamaged. The area at the rear of the cleat is where the wear occurs. The wear is at least 1-2 mm deep. Both the shoes and the pedals are great products otherwise.
-Pete
With all of this feedback, I got worried about my shoes on my Crank Brothers Eggbeater pedals, so I installed Sidi's own shoe shields on both pairs of my Sidi Dragon 2 MTB shoes with carbon soles. Although the leading and trailing edges of the thin steel shields do stick up a bit, I find that the entry and exit into the pedals is unchanged. So I'm sold on them.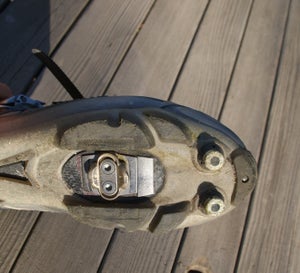 I was concerned about the shim snagging the pedal and impeding entry because I know another local long-time cyclocross racer (for 40 years!) who has struggled with the shims hanging up on his pedals. He has added another section of steel plate ahead of each shield to smooth the pathway for the pedal clip to the cleat, which is shown in the photo.
He says:
"1.  The normal shim seems totally needed on ANY shoe. Without the shim the cleat sits further up into the shoe and the rubber wings on the carbon Shimano shoe pretty much preclude getting into the pedal.
2.  Since I bleed Shimano I had a hell of a time getting into the Eggbeater pedal as I seem to be genetically hardwired to have my foot a smidgen back too far, and thus I was catching the leading edge of the shim. So I bought a second shim, cut it down, and super -glued it in front of the primary shim. I no longer have the "catching" problem.
One must add Superglue occasionally (every 1-3 months) to the shim extension or it will go bye-bye
-Alan
On to other topics! Gettin' Cranky
Dear Lennard,
I was reading your Q&A with a distressed consumer who was frustrated with the lack for 172.5mm MTB cranks. I shared his frustrations, which is why I was relieved to see that when I pre-ordered my XTR group, while filling out the options, I noticed that there WAS a 172.5mm option.
In the article, in the beginning of the question the frustrated rider stated, "I now see that XTR has dropped this size…" and I was somewhat dismayed due to the fact that I had filled out an order for my cranks at the 172.5mm arm length only a few days prior! I didn't want to correct him if he was perhaps privy to knowledge I was not, so I decided to either wait for my cranks or wait for Shimano to call me and tell me to choose between 170's or 175's. Sure enough, I just got my cranks and I'm pleased to report that not only are they 172.5's but the whole drive train spins like a top. I later consulted our shop's Shimano outside sales rep to make sure it would be offered to everyone and I wasn't some test-market fluke, and his reply to me was "No, XTR is always in 2.5mm increments. Always."
So anybody who wants 172.5's should take note and snatch up a set.
-Steve
Dear Steve,
That's good to hear, because that was always something you could count on XTR for, and when I went to Shimano's site for specs on the new XTR Dyna-Sys cranks, it only lists 170, 175, and 180mm.
-Lennard
Readers can send brief technical questions directly to Lennard Zinn.
Technical writer Lennard Zinn is a frame builder (www.zinncycles.com), a former U.S. national team rider and author of numerous books on bikes and bike maintenance including the pair of successful maintenance guides "Zinn and the Art of Mountain Bike Maintenance" – now available also on DVD, and "Zinn and the Art of Road Bike Maintenance," as well as "Zinn and the Art of Triathlon Bikes" and "Zinn's Cycling Primer: Maintenance Tips and Skill Building for Cyclists."
Zinn's regular column is devoted to addressing readers' technical questions about bikes, their care and feeding and how we as riders can use them as comfortably and efficiently as possible. Readers can send brief technical questions directly to Zinn.
Follow Lennard on Twitter.