Tested: Nite Rider MiNewt 250
The MiNewt 250 is more than just a way to avoid getting a ticket from a bored cop while riding home from a night out.
Heading out the door? Read this article on the new Outside+ app available now on iOS devices for members! Download the app.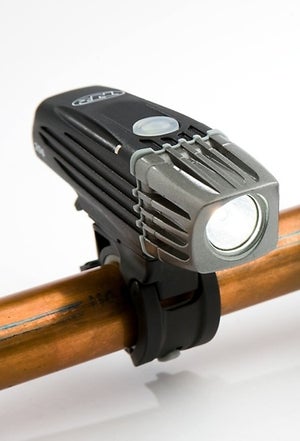 The MiNewt.250 features three light levels and a flash mode, and run time is claimed to be 2.5 hours on high, 3.5 hours on medium and 4.5 hours on low. The light comes with a toolless ratcheting handlebar mount that fits bars up to 31.8mm as well as a  helmet mount. The light itself can be removed from either mount via a sliding-style quick release, allowing them to be left in place.
Charging is stated to take 4.5 hours, and uses a USB-to-mini-USB cord to do so, with an optional USB-to-AC wall adapter.
Likes:
Nite Rider's MiNewt 250 Cordless looks like an old commuter light I used to have that had its stock 6-watt bulb swapped out with a cutting-edge, high-performance 10-watt halogen bulb.
Envy of the neighborhood that old one was, but short of general size and cordless design, the MiNewt 250 is more than just a way to avoid getting a ticket from a bored cop while riding home from a night out. No, the MiNewt 250 is an actual trail-worthy, self-contained unit that can easily be swapped from bike to bike without the use of tools.
For the claimed 250 lumen, this light puts out a truly impressive beam. And while a light of this output shouldn't be compared to a 900-lumen light, since we were testing both the Exposure Diablo and this Nite Rider at the same time, I'd put the MiNewt 250 in the ballpark of the Diablo, even if it's out in left field.
The biggest difference? Beam pattern has a noticeable bright center that quickly fades into a dimmer but consistent and wide halo with a definite border to the pattern. In reality, this wasn't enough of a diminishment in light to avoid the same trails ridden with brighter, more expensive lights, but it did curb speed a bit in twistier or more technical sections.
Claimed run times are ridiculously underrated from Nite Rider as I consistently got 3.5 hours at the highest setting, and with any conserving by switching to the middle or low setting, the little guy lasted longer than I wanted it to.
NITE RIDER MINEWT 250
MSRP: $129.99
Weight: 190 grams
Output: 250 lumen
Battery: Lithium Ion
Warranty: Two years on electrical components, 180 on the battery
Speaking of switching between light levels, the difference in potency between high and medium is minimal, which allows the option to preserve battery life on mellow trail sections without feeling like you're riding by braille. Low beam isn't as bad as you'd expect on a 250-lumen light, but does drop into more of a bailout option.
Handlebar mounting is easy, and allows for both quick release of the light-only, or the light and handlebar mount combo in one fell swoop. The ratcheting mount also makes swapping from, say, mountain bike to townie to road bike quick and easy. The helmet mount works well in a universal way with the somewhat standard dual-vent straps, dense foam pad and ratcheting beam angle (up and down) adjustment. And again, it's easy to remove the light itself, leaving the mount in place.
Having the ability to charge the MiNewt.250 off a computer is great, not only because I find myself in front of a computer more often than I'd like to admit, but it also omits one more electronics cord in the pile. Well, at least in my world of multiple cameras, GPS units, and cycle computers that all use the same cord.
Dislikes:
As handy and conveniently tool-free as the handlebar mount is, it's hard to cinch down tight enough to keep the light from shaking and vibrating while riding trail It's not terrible, but annoying none the less to have a jittery headlight through the rough stuff.
Though less than 1/2 a pound, I thought the MiNewt.250 rode a bit heavy on top of a helmet.
Noted:
We were never "lucky" enough to test this light in the elements, but it passed the faucet test, and has a little attached rubber plug for the charge port, so our guess is that it'll be fine in poor conditions.