Tested: Spot Rocker SS
VIDEO: While other bikes may come and go the two-niner Spot Rocker SS is one of those classic rigs that is sure to stand the test of time.
Heading out the door? Read this article on the new Outside+ app available now on iOS devices for members! Download the app.
KOBE DROPOUTS: How do they work?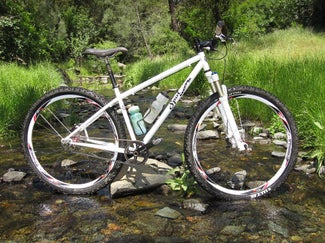 The Spot Rocker SS is just one of those bikes. One of those bikes that you develop a relationship with; one of those bikes that you reflect back to when thinking about epic rides, memorable road trips and maybe even the occasional race.
While other bikes may come and go the two-niner Spot Rocker is one of those classic rigs that is sure to stand the test of time regardless of the latest industry trend hanging around in your quiver. And no, I am not against industry trends.
Spot is based in Golden, Colorado. Many of the ideas for the Rocker were the brainchild of the owner, Wayne Lumpkin. Lumpkin, founder of Avid Components, has a thirst for bike designs that not only work well but also make for a better trail experience. If you've ever praised the "Speed Dial" adjustment on V-brake levers, well, you have Wayne to thank for that.
Kobe Dropouts: No Muss, No Fuss
One of the ideas that Lumpkin came up with for this bike is the Kobe Slider dropouts. These are, indeed, things of beauty. Replacing the rear wheel of the bike is as simple as it should be: Place the rear wheel into the vertical dropouts, tighten the quick release skewer and ride away. No muss no fuss.
SPOT ROCKER
SPOT ROCKER SS:
$3,599 (True Temper OX Platinum)
Frame only:
$1,399
Rear Pulley:
Gates 28T
Front Pulley:
Gates 46T
Belt:
Gates 118T
Fork:
RockShox Reba Race 29er, QR, 100 mm, White
Brakes:
Avid Elixir CR
Crank:
Truvativ Stylo 3.3 GXP, 175mm, Black
Wheelset:
Sun Ringlé Charger Pro 29″
ROCKER SS TI:
$4,899 ($5,099 geared)
Frame only
: $2,699
(Same spec as above)
ROCKER GEARED:
$3,599
Rear Derailleur:
SramXO, Long Cage
Front Derailleur:
ShimanoXT
Cassette:
Sram 11-34
Chainrings:
Truvativ Stylo 22/32/44
spotbrand.com
The dropouts are held tight with two m6 bolts (per side) and are adjusted fore and aft by a foreword facing set screw on the drive side and two set screws on the non-drive side. The set screws ensure that the wheel won't slip forward regardless of how strong of a rider you are and also keep the rear brake perfectly centered — every time.
The dropouts adjust by sliding horizontally on the frame allowing for chain or belt tension with the bike set up as a one speed. That being said, this also allows you to adjust your chainstay length, up to an inch, if you're running gears. The junction of the chainstay/seatstay (on the driveside) is split once the dropout is removed allowing for installation/removal of the belt into the frame's rear triangle. With the dropout re-installed and bolted tight the frame is nice and solid.
Geometry
For me, Spot really nailed the geometry on this bike. The frame is made from a trail proven True Temper OX Platinum tubeset. The bottom bracket is high enough to keep the pedals out of harm's way in rock gardens yet low enough that the bike absolutely rails corners.
The Rocker's 71 degree head angle makes the bike feel stable enough during high-speed fireroad descents but can still git 'er done in a tight switchback. Add to this chain stays that are short enough to keep the rear wheel from spinning while climbing out of the saddle and you got yourself a bike with ride qualities and handling that Goldilocks would surely be proud of.
Gears? SS? Belt Drive?
You've got options when buying a Spot Rocker. Along with a few color choices (the green is sooo sweeeet) you can order it with gears or set up as a singlespeed with a Gates Carbon Belt Drive. It's comforting to know that if you change your mind about the bike's configuration switching to/from gears/singlespeed is as easy as swapping out the rear Kobe slider dropouts with a 5mm allen wrench. All frames come with shifter cable stops tucked nicely under the top tube shall the desire for running gears present itself.
My bike came equipped as a singlespeed (Rocker SS) with a Gates Carbon belt drive. When I first got this bike my idea was to do a nice mellow ride on some easy trails to gain some confidence in both the belt drive as well as the bike itself. As it turns out, my first ride was a seven-hour epic that started in the rain on a technical creek-bed climb on a trail I'd never ridden in an area I'd never been.
ON(CENTER)TRACK
The new CenterTrack system from Gates Carbon Drive are arriving in bike shops nationwide this month, and the next-generation bicycle belt drive will be available for after-market purchase in July.
CenterTrack was conceived by Wayne Lumpkin, one of the most innovative thinkers in the bike industry and the founder and creative spark behind Avid brakes and now Spot Brand bicycles.
The CenterTrack CDX-CT weighs approximately 40 percent less than comparable chain drives. Chains alone can weigh 250 to 300 grams, and an entire chain drive can weigh 400 to 500 grams. The stealthy Carbon Drive, by comparison, weighs roughly 230-240 grams (precise weight varies depending on pulley size and belt length).
www.carbondrivesystems.com
So much for easing into it. I instantly felt comfortable on the bike and was so busy staying focused on the trail that I forgot all about the fact that I was being propelled by a belt instead of a chain. The rain gave way to sunshine and the ride turned out to be super fun with the bike performing flawlessly the entire time.
It's hard to find faults with this bike. You might think the asking price for the Rocker is a bit high but the component package is sure to please even the most finicky of riders. The only thing I did to my bike (aside from my trusty saddle and seatpost) was install a shorter stem (for fit) and bolt on some bottle cages. One look at the build kit on this thing and you'll surely agree.
Gates Carbon Drive
As for the Gates Carbon Drive belt, well, I love it. As a full-time bike mechanic I like the fact that I really never had to do any maintenance on the bike. I could just grab the bike and go without trying to remember if the chain needed lube or re-tensioned. The belt runs smooth and the power transfer to the rear wheel is instantaneous and solid.
I must say that I did experience an occasional "rubbery squeak" from the belt. This only seemed to happen on trails that were really dusty. The remedy, for me, was to simply give the belt a quick squirt of water from one of my bottles, which proved quite effective.
I spoke with someone from Gates about this and they confirmed that dusty trails can cause some squeaking from the belt. They recommended spraying the belt with a small amount of silicone spray to help with this. Honestly, I never tried it. The squeak was too infrequent and too easy to fix while riding to worry with. Aside from this the belt drive is quiet, clean and worry free.
Verdict?
If you're in the market for a quality hardtail the Spot Rocker should definitely be on your list. The bike's versatility, solid parts spec and quality ride is sure to please.
Gregg Stone's long, strange trip in the bicycle industry goes back far enough to recall "U"-brakes, flex stems and Campy's attempt at an off-road group. He owns and operates Mighty Mobile Bike Repair in Truckee, California. No slouch on the bike either, Gregg posted a top-10 finish in the 2010 Downieville Classic All-Mountain category, is the reigning Nevada State mountain bike champion and is always in search of one more trail.