Tested: Squirt Lube
Avoiding wax lube? There's no need.
Heading out the door? Read this article on the new Outside+ app available now on iOS devices for members! Download the app.
With so many chain lube companies out there, combined with the nature of the business, my lube of choice has always been the bottle closest to the chain that needs lubrication.
The one exception being the sheer and utter avoidance of anything with "wax" in its label. It's not that the idea of wax lube being a bad thing, it's the added labor involved, the often gunky application result, and the lackluster performance that turned me off years ago.
How big was my aversion to wax lube? I worked a booth at Interbike literally right next to Squirt Lube's Larry Grossman a couple of years ago, and not only listened to his pitch for days on end, but witnessed the never-ending line of shop guys, racers, and media come up and say how much they loved the stuff, too. And I still didn't want to try it.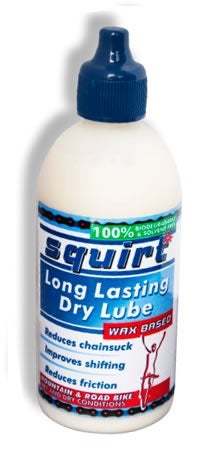 Then at a spring event last year it happened. After a couple of dusty days followed by a pressure washer, my chain sounded like the slowing wheels of a rusty freight train and a bottle of Squirt was the only bottle of stuff around. Being as how the chain was essentially perfectly prepped, the Squirt went on in almost textbook fashion, and to my amazement the drivetrain stayed clean, quiet and buttery smooth for the rest of the dry, dusty desert trip. Since then Squirt is the only lube used on the fleet, and after finally getting a chance to test it in sub-freezing conditions I can honestly say it's my chain product of choice for all conditions.
Wax On, Wax Off
Unlike other wax lubricants that use solvents as a base, Squirt Lube emulsifies its four waxes (three lubricating waxes and one sticky wax) in water. The solution itself contains approximately 36 percent wax, which is basically double the 17 percent wax content of a typical solvent-based wax lube, yet still nets a very thin, runny liquid. The low viscosity allows Squirt Lube to penetrate into the pins and down into the inner plates much more easily than anything more viscous, ultimately coating a chain extremely well in one application.
Water also evaporates more slowly than solvent, which in turn gives the waxes that much more time to settle deep down into a chain's nooks and crannies. For those with more time and motivation on their hands, using a heating element such as a hair dryer to bring chain/lube temperatures up will cause even more lube penetration. Just keep the temps below 212F/100C, or the wax will supposedly start to degrade.
As with all wax lubricants, Squirt states that a chain should be squeaky clean and devoid of all other lubricants before applying. Besides the initial chain that became bone-dry from Utah desert dirt and overzealous pressure washing, we've used Simple Green to remove the factory lube from brand new chains, which is what Grossman recommends as well. Just make sure to scrub the chain afterward with soapy water, and rinse thoroughly before application.
Of course we've also just applied Squirt to a chain that still has lubricant on it, and haven't had nearly as impressive results. However, chains with a few more miles on them have worked fine after a simple soapy water scrub down.
Once applied the chain doesn't need to be degreased again. Simply add more Squirt Lube when needed. Adding excessive Squirt isn't an issue, either, as once the water base dissolves the residual wax will simply flake off on the first part of the ride. And according to Squirt Lube, the waxes are biodegradable so no harm, no foul with Mother Nature.
Pretty in Pink
Squirt Lube is available in pink, too, but offers the same exact performance. The only difference is that 10% of proceeds on the pink version go to breast cancer awareness.  It's not just for October sales and doesn't retail for any more than the white stuff, so next time you need a bottle, make your mother proud and ask for the pink stuff first.
Always Something
For those living in regions that are prone to freezing, Squirt will turn into an unusable bottle of solidity if exposed to sub-freezing temperatures. This has happened twice to my personal stash; once to a bottle left in the van and once to a bottle left in the unheated garage. The good news is that once the water evaporates during application, the remaining wax is unaffected by sub-freezing temperatures while actually on the chain.
Speaking of inclement weather, Squirt Lube doesn't apply well when it's really wet, humid or cold. Basically, if water doesn't have a good chance of evaporating in the conditions your chain needs lube in, you'll have to get creative. Word on the street is Katie Compton's mechanic applies Squirt Lube to her 'cross bikes in the warmth of hotel rooms the night before races. And there's always the hair dryer trick, too.