2011 Paris-Roubaix Tech: How to build a bike for the Hell of the North
Paris-Roubaix demands more of the machine. Every part of the bike needs to be up to the challenge. Frames, forks, wheels, tires, handlebars, cables, even pedals are all optimized.
Heading out the door? Read this article on the new Outside+ app available now on iOS devices for members! Download the app.
SCHOTEN, Belgium (VN) — How to tackle the cobbles is always a difficult question to answer, especially when you consider how different the cobbles can be from one region to the next.
Related:
Flanders is usually ridden with normal bikes fitted with larger tires and a chain catcher. Nothing too earth shattering.
It's Paris-Roubaix that demands more of the machine. Every part of the bike needs to be up to the challenge. Teams will explore each item to make sure of its worthiness. Frames, forks, wheels, tires, handlebars, cables, even pedals are all optimized for the conditions.
Frameset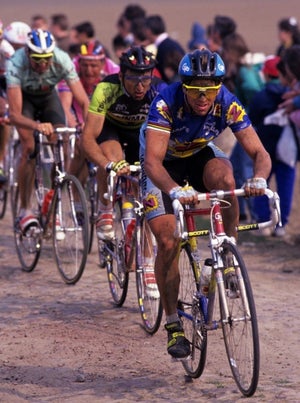 Bike manufacturers have tried many things looking for the ultimate Hell of the North machine. and Cannondale brought its Headshock to the race as well. Some big successes were achieved but suspension hasn't had a lasting effect on Roubaix equipment choice. This may be due in part to Johan Museeuw's famous throw of his dual suspension Bianchi into a ditch in 1994 (though it was in disgust directed at his pedals, not the bike).
Even without suspension per se, the bikes brought to the start line in Compiegne are highly specialized. Increased tire clearance and longer wheelbases are par for the course.
Many teams have experimented with using cyclocross bikes with this in mind. Two Skil-Shimano riders had them at this year's Tour of Flanders. Most of Jimmy Casper's Saur-Sojasun team rode Scheldeprijs on 'cross bikes as well, some even with classic aluminum rims and one rider with wide Roubaix rubber.
The problem with using a cyclocross bike is the increased bottom bracket height. It simply isn't necessary for Roubaix and one could argue it's a hindrance. The performance of cantilever brakes also leaves something to be desired.
Better than a cyclocross bike is a special frameset designed for the pavé. With the cost of carbon molds this is an expensive option. Because of that, some manufacturers use their normal molds, but then insert different dropouts to increase wheelbase and tire clearance. Felt did this with its F1 Sprint frames for Garmin. Trek sends Madones that come from a stock mold, but have different dropouts inserted.
The Specialized Roubaix, Cervelo R3, Lapierre Sensium and others were developed specifically for Roubaix. Happily for these manufacturers the average cycling consumer can also benefit from a longer wheelbase and a frame with more vertical suspension. Taller headtubes are helpful too, but pros ride their normal position whether on pavé or pavement.
Some manufacturers get really creative. Lampre's Wilier bikes were true Frankenstein machines. Using a cyclocross rear triangle (but with the seatstays flipped, the canti studs removed and the hole plugged) on a road front triangle. They also fitted road forks with slightly longer blades and Shimano long reach brakes to handle the increased distance from frame and fork to rim braking surface.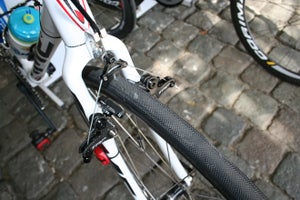 Wheels
After Fabian Cancellara conquered Roubaix on Zipp 303s, the floodgates opened for carbon wheels. More and more teams are doing a lot more than just experimenting with them. Other cobbled classics are routinely raced on carbon wheels with larger tires. These tires help increase comfort but also protect the rim better. With wheels now being designed as a system with larger tires in mind, we should see more manufacturers enter the fray.
George Hincapie used HED carbon wheels in past editions of Paris-Roubaix. Now with BMC Racing he and most of his team plan on riding Easton EC90SL carbon wheels with custom 27mm Continental tubulars (which strangely have no markings…).
Bontrager and Mavic have both developed new medium profile/wide section carbon wheels with the cobbles in mind. The M40 from Mavic has already seen action in races and cobble reconnaissance. The Bontrager wheel may or may not find its way to Compiegne. VeloNews only spotted two pair at the Leopard-Trek camp and only one pair had Roubaix-width tires. But Cancellara did race that set at Scheldeprijs on the Wednesday prior to Roubaix …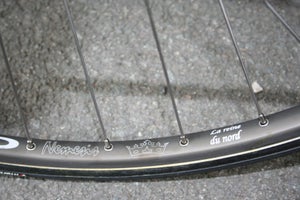 Then, of course, there are still plenty of teams and riders who put their faith in traditional aluminum box-section rims with 32 spokes laced 3-cross to normal hubs. Campagnolo, Mavic and Ambrosio rims (some of them NOS [new old stock]) rule the roost here. In some cases the spokes are tied and soldered as well.
Ambrosio has gone to the some lengths to make their rims a bit harder to re-label. Instead of stickers, they have etched the Nemesis model name as well as a crown and the words in French, "La reine du nord" meaning "Queen of the North."
Tires
Vittoria, FMB and Dugast are the clear favorites in this department. While some of them are rebranded, even if only with a rubber stamp that very superficially identifies a tire as sponsor correct, others are very clearly from a small handmade-only firm.
The two big players here are Dugast (now owned by a Dutch group) and FMB (a French shed enterprise VeloNews wrote about last month). Both have wins in major track, cyclocross and road races, including Paris-Roubaix. Neither of them gives tires away though. Teams must buy them.
So even though a tire is obviously a Dugast, such as with Saxo Bank's "Specialized" tires, because the team buys them, Dugast is happy to batch them with a Specialized stamp.
Vittoria has long made its green All-Weather tires in both 24 and 27mm widths and they work exceedingly well at the classics. Continental also produces larger tires for its teams, even versions with reinforced sidewalls. But from the look of the tires on Continental-sponsored team bikes for Roubaix, they are subcontracting to a specialty tire maker like FMB or Dugast.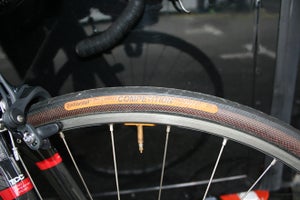 Almost as important as the tire is the tire pressure. Experienced classics mechanics usually recommend pressures based on rider weight and style, wheel choice and tire size. For the Tour of Flanders a Skil-Shimano mechanic was inflating to 6.5 bar (94 psi) in 25mm tires. With larger tires at Roubaix pressures are usually lower.
In an informal survey of mechanics, no teams are using (or admitting to using) sealant in their tubulars. This seems strange as its effectiveness is well established. Sometimes tradition can hold you back.
Pedals
Not too much goes on here, except for Speedplay. They make a special version of their Zero pedal that eliminates most of the pedal body. This allows mud to clear the cleats after an inevitable off-bike experience.
Other pedal manufacturers have larger and arguably less-complex engagement mechanisms. The downside here is the possibility of breaking plastic cleats on Shimano and LOOK pedals.
Mountain bike pedals have been used at Roubaix. But this weekend is supposed to be warm and sunny and dust will replace mud as the primary concern.
Bars
Some teams switch from carbon to aluminum, but that isn't a change for most teams. I did see one carbon bar on a BMC Racing bike, but that's because the rider liked a traditional round bend that Easton no longer makes. Head mechanic Ian Sherburne went to some lengths to find an Easton carbon track handlebar that suited the rider.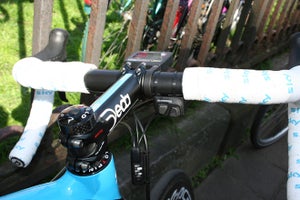 Sometimes small things can make a big difference. Doubling up on bartape can help. Bradley Wiggins already had it in place on his KOBH Roubaix bike that he rode at Scheldeprijs. Some riders also use top-mount brake levers like those used by cyclocross racers.
Cables
Sealed cables go a long way to help. Most SRAM teams already run fully sealed GORE cables. It's the Shimano and Campagnolo teams that have to put in a bit of an effort to keep their bikes good over the 258km race. If conditions are dry, dust can clog cables just as well as mud can.
Gearing
Most teams will use larger 44- or 46-tooth inner chainrings and 11/23 or 11/21 cassettes. It's a bit of a misconception that Roubaix is a flat race. Many of the pavé sections are slightly up- or downhill. So while a 39-tooth chainring isn't necessary, having a larger inner ring lets a ride use something other than his 53 or 54-tooth big ring on those inclines. It's also a big help when a rider is trying to get rolling again after a mechanical or a crash.
Team Sky Roubaix prep:
Team SaxoBank-Sungard Roubaix prep:
Saur-Sojasun Roubaix prep:
Team Lampre Roubaix prep:
BMC Racing Team Roubaix prep: