Did Pirelli get bike tires right with the Pzero?
Pirelli's Pzero Velo cycling tires are here, but did the company we associate with automotive rubber get bike tires right?
Heading out the door? Read this article on the new Outside+ app available now on iOS devices for members! Download the app.
MILAN, Italy — Pirelli, known worldwide for its high-performance motorsport tires, is moving into the cycling business. The company launched its first clincher tire range on Thursday with three performance road tires under the same Pzero brand Pirelli uses in motorsport.
Each of the three tires is named after its intended application: Pzero Velo for road racing, PZero Velo TT for time trials, and a four-season tire called Pzero Velo 4S. All three will be available to the public in August.
Anyone familiar with Formula1 will recognize Pirelli's color-coding scheme, which it brings to cycling: Silver for the Velo road racing tire, red for TT, and blue for 4S.
Key technologies
The Italian company developed a new compound, SmartNet Silica, specifically for its new bicycle tires. The compound is highly elastic, which Pirelli claims minimizes heat generation in the tire and thus offers a lower rolling resistance. Pirelli also claims the compound offers a natural puncture protection without additional weight.
Beneath the 127tpi nylon casing, an aramid fiber breaker layer, made of heat-resistant synthetic fibers, adds puncture resistance for the road racing and four-season tires. The four-season tires also have an added aramid pulp integrated into the tread. Pirelli says this adds resistance to punctures and increased durability.
Beyond puncture resistance, Pirelli has adopted its Functional Groove Design technology from motorsport for the road racing and four-season tires. It claims the grooves improve handling around corners in wet conditions while maintaining performance in dry conditions. Tread grooves in performance road tires are a subject of debate. In auto tires, grooves prevent aquaplaning, but it's nigh on impossible to aquaplane a road bike. Still, most road tire manufacturers stick with some sort of tread grooving and claim it improves grip when pavement isn't perfect — wet or sandy, for example.
Pirelli's Velo and Velo 4S tires have three footprint areas: a slick center, grooved bands on both sides, and semi-slick edges. The grooves are deeper in the center and get progressively shallower toward the edges to guide water off the tire in wet conditions. The tires are directional to achieve the purported benefits.
The TT tire is an exception. Designed for speed, it a full slick and therefore does not have the groove design.
In addition, Pirelli's tires are not uniform — the contour design differs from the crown and sidewall of the tire on all three models. This progressive design is supposed to give the tire stability and controlled responsiveness through the straights and while cornering.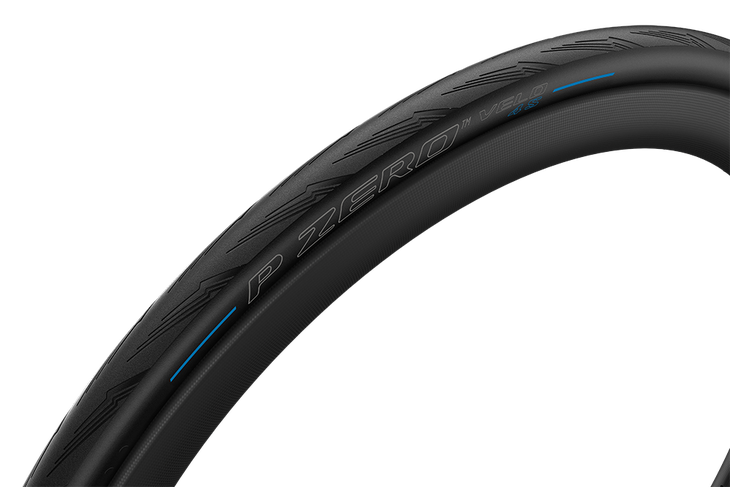 Widths and weights of Pirelli Pzero Velo tires
The road racing and four seasons tires are available in 23mm, 25mm, and 28mm sizes. The 25mm road racing and four-season tires weigh 210 and 220 grams respectively. The TT tire, available in 23mm only, weighs in at 205 grams.
Pirelli developed the tires in its global headquarters in Milan. Across the border, a French facility will manufacturer the tires. The tires will be available for purchase from select distributors or from Pirelli's e-commerce site beginning in August. Exact U.S. prices are not finalized, but the tires should retail for about $60.
Pirelli Pzero bike tires: First ride
Did Pirelli get bicycle tires right?
It's been a long time since they made bike tires, but the 145-year-old company certainly has cycling history. Pirelli was a sponsor of the first Giro d'Italia, with 30 of the 49 finishers riding on the brand's tires. Pirelli also sponsored this year's Giro. However, just before the start, Pirelli and organizers quickly scratched an ill-fated descending prize after outcry over safety concerns. Instead, Pirelli sponsored the Under-23 Giro d'Italia, a weeklong race that finishes Thursday.
Pirelli is a company with plenty of R&D cash, too, though that's no guarantee of success.
VeloNews tested the 25mm silver road-racing tire on a the Vizzola auto race track around both dry and artificially wet (sprinklers!) corners. Initial impressions were good. The tires felt smooth and comfortable and impressively grippy in the both wet and dry corners.
The tire held a considerable amount of grip through the corners, which boosted confidence. When tested on the wet course, the tire felt comfortable leaning hard into the corners with speed.
Overall, this is a good first tire by Pirelli following a 25-year absence from the sport. Tires have changed a lot in that time, but Pirelli appears to have done its homework. The tire is relatively inexpensive. Plus, it hits similar weights as its competitors — tires like Continental's Competition series, Vittoria's Corsa, and the Specialized Turbo.
We don't have any rolling resistance data yet, and it was tough to tell how fast the tires are on the somewhat rough auto track. That will be key for Pirelli, as rolling resistance has become increasingly important to race tire selection. It appears to have nailed cornering confidence and comfort, but the jury is out on that last piece of the puzzle.
Pirelli owns the Clement brand name and licenses it to the U.S.-based Donnelly Sports for their production of tires, which has a range of road, cyclocross, gravel, and mountain bike tires. Clement has put a heavy focus on the rising gravel and adventure scenes and it does not appear that Pirelli will, at least at first, step into that space. Given the company's skill at producing automotive racing tires, sticking to a road race tire makes sense for now.
The bottom line that is Pirelli appears to have applied its depth of technological resources from Formula 1 to develop a good first tire for a company new to the modern era of bicycle tire innovation. We have yet to spot Pirelli tires in the pro peloton. The company acknowledged it is in discussion with multiple teams in the WorldTour. Thus far, a firm deal has proved elusive. The company also didn't rule out developing a pure race tire, tubular, or mountain bike tire range in the future.