Review: Lazer G1 Helmet
Light, ventilated, and aero. Pick three.
Size Reviewed
Medium
Price
$220
Brand
Lazer
---
Heading out the door? Read this article on the new Outside+ app available now on iOS devices for members! Download the app.
Have we hit peak weight weenie? Lazer doesn't think so. The G1 is one of the lightest helmets on the market, but that's not its only advantage. A whopping 22 vents make it an airy choice for hot summer days, and the Aeroshell accessory means you can turn it into an aero helmet and cut off that venting. Talk about versatility.
Basics: 22 vents; AeroShell compatible; 211 grams, size Medium (non-MIPS)
Pros: Very light and airy, perfect for long-grind climbs; AeroShell makes it versatile
Cons: Both pad sets are very thin
Lazer advertises the size Small G1 at 230 grams for the non-MIPS version. My size Medium non-MIPS version weighs just 211 grams, however. That's incredibly light, and it's definitely noticeable while you're wearing the G1. Or, perhaps more accurately, it isn't noticeable; the helmet is so light it's easy to forget all about it.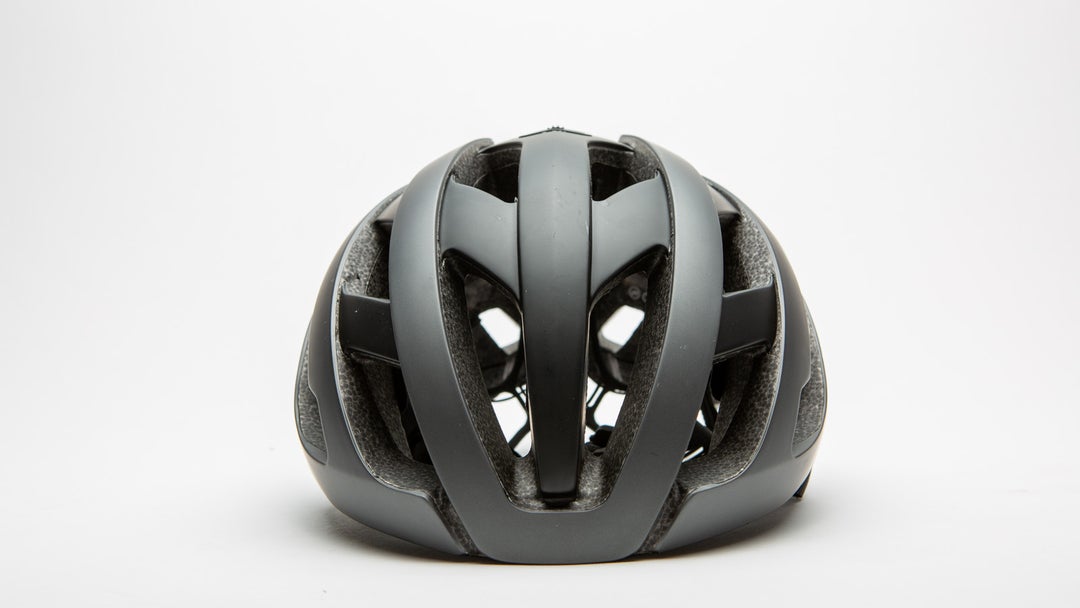 And while that's nice and all, what really makes the G1 an ideal helmet for climbers tackling the steeps on hot days is the generous venting — 22 of them, to be specific. Lazer clearly designed the G1 as a climber's helmet to allow heaps of heat dissipation when you're climbing at low speeds.
Of course, the G1 isn't a one-trick pony, so when you're after every bit of speed, put on the optional AeroShell which is sold separately.
This effectively turns the G1 into an aero helmet without adding much weight (49 grams, size Medium, to be exact). The AeroShell also helps keep out the weather, so it's a good choice when the rain is falling on your training rides.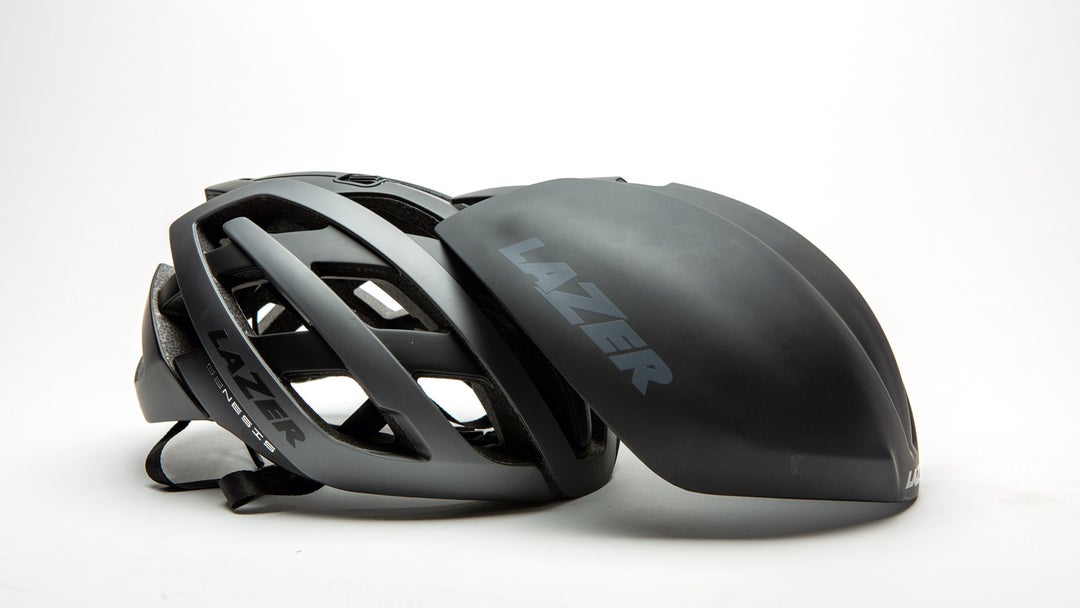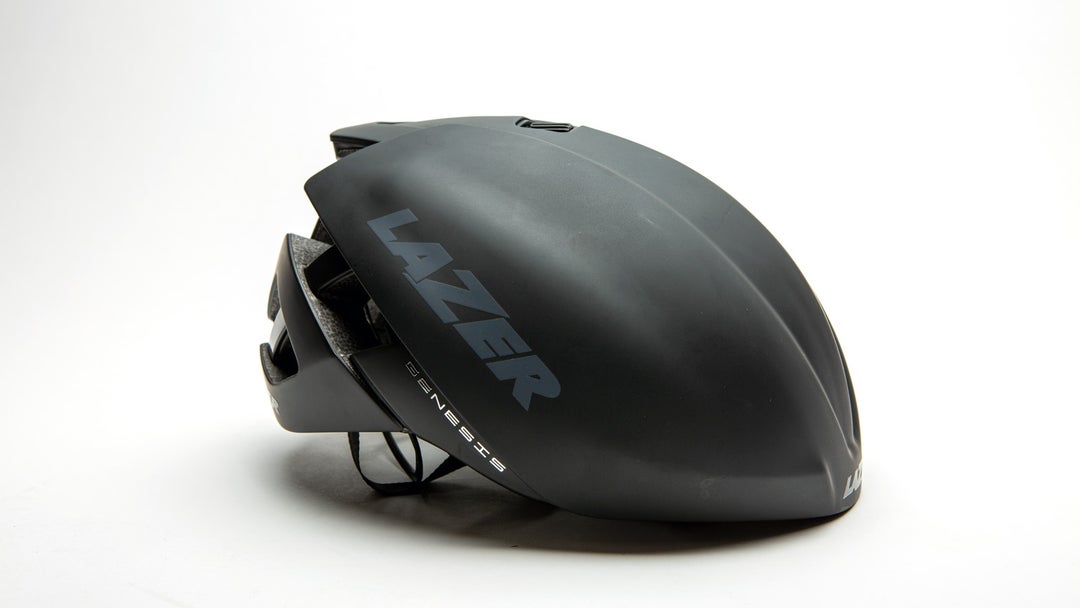 G1 On your head
The Advanced Rollsys-System snugs the G1 around your head by rotating a dial mounted on the top rear of the helmet. In the past I've had difficulty with this system: Positioning it low enough on the back of my head was difficult, so the fit wasn't any snug as I would have preferred. That's largely been fixed, and the harness itself is now more adjustable so it can sit lower on the back of the head. It's still not my favorite fit system, but it does feel very much improved on the G1, so much so that I didn't feel any excess movement or notice the fit system much all. That's exactly as it should be.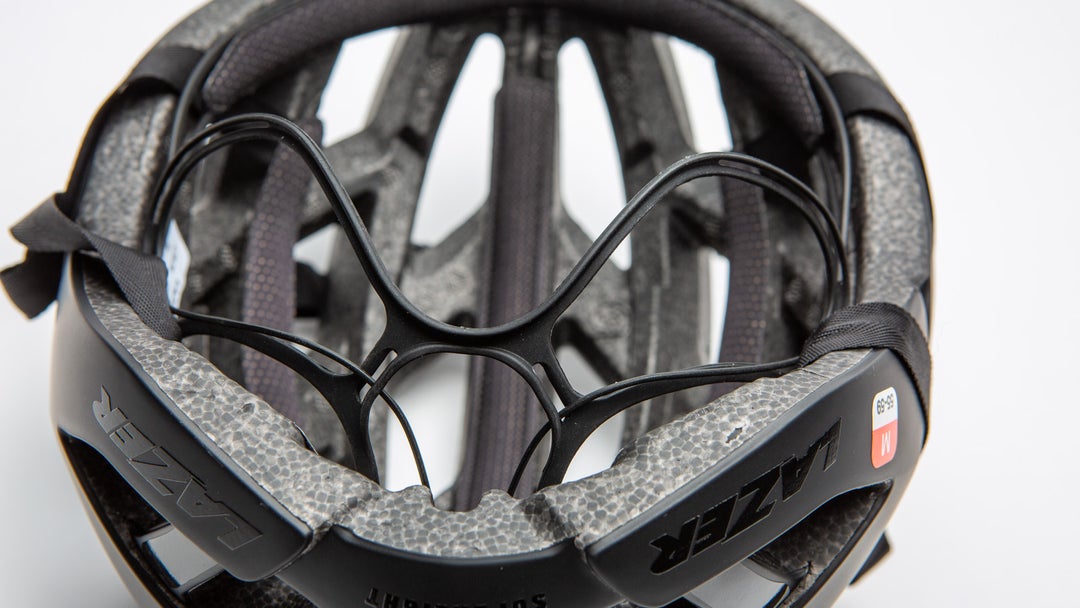 Because this is a minimalist helmet, the pads are very thin and don't offer as much comfort on the forehead as I would prefer. Fortunately, Lazer includes a second set of pads that are slightly thicker. It's not a monumental difference between the pad sets but it is noticeable.
My G1 test helmet was not MIPS-equipped, further adding to its slimmed-down feel. Personally, I prefer the added insurance that MIPS offers against head injuries, so I would take the MIPS G1 over the non-MIPS if I had my choice. Lazer offers both, so you can make your own choice accordingly. MIPS does often change the shape and fit of a helmet (and it adds weight), so if you're on the fence, be sure to try one on before you buy.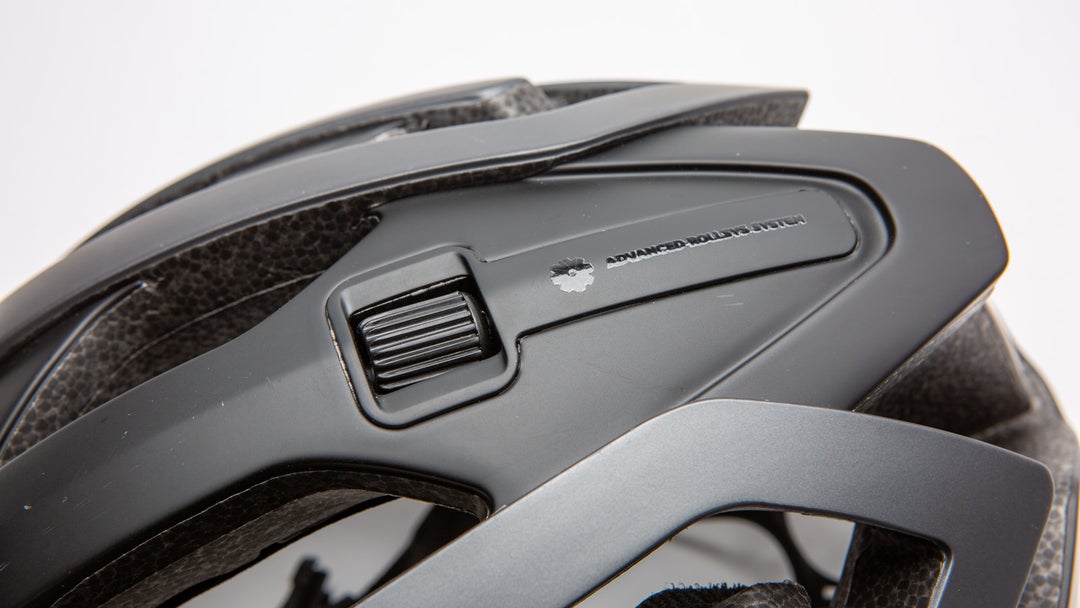 The pursuit of light weight often sacrifices comfort or features. Lazer's G1 doesn't make such sacrifices. It's comfortable, well-vented, and versatile enough to offer aerodynamic gains when you want them. If you go with the most stripped-down version of this helmet, you'll do without MIPS and plush padding, but again, Lazer has thought ahead and you can customize the lid to your liking.
This versatility results in an attractive lightweight helmet that's plenty airy for hot rides and long climbs. Do yourself a favor and get the AeroShell to make the G1 as versatile as possible. If you're a spindly climber who wants the lightest bits — or you're a not-so-spindly climber who appreciates a well-vented lid — Lazer has one helluva contender in the G1.