Reviewed: Solos Smart Glasses
A closer look at the Solos Smart Glasses
Heading out the door? Read this article on the new Outside+ app available now on iOS devices for members! Download the app.
Let's first address the cyborg in the room.
The new Solos Smart Glasses make you look like a geekier version of Dolph Lundgren from the 1992 action movie Universal Soldier. Or like a half-robot, lycra-clad warrior from a futuristic battlefield. Or like whichever X-Men member moonlights as a Silicon Valley thinkfluencer.
No matter what you look like, it's what you actually see that makes the Solos glasses a compelling product for some cyclists. I learned this recently while bombing down my favorite technical and steep descent in the Colorado foothills. I zipped along this winding road, keeping my eyes focused on the sandy corners and oncoming cars. In a normal scenario, I would never look down at my head unit to sneak even the quickest glance at my speed.
Yet my speed, distance, and ride time beamed across my field of vision on a micro display that left my peripheral vision relatively unobstructed. I had an "aha" moment. Wow, so that's what 40 miles per hour through a hairpin actually feels like.
Smart glasses are not new, and in the last few years we have had several pairs of heads-up display glasses sent to the VeloNews offices for testing. My gripe has always been the finicky visibility of the display. Most units beam the information directly onto the lens, or onto a screen that is fixed to the glasses frame. Both designs require you to find the perfect positioning on your face in order to simply see the information. Move the glasses one millimeter too close, and the numbers on the screen become faint. One millimeter too far, and they disappear entirely.
I found the Solos largely overcame this problem. The secret sauce is the adjustable arm that connects to the micro display screen. The arm lets you adjust the screen until the numbers are crisp. Should the glasses shift on your face — due to a sneeze or bump in the road — you simply readjust until the numbers go from fuzzy back to crisp. Problem solved.
Smart glasses are not for every rider in the bunch — before buying a pair I have a checklist for you to consider later in this post. But among the smart glasses I've tried, the Solos are best at what they are designed to do.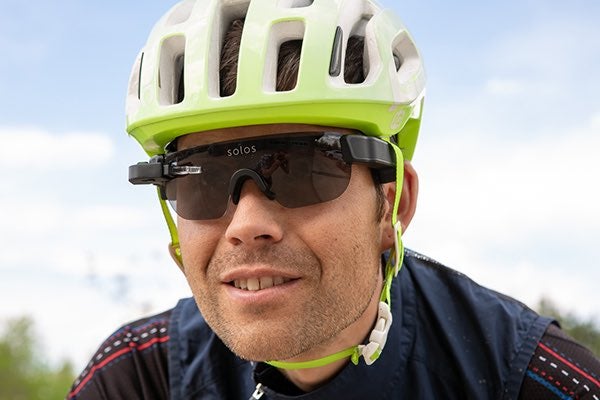 The tech
The technology fueling the sport glasses segment has trickled down in part from heads-up display (HUD) products designed for the military or commercial aircraft. Solos is no different — its parent company, Kopin, produces micro-display units and audio technology used by civilians and soldiers alike (officials declined to disclose details of Kopin's military contracts). The company's patented tech is that 4mm-wide micro display that sits on the outside of the glasses. Kopin's optics engineers found a way to beam information onto that tiny screen, and it fuels much of the company's military and consumer heads-up display products.
Five years ago, the company hired on biomechanics expert Ernesto Martinez to see whether the technology could be introduced to new consumers. Martinez saw an opportunity in the burgeoning "wearables" market in endurance sports for Kopin's technology. In 2015 Martinez joined USA Cycling's technology-driven "Project 2016" effort to win medals at the Rio Olympics; the same effort that berthed Felt's track bicycle with a left-side drivetrain. Kopin's plan was to help American athletes dial in their training, and perhaps develop a consumer product out of the product.
"The idea was how could we communicate to a group of athletes how they are actually doing during their training sessions," Martinez said. "Even during a technical descent or an interval we want to be able to gather the information you need and show it to you in a way where you can adjust accordingly. This is what the glasses could add."
The relationship created the smart glasses, which backend technology created by IBM to process and display the training data. In 2016 the company launched a marketing campaign to raise funds, and in May of that year Solos was launched.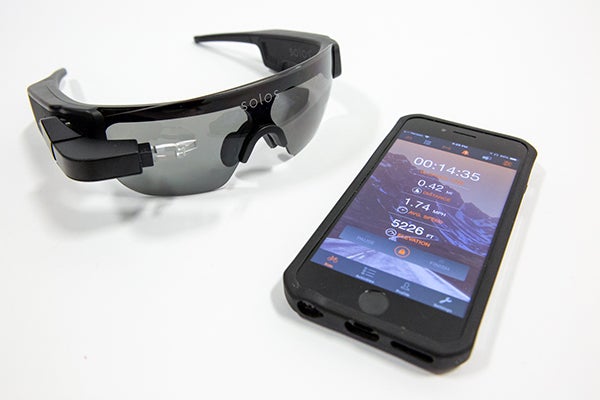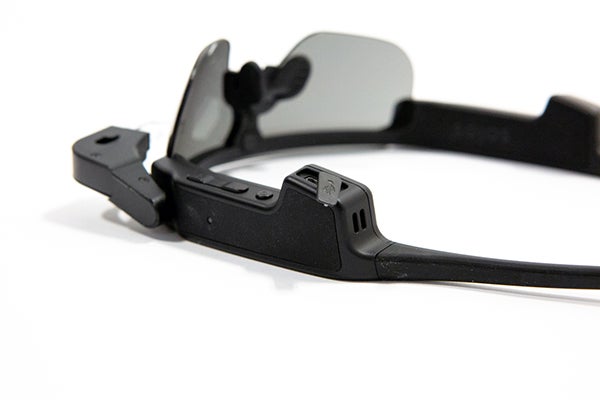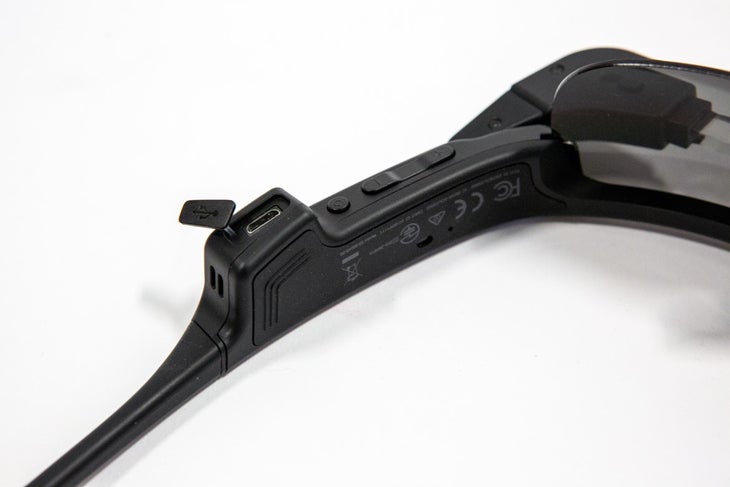 The ride
Prior to any ride you must download the Solos smartphone app, which controls everything that is beamed onto the glasses. Downloading and setting up this app is fairly straightforward; you choose which metrics will be displayed on your display from a list of 16 options (power, speed, cadence, elapsed time, heart rate, distance, among others) and then decide if you want a target value for each (it's not required). These numbers scroll across your screen at a speed that you also program through the app.
The Solos Smart Glasses also have built-in speakers, so you also choose to play music, or hear voice notifications about your workout. I chose rock 'n' roll over the robotic voice telling me to speed up.
A quick note: I made a critical error for my first Solos ride, so please learn from my mistake. I donned the glasses for a group ride at the Sea Otter Classic that included dozens of busy bike path miles through Monterey. Data beamed across my lenses as I swerved around joggers and navigated the peloton The visual chaos quickly melted my brain, and I peeled off and rode home. There was simply too much stimulation.
Since then I have worn the Solos glasses on multiple rides by myself, and once with a Solos marketing rep who dialed in my settings. I used them during early-morning rides on mountain roads with little car traffic.
It was the cycling equivalent of a sensory-depravation chamber, and it worked.
It took me three rides to become accustomed to the Solos glasses and the data beaming in front of my eyes. How did that happen? My eyes actually became accustomed to not looking at the data on the screen. The key to riding with Solos is to glance at the information sparingly and look through the display as if you were wearing normal glasses. How frequently do you glance at the head unit of your cycling computer—not very often, right? I looked at the info somewhat more frequently than had I been looking at my bike computer, and it seemed to work. After three rides I no longer noticed the data until I looked directly at it.
I found the Solos glasses to be most effective during interval workouts on long and steady climbs. Seeing my data—I found power, speed, and heart rate to be the most valuable numbers—helped me maintain certain effort levels with ease. The in-frame speakers blasted some motivational AC/DC to keep me pushing the pedals, and the data kept me engaged in the workout. To me, this was the real value of these glasses. They kept me locked in to my workout, without those glances down to break my concentration. I was able to focus on the numbers, the road, and my effort simultaneously.
The experience felt like a video game, only with more sweat and suffering.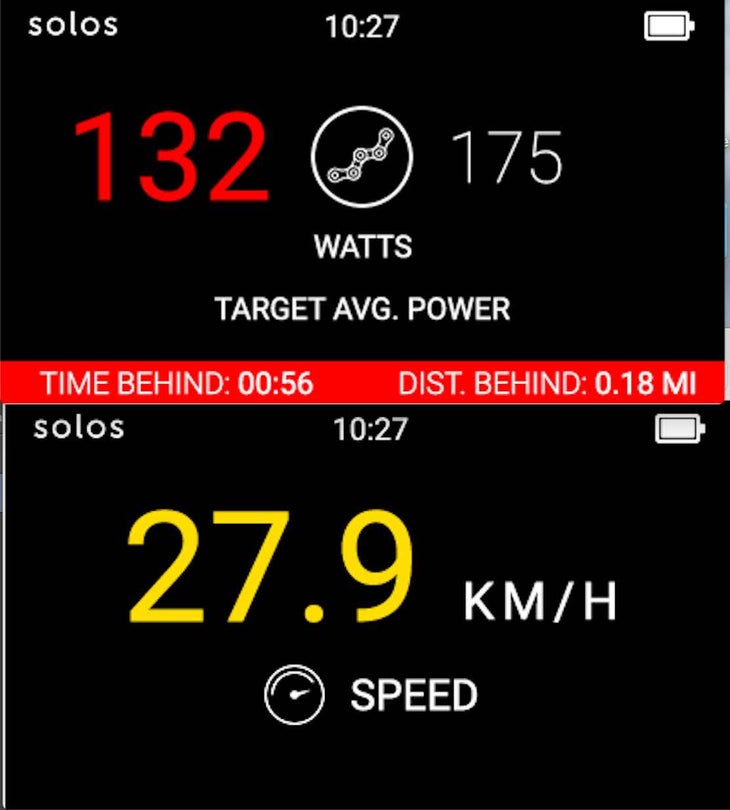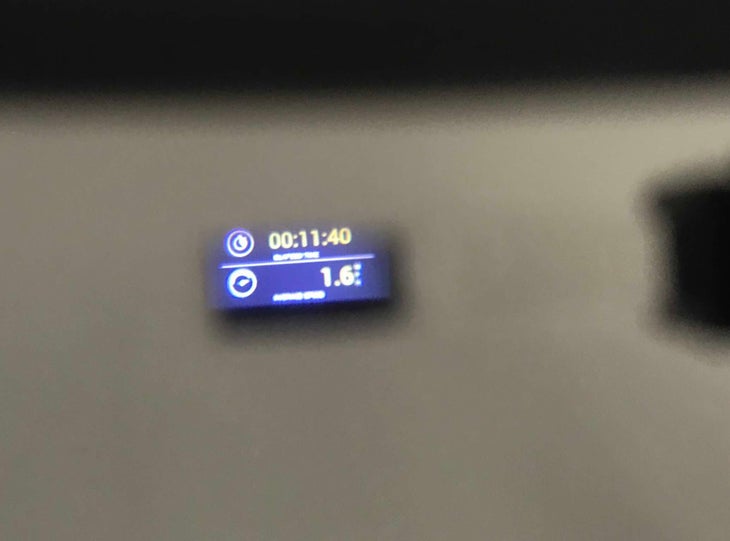 The Verdict
Yes, the Solo glass helped me get in "the zone" for my workouts. Here's the thing: I'm just not that type of rider anymore. I prefer social rides with friends, or throw-down sufferfests where the only metric of success I require is how badly I was dropped. But hey, I also understand that there are riders in the bunch who seek out those hyper-focused training sessions by themselves. So I've prepared a handy checklist for you:
Are you hyper-sensitive to your sartorial choices on a bike? Are your cycling buddies prone to teasing? Do you love group rides? Are you easily distracted? If you answered "yes' to most of these questions, I would steer you away from these glasses. The $499 price tag makes them an expensive mistake if you're not committed to wearing them.
Are you fixated on training data? Do you typically ride by yourself? Do you not give a darn about how the outside world views your appearance? Do you seek out the elusive "zone" in your training sessions? Surprise: These glasses may be for you. They fix the inconvenience associated with looking at one's head unit every 10 seconds during a hard workout. Is that worth the cash? That's up to you to decide
I had a few small gripes. At 64g the glasses are somewhat heavy. The black bar that attaches the display to the frame does blot out a portion of your peripheral vision. And there's no way to change the scrolling speed of the data without fishing your phone out of your pocket. Since we're dealing with new technology here, I wouldn't be surprised if future Solos glasses solve some of these problems.
And then there's the look. Yes, the layperson may see you wearing these glasses and assume you will soon fire laser beams from your eyeballs. But hey, maybe that's part of the charm.