A few of Nick Legan's favorite things: Handlebars
Nick shares his favorite handlebars for various shift lever designs.
Heading out the door? Read this article on the new Outside+ app available now on iOS devices for members! Download the app.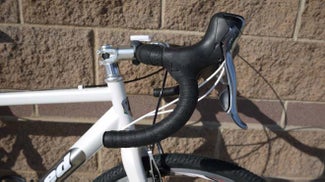 Bicycle fit and contact points: handlebar, saddle, shoes/pedals are the most important items in determining comfort and, in many ways, performance. Yet they can also be the most frustrating items to nail down.
With that in mind, I wanted to share with you some of my favorite handlebars. I've ridden all of these for some time, in some cases for years. I've experimented and tweaked, always seeking the ideal setup for a given bike. Here are the four handlebars that have found their ways onto my personal bikes (and many test bikes as well).
Different strokes for different folks
I've found that very few handlebars work for all shifter types. The handlebar that I like for SRAM shifters often isn't that great with Dura-Ace 7800 or 7900 shifters. Because of that, the bars are pictured with my recommended shifters installed.
Campy bar of choice: Deda Newton Shallow $135
I've ridden Deda's shallow round bar for ages. It's a decidedly old-school drop and I love it. It is my preferred bar for Campagnolo's shifters both old and new. It also works well for SRAM Double Tap shifters, but I prefer another Deda bar for those.
Deda Elementi uses triple-butted aluminum for the Newton Shallow. At 244 grams, the Newton is light for an alloy bar but I never wanted it to be any stiffer. Dual cable grooves keep the bar feeling small in your hands after installation. Some may consider double wrapping them.
The bar quickly rounds and drops to the shifters. This does two things: it creates a lot of forearm clearance when riding in the drops and it means that there is a good height difference between the tops and the hoods. If you're someone who wants the hoods to be as high as possible look elsewhere. But if you're looking for a classic bar, the Newton Shallow is great.
244 grams (44cm outside-outside) drop: 135mm, reach: 80mm
www.dedaelementi.com

Shimano 7900 bar of choice: Ritchey WCS EvoCurve $130
The EvoCurve bar is anything but traditional in shape. But it is extremely comfortable, especially with Shimano's latest shifters. The four degrees of sweep built into the tops of the bars feels great and seems to ease wrist pain after long hours in the saddle.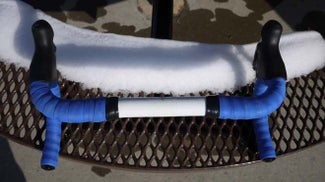 The side view of the bar reveals a nice decreasing radius drop, a bend that is increasing popular (three of the four bars in this article use something similar). This bend makes for a nice flat area directly behind the hood of a shifter and yet keeps the brake lever close at hand when in the drops.
The Ritchy EvoCurve is great for larger hands because the bar doesn't really taper after the stem clamping area. I run pretty thin tape when using this bar even though Ritchey includes a cable groove on the front of the bar.
Made from 7005-series, triple-butted aluminum, the bars weigh in at a very respectable 250 grams.
250 grams (42cm center-center) drop: 131mm, reach: 83mm
www.ritcheylogic.com
SRAM bar of choice: Deda Zero100 $135
I literally stumbled on Deda Elementi's Zero100 bar after I started working at VeloNews. A set of them in a 44cm width (remember Deda is one of the few manufacturers to measure its bars outside-outside) was tucked away in a box in the tech room.
No bar is complete without bartape. Here are four that I like a lot.
Prologo Double Touch bar tape $22
Prologo is known for its excellent saddles, but its Double Touch bartape is fantastic. It's nice and stretchy, offering good cushion and a slightly rubbery feel. The logo gives a bit of texture and adds some understated class to this bar wrap.
Arundel Gecko bar tape $18
I'm a fan of most things Arundel, whether it's a water bottle cage, seat bag or bartape. The Gecko tape is heavily textured and has a very rubbery feel to it. It goes on pretty thin and works well for those who don't want too much cushion. It's a stiffer tape that requires a little bit of extra care when wrapping. But it has become my preferred tape for my 'cross bike, especially on wet days.
Salsa Gel cork tape $18
For a bit more cushion than the Arundel and the Prologo I like Salsa's Gel cork tape. It's offered in a rainbow of colors and the chili pepper logo is classic. For long days in the saddle I really like this tape. If you like a thinner wrap, just pull it a bit tighter.
fi'zi:k dual tape $25
I never played much tennis, but fi'zi:k's dual tape feels similar to leather tennis racket grip tape. The ribbed texture offers good cushion and superb grip. Because there are two materials and stitching, this tape can be a bit of a pain to wrap, but once on, it lasts a long time and feels great. Best of all, the colors of fi'zi:k's tape match its saddles perfectly.
I liked the look of them and put them on a bike I have with SRAM parts. I was immediately smitten. The oval top section of the bar provides a bit more real estate for my hands and the decreasing-radius drop is super comfy.
I run my SRAM lever pretty high on these bars and I'm still able to reach the brake and shift levers in the drops. The tops are pretty squared, which limits forearm clearance in the drops, but is nice for getting a wide hand position when climbing on the tops.
252 grams (44 cm outside-outside) drop: 128mm, reach: 75mm
www.dedaelementi
Shimano 7800 bar of choice: Easton EC90 SLX3 $265
Easton's EC90 SLX3 bar is a bit of an oddball in this foursome. For one, it's the only carbon bar I've mentioned and as such it's over $100 more expensive than the others. And while I've mentioned it as my bar of choice for Shimano's 7800, it also works well with SRAM (though I prefer Deda's Zero100 for Double Tap shifters).
The start of the drop has a sort of step in it. I've tried it with SRAM shifters and it works OK, but on my 7800 bikes, it's sublime. Again, I run my shifters pretty high and on Easton's bar this makes for a nice smooth transition to the hoods. 7800 shifters are longer than SRAM and they let me use a slightly deeper drop while still being able to reach the brake and shift levers.
Again, the drop is a decreasing-radius round bend. I've tried "anatomic" bars and have never been happy with the feel of them in my hand, nor have I been happy with the aesthetics of them.
199 grams (42cm center-center) drop: 130mm, reach: 75mm
www.eastoncycling.com