Allied Alfa long-term review
My two years of experience with the Allied Alfa hinges around one tiny flaw that ultimately demonstrates what sets the brand apart — in a positive way.
---
Basics
The original rim-brake version of the carbon Allied Alfa, which is currently available only as a disc bike.
---
Pros
Great American story; consumer-direct communication, pricing, and shipping; stiff carbon frame; incredible paint options
Cons
More expensive than German consumer-direct brand Canyon
---
Size Reviewed
56cm
Weight
16 lbs
Price
$7,349
Brand
Allied
---
Heading out the door? Read this article on the new Outside+ app available now on iOS devices for members! Download the app.
With very few exceptions, bikes simply aren't made in the United States anymore. Low-end bikes like you see at Wal-Mart come from China. Mid- to high-end frames — Trek, Specialized, Giant, Canyon, Cannondale, you name it — are made in Taiwan. But does anyone care? Allied Bicycle Works does. The young company set up shop in Little Rock, Arkansas, and fabricates its own carbon frames and forks — including this beautiful green Alfa.
My two years of experience with the Allied Alfa hinged around three things: American-made intrigue, overall ride quality, and one small flaw, which was ultimately addressed. While the latter is perhaps embarrassing for Allied, the process demonstrated to me some of the brand's core strengths: transparency, commitment to improvement, and the ability to adjust production because Allied makes its own bikes.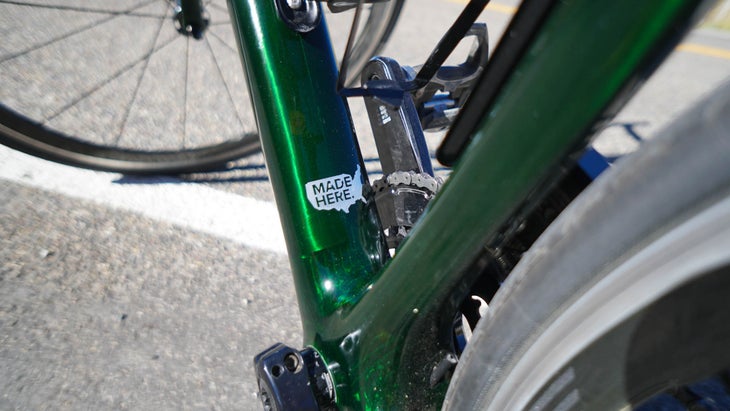 A unique sizing situation
When Allied launched, I knew one of the founders, Sam Pickman, from his time as a Specialized engineer. So testing an Allied wasn't a matter of "I hope this is okay" but instead a matter of "Sam built this. Let's go ride in the mountains!"
The bike arrived on my doorstep almost completely assembled, as it does for all customers. Thanks to a custom bike box and a detailed factory build and tune, you just pop on the handlebars and the front wheel and you're good to go.
Constructed with straightforward road-race geometry, the bike is nimble. A stiff bottom bracket junction means you stand up to stomp and the bike shoots forward instead of flexing side to side. Big picture, the Alfa is no better or worse in these attributes than a stock race bike from the big brands.
A few things do stand out from the big brands, however. The virtually flat top tube offers a classic look in a world of sloping top tubes. More impressive is the option of "+" sizes, where 2cm of head tube length is added to any frame while leaving the remainder of the geometry the same. What's the big deal about that? Most companies that offer two geometries have a steep, race geometry with a short head tube and a slack, endurance geometry with a tall head tube. Allied operates on the belief that at least some of us want a bike with race handling that isn't built for a 20-year-old's flexible back. (Sure, you can accomplish a taller stack on a low race bike with spacers, but that doesn't look cool, now does it?)
The BSA bottom bracket won't affect your ride, but it could positively affect your mental health, as the thread-in system all but guarantees that your BB won't creak and squeak like so many press-fit systems do.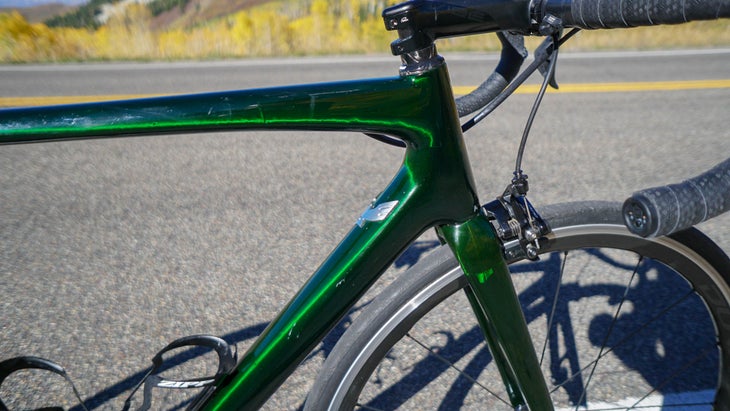 Two frames with a brake-vibration issue
I loved everything about the bike until I rode a particular carbon wheelset, the Zipp 454 NSW, which has etched brake tracks. Hard braking on the 454s caused the rear triangle to vibrate. I toed-in the pads; same deal. Under normal braking, everything was fine, but aggressive braking like a hard stop off a steep hill caused vibration.
I called Sam and we arranged to swap the frame. Second frame … same deal. Another call and I shipped the bike with the Zipps so Sam could experience what evidently no one else but me had. Fast forward through more in-house testing and a tweaking of the brake-bridge lay-up, Sam sent me a third frame. I tried my best to aggravate a vibration on that bike, but without luck.
Sam told me only one other rider out of the hundreds that had bought Alfas had experienced anything similar, and they fixed his situation with the use of the appropriate brake pad. And that was prior to the change in rear-triangle lay-up.
One selling point of the Allied frames is that, should anything happen to yours, you can ship it to Arkansas where the people who built it can fix it using the same tools. This is a huge difference from the big brands, which will not fix your frame. Sure, you can have it patched by a third party (I've had Tarmacs repaired by Brady Kappius and Calfee), but your warranty with the original brand is void.
Accidents happen, whether through racing, riding, or just dumb-life stuff like driving your roof-mounted bike into your garage. In our throwaway culture, having a repair option from the original maker is rare and, for me at least, valuable.
Color me impressed
Paint is the latest arms race for bike brands. It used to be light weight. Then stiffness-to-weight. Then aero. Now, many of us just want a bike that rides great and looks cool. Once the sole purview of small builders, high-end paint jobs are now being one-upped by big players like Trek with its ICON collection.
Allied offers a host of stock and special edition colors, all done in-house. If one color isn't enough for you, check out Allied's latest Harlequin series, which changes color based on the angle of the light.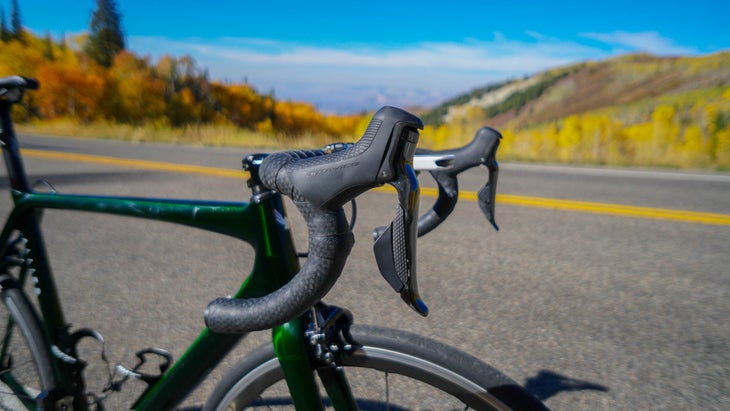 Dressed to the nines in Shimano. All positive save one gripe.
I tested the bike with Shimano's latest Dura-Ace Di2 rim-brake group, the 9120, which I love. Programmable shift speed and remote options galore, comfy ergonomics, hyper-dependable performance, and hood buttons that can control a Garmin… what's not to like?
Rim vs. disc has been debated ad nauseam on the internet. My take is simple: Discs are better, heavier, and sometimes noisier. That's it. I like both styles.
[Editor's note: Since this review was written, Allied has discontinued the rim Alfa, and only the Alfa Disc is available from the company. Since you may find a used rim Alfa for sale, we thought this review from our sister brand Roll Massif was still worth publishing.]
My one nit to pick with the 9120 group is the lack of an integrated D-Fly, the little component that lets your drivetrain talk to your Garmin over ANT+. Why do we have to buy this separately, Shimano? The D-Fly really makes the whole combination sing, allowing you to scroll through Garmin pages without taking your hands off the shifters, but also sending Di2 info to your Garmin, like gear selection, number of shifts, and — critically — battery life. I tucked a D-Fly into the Shimano PRO stem after plugging it into one of the shifters.
For the record, this is a Shimano issue, not an Allied issue.
I tested the bike with a few different wheelsets, including Dura-Ace 9100 C40 and C24 wheels, which are typical Shimano. They aren't sexy, crazy light, or even all-carbon (Shimano opts for a dependable brake track, thank you very much), but they will probably last a decade or more without needing any real service. The internal rim width is narrow by modern standards.
You can buy the Alfa with a few different component-group and wheel options, excluding the Shimanos.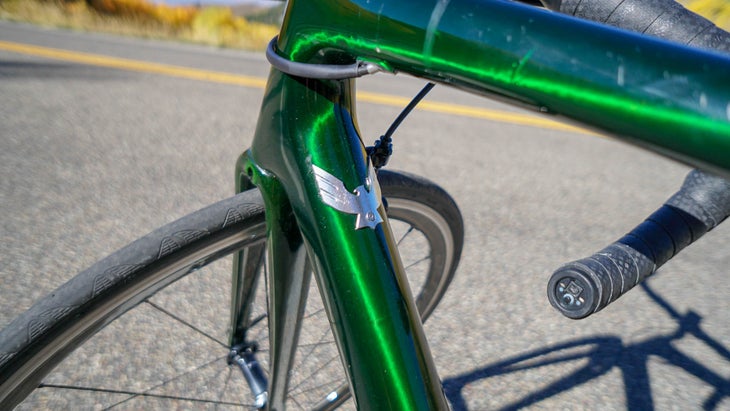 Bottom line: Allied stands behind what it builds
The Allied Alfa is a carbon frame handbuilt in Arkansas. Race geometry with stack-height options are novel for a stock bike. The Alfa's weight and performance are competitive with the big brands. The paint options are incredible. And Allied will ship your bike right to your door, nearly ready to ride.
I have tested products for years, and am here to tell you that product flaws happen. But the willingness and ability to work directly with riders to rectify the problem in a company's own factory? That was a first for me, and one that ultimately gave me more confidence in the people behind the brand.
From Roll Massif