First Ride: Campagnolo Revolution 11+ mechanical groupset
A first ride with new Super Record components is akin to a blind date with a supermodel; there's no doubt that Campagnolo's top end group will dazzle
Heading out the door? Read this article on the new Outside+ app available now on iOS devices for members! Download the app.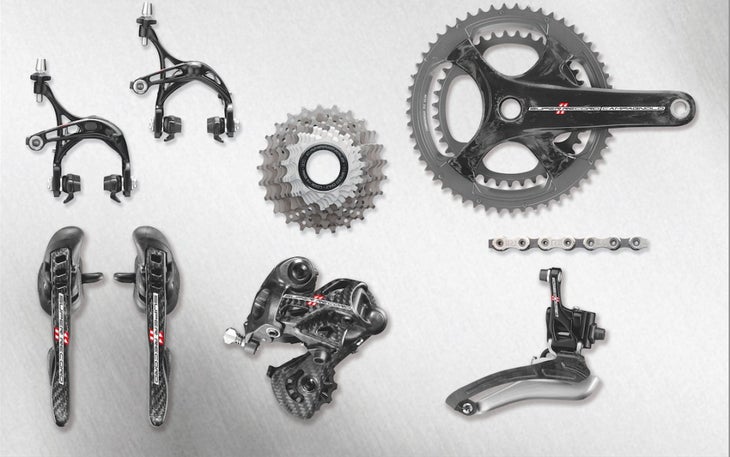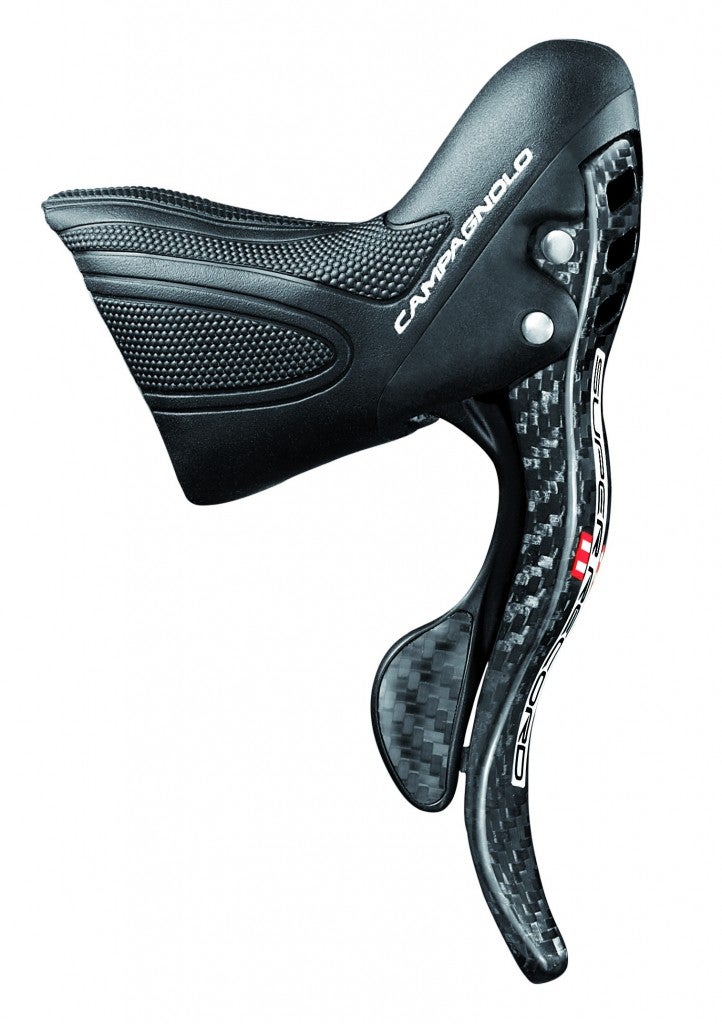 BASSANO DEL GRAPPA, Italy (VN) — Campagnolo, the company that first brought 11-speed drivetrains to road cycling in 2008, has completely updated its mechanical lineup for the 2015 season.
At a press event this week in Bassano del Grappa, Italy, near its Vincenza factory, the 80-year-old Italian brand formally unveiled revamped 11-speed mechanical drivetrains, which it is calling Revolution 11+.
After the presentation, Campagnolo took journalists on a 80km ride through the hilly region to experience the new components, firsthand.
What's new, and what isn't
As anyone who has ever rented or borrowed a bike can attest, first-ride assessments can be difficult. Usually that's because there are a variety of elements to taken into consideration. Campagnolo removed as many of these confounding variables as possible and provided carbon Sarto bikes equipped with its shift-levers, front and rear derailleurs, crankset, cassette, chain, and brakes; it was an opportunity to judge the Revolution 11+ system, and its accompanying Bora wheelset, as a whole.
Still, a first ride with fresh Super Record components is akin to a blind date with a supermodel. There's no doubt that Campagnolo's sleek, top-end group will dazzle; whether or not it's a perfect match across both sides of the table is, of course, another question. (The current Super Record mechanical groupset retails for around $3,250, a steep barrier of entry, and something to weigh against similarly priced electronic groups from Campagnolo and Shimano.)
Campagnolo enters the 2015 market in an unusual position. From a consumer perspective, the iconic Italian brand has lost significant market share to Shimano and SRAM over the past decade; it's been essentially non-existent on OE spec for years, missing the opportunity to recruit new users through bike sales.
However, from a performance perspective, Campagnolo is still a highly desired, and regarded, component and wheel manufacturer. Nairo Quintana won the Giro d'Italia aboard Campagnolo components, and Vincenzo Nibali is currently leading the Tour de France using their drivetrain. It's entirely possible that all three grand tours could be won on Campagnolo this year. Its performance, and legacy, is unquestionable.
Everything in the Revolution 11+ line — which encompasses Super Record, Record, and Chorus — has been updated, if not completely redesigned from scratch. The only things that remain the same are the 11-speed chain, and the cable-actuated brakes, which remain in both single-pivot and dual-pivot models.
(No, hydraulic disc brakes are not part of the overhaul; Campagnolo said it no immediate plans to announce a hydraulic disc brake system.)
Many of the updates reflect new technology first unveiled as Super Record RS in March of this year. RS is a byproduct of Campagnolo's SC-14 (Squadre Corsa 2014) Project, which consisted of prototypes tested at the WorldTour level.
Confused? Don't be. Just know that, moving forward, technology from SC-14 prototypes, and the limited edition Super Record RS, will now be found in the Super Record, Record, and Chorus 11-speed mechanical groupsets.
First impressions
As expected, first-ride performance was outstanding. Front and rear shifting was positive and precise. Chain alignment was perfect. The new Bora 35s, with wider rims to accommodate 25mm and 27mm tires, rolled smoothly and silently. Ride quality was everything one might expect from a high-end brand, on its home turf, putting its best foot forward.
Of the renovated groupset, it's the front derailleur that global marketing manager Lorenzo Taxis says is most significant; it's the change Campagnolo users will "feel" the most.
The front derailleur now has a longer lever arm, just like Shimano's 9000 group, which requires less force, and therefore less movement of the shift lever, to switch from little to big chain ring. The outer cage on the Super Record and Record front derailleur is made of carbon composite; the outer cage on the Chorus FD is aluminum.
Changes in the rear derailleur may not feel much different, but, utilizing what has been dubbed Embrace Technology, Campagnolo claims that the Revolution 11+ rear derailleur keeps the chain closer to the cassette, which delivers better grip to the teeth of the cogset and makes for better transfer of power. More importantly, particularly given the high cost of Campagnolo chains and cassettes, the new design extends the life of both components.
The internals of the Revolution 11+ Ergopower shift levers were redesigned to work with Revolution 11+ front and rear derailleurs, with slightly altered ergonomics as well as redesigned hoods that left this tester's hands a bit chafed after four hours in the saddle.
Campagnolo claims the new silicone hoods, which are grooved, provide additional comfort where needed, and more solid grip elsewhere. And while the added friction likely works well with gloves, those who prefer to ride without gloves will be in for a break-in period.
For front derailleur shifting, two clicks of the thumb shifter downshifts from large to small chainring, with a third click for adjusting trim. The new system uses three clicks for upshifting, without the need for an additional click for trim. For rear shifting, Campagnolo's Ultra-Shift system remains the only available mechanical system that allows for multiple downshifts — up to three gears at a time when upshifting, and five gears at a time when downshifting.
Previous 11-speed mechanical shift levers and front and rear derailleurs are not compatible with Revolution 11+ shift levers, front and rear derailleur, even though both are 11-speed.
The new 11-speed mechanical crankset has changed from a five-arm spider design to a four-arm design, which Campagnolo claims is more aerodynamic. As the crown jewel of the drivetrain, response to the aesthetic of Campagnolo's new crankset was mixed among the assorted media.
More importantly, like Shimano, the new crank design features a single, standardized bolt pattern for all cranksets, meaning the crank can accept standard (53-39), subcompact (52-36), and compact (50-34) chainrings. Changing between compact and standard is now as simple as changing eight bolts, and the two chainrings.
This new version of Campagnolo's crankset will be available in 170, 172.5 and 175mm crank lengths.
While the 11-speed cassettes have not changed, Revolution 11+ bring with it a new 11-29 cog set, Campagnolo's widest-ever range, previously unattainable with prior rear derailleur models. The new internal structure of the rear derailleur, Campagnolo claims, makes for easier shifting on the higher end of the cassette, eliminating resistance when moving the chain onto the 25, 27 or 29 cog.
Though it's a fair assumption that these changes — the rear derailleur's Embrace Technology, the new Ergopower hoods, the crankset's bolt pattern, the 11-29 cassette — will make their way into Campagnolo's electronic EPS group, for the time being, they are mechanical group innovations.
New, wider wheels
Also new for 2015, Campagnolo's Bora and Shamal wheelset will feature wider rims, widened from 20.5mm to 24.2mm, to accommodate wider tires. Campagnolo claims the wider rim increases aerodynamics and structural integrity, and has ultimately resulted in a lighter version of the Bora.
Noteworthy: Campagnolo claims that its proprietary brake pads are interchangeable between the 3Diamant braking surface of the carbon Boras and the 3Diamant braking surface on its aluminum Shamals. For a diehard Campy user, this means the ability to train on Shamals and race on Boras without changing brake pads.
Boras, which come in 35mm and 50mm depths and are available in both bright and dark label graphic designs, continue to be offered with tubular rims only.
The takeaway
With its Revolution 11+ mechanical group, Campagnolo retains its title as the sexiest of the three major road group manufacturers, its components straddling the line between high performance and elegant jewelry. While it's a tough argument to claim superior shift quality to Dura-Ace mechanical shifting or braking, for some, the lure of a Campagnolo group remains strong.
Pricing, weights, and availability dates were not yet available at the press launch. (Test bikes, equipped with Bora 35s, were alarmingly light, however.)
In an increasingly fragmented marketplace of high- to low-end mechanical groups, with Revolution 11+ Campagnolo has chosen to focus on the aftermarket consumer who seeks a high-performance mechanical group. Could that be a gamble? Is there room for a ~$3,500 mechanical group using linear-pull brakes in an era of electronic shifting and hydraulic discs? Time will tell.
Editor's Note: Campagnolo covered airfare and lodging to Bassano del Grappa, Italy, to test ride its new Revolution 11+ groupset.