First Ride: Cannondale's aggressive endurance Synapse
The Synapse is a response to changing rider demands, according to Cannondale. "People are riding differently," says David Devine, Cannondale's senior product manager. "They are more interested in being comfortable and more capable rather than just going long and sitting upright." The design goal became a two-pronged pursuit to combine…
Heading out the door? Read this article on the new Outside+ app available now on iOS devices for members! Download the app.
The Synapse is a response to changing rider demands, according to Cannondale. "People are riding differently," says David Devine, Cannondale's senior product manager. "They are more interested in being comfortable and more capable rather than just going long and sitting upright."
The design goal became a two-pronged pursuit to combine performance and comfort without sacrificing either. The result is the new Synapse is more than 220 grams lighter than the previous model at just 950 grams. It's also 9.4 percent stiffer, according to the Zedler Institute's head tube stiffness rating.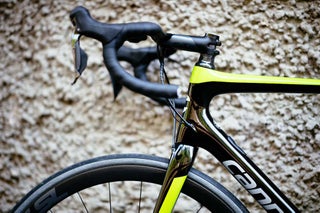 Cannondale also updated the Synapse geometry, reducing the stack and lengthening the reach for a more aggressive riding position. It has a slightly steeper head tube angle (73-degrees for a size 56cm) and a smaller trail number (58mm), making for quicker steering than the previous model. It's not as flickable as a lightweight race bike like Cannondale's Supersix Evo, but it's dramatically quicker than a typical endurance ride.
The wheelbase, chainstays, and bottom bracket height didn't change much and help maintain the bike's noteworthy stability. From front to back, the bike feels balanced with race-like speed and agility blended with comfort.
Fork offset and head tube bearings
Size 44cm and 48cm: 60mm offset and 1 1/8 bearing
Size 51cm and 54cm: 55mm offset and 1 1/4 bearing
Size 56cm, 58cm, and 60cm: 45mm offset and 1 3/8 bearing
The SAVE (Synapse active vibration elimination) micro suspension system provides compliance. SAVE is a series of flex zones built into the carbon frame and fork to reduce road chatter. It's been the hallmark of Cannondale's endurance line since the first Synapse was launched in 2006. The SAVE features in the chain stays, seat stays, and fork legs are refined in this updated Synapse, mostly in weight reduction. The bike also received two new SAVE components: the 25.4mm SAVE seat post (originally designed for the Supersix EVO) and a semi-integrated SystemBar. Both the post and bar were designed to flex slightly over bumpy roads to absorb vibrations before they reach the rider. Cannondale says its SystemBar offers up to 4 millimeters of deflection thanks to its thin, elliptical shape.
The two-piece SystemBar offers a sleek look similar to an integrated bar and stem, but it provides more adjustability for different riding positions. The aluminum stem is offered in +6 and -6 degree options ranging in length from 70-130 millimeters. The bar can also accommodate up to eight degrees of pitch if you prefer your bars rotated slightly forward or back. An integrated computer mount bolts onto the handlebar since a standard mount won't work with the elliptical bar shape. Only Garmin and Wahoo computers are currently compatible with the system.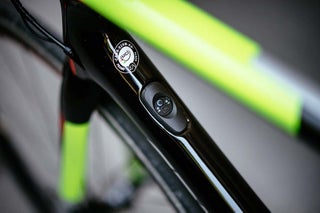 The slick cable port on the down tube is compatible with various drivetrain cables and wires. The port moves the Shimano Di2 junction box from under the stem to inside the down tube, tucking it away for a clutter-free look. However, you can still easily access the Di2 junction box's charging port for quick access and for making on-the-fly shift adjustments.
For an extra kick of versatility, Cannondale will offer a special Synapse SE model that includes a more adventurous spec including bigger tires, lower gearing, and a more muted paint scheme. This SE designation can be found across several Cannondale bike platforms, including the SuperX 'cross bike, and is designed to offer riders more options to fit their individual riding needs. The Synapse SE will utilize Shimano's new 11-34 Ultegra cassette, WTB 30mm tires, and a monochromatic aesthetic.
First Ride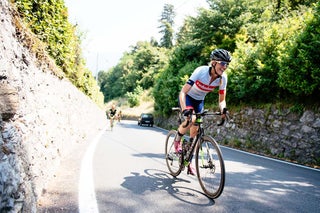 After two long days of riding hilly roads in northern Italy, the Synapse's endurance breeding was obvious. It floated over bumpy roads and held steady lines through twisty turns. The long wheelbase made for confident descending and the 28mm tires on our Synapse Hi-Mod Disc eTap test model felt like they were glued to the pavement. Over rough terrain, it feels exactly like what you'd expect from an endurance bike.
When navigating tight corners and dodging our way through narrow Italian roads, the Synapse was surprisingly nimble. The bike's hybrid race-endurance geometry, proportional head tube bearings, and fork offset made for a stable but responsive ride. The Synapse isn't quite as snappy as the Canyon Endurace or BMC Roadmachine endurance race bikes, though, and hedges closer to the endurance category than to the race category.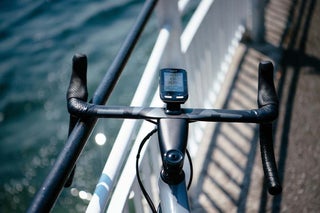 The elliptical-shaped handlebar provided more than enough compliance when descending some chunky pavement on a straight, fast descent. Unlike other fattened aero handlebars we've tested, the SystemBar doesn't have as broad a surface. It measures the same circumference as a typical 31.8mm diameter round handlebar and it was easy to securely grasp the bar.
The aggressive-endurance category is growing, and the Synapse won't disappoint riders in search of an all-day grinder without the femur-length head tube and grandpa geometry. The Synapse makes less-than-stellar terrain far more comfortable without dulling the excitement and quick handling. Invest in several different sets of tires for different riding conditions and the Synapse could easily replace a garage full of bikes.